My journey to the »Sunny Side of Life« started in September 2012, when I realized my life was nothing but bright. After spending weeks in hospital, because of food poisoning in Morocco and after being described as a »Person that never learned anything« and »A Little girl that knows nothing about humility« by one of the most honest and shining lady I ever worked for, a woman I admired (still admire) the most… I realized I am not speaking with my own voice nor walking the talk anymore.
So I wrote in the Google search engine: »Teaching yoga by the seaside«, »Yoga teacher wanted«, »Teaching yoga in paradise« and guess what – got a job in 48 hours. Seriously, the one with a contract and all assistance to move to Maldives, as I just became a »Yoga Instructor and Fitness Supervisor« in one of the resorts in Maldives.
Though this article could be two times richer and longer about describing »The Worst Things That Happened To Me While Living in Paradise,« there was a lesson learned while living abroad; things are as they are. You can paint them shinny or you can spit on them and wrap them with all the negative vibes. I rather choose the first one. So here are 10 things I personally believe are the best about living and working in the middle of the Indian Ocean:
1. Barefoot 24/7
On all 1,190 islands in Maldives there will always be sand beneath your feet (or between your teeth, inside your buttocks or in your ears – you choose). That is why it is called the best holiday destination in the world and that is why I was always walking around barefoot.
Few people did not quite agree with me: lovely Thai spa manager always worried I will ruined my French pedicure, human resources manager was running behind me with her extra pair of flip-flops and our resort manager and security manager agreed on that I will definitely kick into some horrible thing under the sand. Guess what, I stayed barefoot and defended my naked feet by providing them a list of »Why you should go barefoot benefits« that are scientifically proven. Ha, into your toes, managers.
2. No Traffic Jams
Like none, at all. Also no traffic lights, no roundabout, no angry people inside their cars (read boats), no narrow streets (read channels). Just a freaking ocean highway full of amazing scenery and fresh air. Cheers to dhonis, boats and captains!
3. Vitamin D for Free
If you live in any of the countries where solariums/sun studios are being fully booked, you will understand me from beneath your skin. In Maldives there is sunshine almost everyday and there are plenty of opportunities to move your body – a perfect combination for a production of Vitamin D, yes, for free. (Except if you are a guest and you payed 2000 USD/night to stay in a resort – I believe Vitamin D production is fully inclusive in your deal). 🙂
4. Easy money , saving money (this one is for those working in Maldives)
If you are not online shopping addict or a person that has a huge urge to travel every few months (like me), then there is a high possibility you might save quite a lot of money. Reason 1: there are no shopping malls close by, reason 2: there is no wage tax – so no money will be cut from your salary, reason 3: accommodation and food is (almost everywhere in Maldives) provided by your employee, reason 4: you will not have to pay for your next summer holidays as you will be fed up with sun, sand and summer.
5. Only amazing people visit Maldives
I met some of the most famous and popular artists, actors, coaches, formula drivers, singers, performers, sport stars and did yoga with them – trust me, they are 10 times more amazing than on the TV or anywhere online. This being said, I count myself as the luckiest person on the planet as each and every person I met in Maldives and did yoga (or massage or fitness training) with, was so unique and great I cannot describe. So many lovely couples – just married ones or those being together for more than 30 years, so many great families, so many amazing women, so many cute teenage girls. This is an Ode to all of you, yoginis and yogis I met!
6. Complimentary sunrises and sunsets
Did you ever wonder why so many people want to spend their honeymoon in Maldives? I believe it is because of sunrises and sunsets as they are so magical and powerful you will quite hardly forget them.
7. Picnic islands
It is somehow logically accepted that if you live and work in Maldives, sooner or later someone will take you to a picnic island. Picnic island is a synonym for an uninhabited island where you have fun! My favorite one was the one where I was the only girl with some great, funny and happy Maldivian/Indian/Srilankan/Bangladesh colleagues. They made me feel like I was their princess and they even made a special vegetarian sandwich just for me.
8. Lifetime friends from every continent
There were 32 different nationalities on the island I worked. There were guests from all over the world. There were millions of fish beneath us. There were billions of stars above us. Trust me, you will make REAL friends on a 300 metres long island, for sure.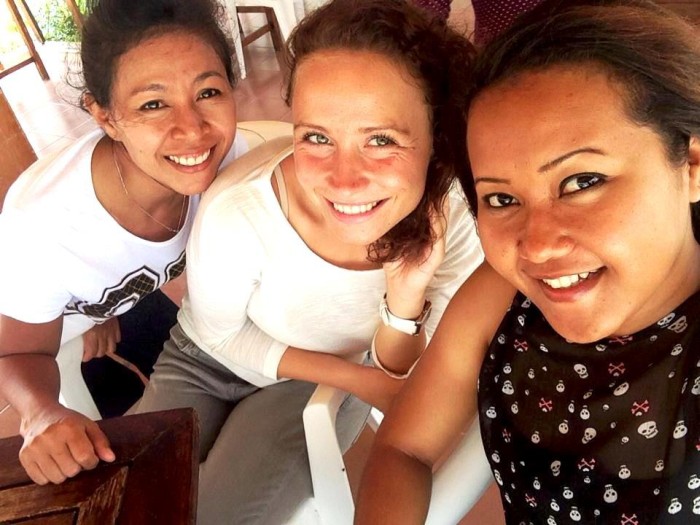 9. Hydration was my motivation
In Maldives you will have food and drink (all at the same time) above your head almost all the time. As long as you are mindful where you are standing (though in most of the resorts they will have professional palm tree climbers to cut down coconuts) and as long as you make some friends with those who know how to cut coconut – you will be widely provided with the most hidratating drink on the planet.
10. Rainy days are happy days!
Those only visiting Maldives will probably not agree with me, but if you work in Maldives for more than a year, any weather change means something exciting. Clouds? Great! Wind? Wuhu, let's go windsurfing! Rain? Amazing, spa center will be fully booked and that means lots of work, or in other words – amazing people are on the way to be taken care of.
To conclude this story… Did this little girl learned anything about humility? Hm, not exactly (yet).
But hell oh boy, she learned about herself and most importantly, found her own voice again. There are no big crowds to follow her, no fans to admire her, but she knows how to listen herself again, she knows how to ride her own »boat« again and she is not afraid to drown in the sea of emotions ever again.
She was surrounded with water from all 360°
for 539 days.
She knows how to swim.
With the flow.
Again.