Most people remember Bosnia and Herzegovina as a country ruined by terrible civil war 20 years ago. This really was an enormous tragedy that none of us expected to happen at the end of the 20th century.
Despite all the atrocities this young country has been through, it still remains a country of very kind and generous people, where you will feel very welcomed from the get go. Bosnians are people who are very relaxed, like to have fun and you will surely enjoy their company. Bosnia and Herzegovina is a country of magnificent rivers, mountains and other beauties of Nature. If you're not a vegetarian, you will enjoy their food also. Given the fact that its citizens are multiconfessional, you will find mosques, as well as Catholic and Orthodox churches. Bosnia is a country with many cultural and historic sites. Apart from all this, it is also a well-known country with many beautiful women.
Bosnia and Herzegovina is multiconfessional
Unfortunately it is the religion, which pushed this young country to bloody civil war at the end of the 20th century. Bosnia and Herzegovina is a country where live people of 3 nationalities and religions – you have Bosnians, mostly Muslims, you have Serbs, mostly Orthodox and you also have Croatians, who are mostly Catholics.
Given the fact that people of each nationality want to identify themselves through religion, they all spend a lot of time and money building new mosques and churches. This is very interesting for a traveler, as one can enjoy in exploring beautiful architecture of these religious monuments.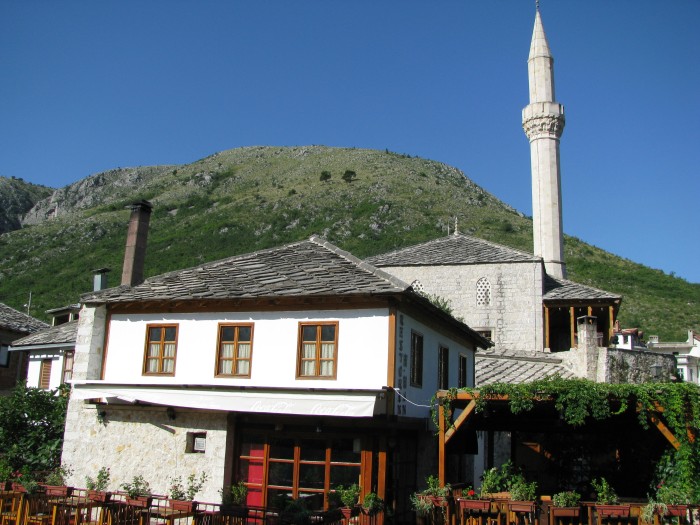 Bosnia and Herzegovina is a country, which is divided (due to Dayton Agreement) into 2 parts. One part is Federation of Bosnia and Herzegovina, with most people being Bosnians and Croats, and other being Republika Srpska with mostly Serbian population.
Bosnians are one of the most friendly people in the world
Bosnians are well known for their hospitality. If you travel through this beautiful country, it would not be unusual if someone will invite you to their home, or treat you a free drink in the local bar.
People of all three nationalities are known to be very generous, but perhaps Serbs are the kindest of all three. They are very honored if they can be a host to a foreigner and will do anything to make you feel as comfortable as possible.
Wherever you may travel in this country, people will almost certain offer you Rakija. It's a traditional spirit drink with over 40 % vol. of alcohol.
Wonderful beauties of nature
Bosnia and Herzegovina is a mountainous country. It has beautiful mountains and valleys and canyons with many beautiful flowing rivers.
Surely you will be fascinated by the Drina river canyon, which is the border river between Serbia and Bosnia and Herzegovina. Even the river Neretva is fascinating because of the many artificial lakes and beautiful canyon.
Land has a few very beautiful lakes. One of the most beautiful ones is certainly Boračko jezero near Jablanica.
You also must see Jahorina and Bljašnica. Both are located in the immediate vicinity of Sarajevo. If you like mountains, you will not run out of these in Bosnia and Herzegovina.
If not vegetarian, you'll always enjoy food
Local food specialty in Bosnia and Herzegovina are definitely čevapčiči. These are meat rolls, the size of a large finger. Usually annexed to čevapčiči are so-called lepinja (bread) and onion. You should also order kajmak (sort of cheese) which is an excellent choice to eat alongside čevapčiči.
Apart from čevapčiči, most famous Bosnian cuisine include sarma, burek, čorba, bosanski lonac, … This land is also very famous for its sweets. While there, you MUST try the baklava and tufahija.
Beautiful girls
Bosnia and Herzegovina is also known for its very beautiful girls. The girls are naturally beautiful. In addition to the natural beauty they are also very careful about their looks. Despite the fact that the majority of the population in Bosnia and Herzegovina is very poor, these girls are always well dressed and decorated. They say that Bosnian girl is rather nicely dressed up than fed.
Bosnia and Herzegovina is a land of very affordable goods
In general, Bosnia and Herzegovina is very cheap land for traveling. But the prices across the country are not always the same. In the Federation part of the country, prices are a little higher than in the Republika Srpska. Significantly higher prices are especially in Sarajevo.
If your order a beer in a bar, it will cost you from 1 € to 1.5 €. In Sarajevo, in some places, up to 2 €. A plate of čevapčiči served with common addings will cost you from 2 € to 3 €. Lunch à la carte in some better restaurants will cost you from 6 € to 10 €.
Room for two will cost you only € 20 (€ 10 per person). You can get bed and breakfast in a beautifully landscaped property for up to 15 € per person. Note, however, that in Bosnia and Herzegovina in terms of price accommodation you can get even lower prices with bargaining.
Bus ticket from Sarajevo to Mostar costs from 6 € to 8 €. From Sarajevo to Banja Luka from 15 € to 18 €.
Daily ski pass at the Olympic ski slopes Jahorina and Beljašnica costs around 15 €.
Mostar is a city where you get the most for your money
Web travel portal Trivago has published a list of a hundred cities, where you get the most for your money. Mostar took the first place.
Mostar is certainly a pearl which amazes every traveler or tourist. It is known for the Old bridge over the Neretva River, which was made at a time when this area was ruled by the Turks.
I guarantee you that you will never forget the romantic summer evening when you are in a restaurant on the bank of the Neretva River, eating Bosnian specialties and drink traditional Bosnian coffee while observing a beautiful bridge and the river.
Visit Bosnia and Herzegovina and help this unfortunate country
Give a chance to this unfortunate land and visit it. With your visit you will contribute to the development of tourism in this poor country and you will help it escape from the economic crisis.
Surely, your visit to Bosnia and Herzegovina will not be in vain. Your visit will richly repay. You will end up with wonderful memories of this beautiful country and friendly people.
About me:
My name is Tomaž and I live in Slovenia. For twenty years I've been traveling around the world. My favorite destination still is Bosnia and Herzegovina, which I visit at least three times a year.
To all of you thinking about visiting Bosnia and Herzegovina, I offer any information that you want. You can contact me via my Facebook profile https://www.facebook.com/tomgorec. I know Bosnia and Herzegovina very well and I will be glad to help you.