Hong Kong is a fascinating metropolitan city and destination that travelers all around the world want to visit. Visitors who come to Hong Kong do not want to miss the stunning view of Victoria Harbor. However, where to enjoy the harbor scenery will be the best experience?
Hong Kong Victoria Harbor
Victoria Harbor is famous among the tourists not only because of its world status of trade pot but also and more importantly its magnificent view. Once you get closer to the harbor, a large, long and eye-catching skyscraper is in front of you.
The first one that draws people's attention is probably the International Financial Center (IFC). Its pencil-liked shape in silver is standing out from other buildings. Apart from that, the sharp-pointed in shape Bank of China in Central as well as bird-liked shape with open wings the Hong Kong Convention and Exhibition Center in Wan Chai are also recognizable. These commercial buildings are towered together with myriad of hotels and blocks of residential houses in picturesque disorder. They are in big height disparity relatively to each other plus there is a couple of huge mountains surrounding the city as a result a visually attractive and complex cityscape is formed.
The Tsim Sha Tsui Promenade
Tsim Sha Tsui is a main center of Kowloon Peninsula and it is just situated right next to the harbor. Local Chinese people called it "Tsui Sha Tsui" literally means "Sharp cape" because long time ago before the land reclamation, this area was a lengthy and sharp beach pointing towards the sea. Nowadays, it is a must-visited area for both first-time and frequent visitors. There are world class shopping centers, many different kinds of well decorated shops as well as restaurants for worldwide cuisine. There are also cultural facilities for people who enjoy art and culture which is truly a hub in Kowloon side.
The Tsim Sha Tsui Promenade undoubtedly is the best location because it is the forefront and the central point of the promenade therefore we can receive the best and the most complete view. There is an upper deck for better observation where people can take a short walk or have a seat to relax and enjoy the view. It is absolutely convenient to get there. If your hotel is located in Tsim Sha Tsui then you can walk through the Kowloon busy path Nathan road and pass through the Salisbury Garden where you will reach the harbor side. When you stay in other main districts, you can take the Metro and get off at Tsim Sha TsuI station and from the station to the harbor is a walking distance.
Star Ferry
What if I want to enjoy the view a bit closer? No problem, there is another good option waiting for you which is Star Ferry. Star Ferry is found in 1898 thus has a very long history in Hong Kong. It carriers thousands and tens of thousands people across Tsim Sha Tsui to and back from Central and Wan Chai every day. Although buses and train can be driven through the cross-harbor tunnel, star ferry is still the favorite way for locals and foreigners to cross to the other side due to its cheap price and high frequency. On weekday, you only pay for HK$2.5 and HK$3.4 on weekend for upper deck; HK$2 and HK$2.8 respectively for lower deck. The best thing is you can appreciate the lovely view and its getting closer and closer to your eyes. It is different from a standstill experience staying in the promenade.
Star ferry can be considered as a collective memory for Hong Kong people as we went through many political and social movements. By taking the ferry across, you will immense yourself in a strong historical atmosphere along the journey. I suggest you to take one trip on day time and one trip coming back at night to find out the difference.
The Peak
Victoria Harbor at night is arguably praised as the world best night view. Hong Kong has another beautiful name "The Pearl of the East" due to this sprinkling night appeal. Once the sun goes down, all the buildings especially the electric billboards gradually turns on. At that time, you will realize why there are so many admirations towards it. Why not reach the Peak Tower to see from a high point? The Peak is one of the must-see attractions in Hong Kong.
First take a public bus 15C from the Star Ferry terminal and it drives you directly to the peak tram lower terminal. People go up to the mountain after queuing up long time for the peak tram is mainly due to this panoramic view. There is a sky terrace allowing you to enjoy the scenery without anything blocking your sight. Looking down to the buildings from the tower makes you imagine the world is under your feet. We often pay attention to the buildings on the Hong Kong Island side only and neglecting the Kowloon side. To be honest, the view of Kowloon is comparably weaker but there is the tallest building in Hong Kong the International Commercial Center (ICC). When it turns dark, it illuminates various patterns such as words, stars, moon, flowers and animals. I am sure that your phone and camera will be busy at that moment.
Symphony of Lights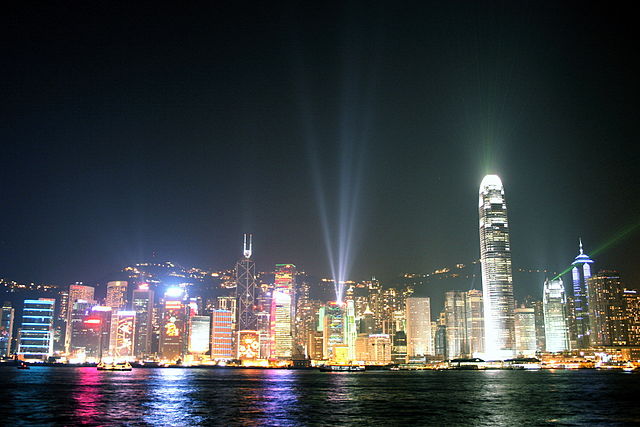 Every night at 8:00pm there is the Symphony of Lights. At around 7:30pm, plenty of tourists and photographers are already occupying a good position waiting for the show in the area of the The Tsim Sha Tsui Promenade.
It is a light show that 47 buildings illuminating flashes of laser lights and array of dancing lights with the use of music and sound effects. You can see colorful beams and sweeping searchlights and swirling display of lights across the harbor. It showcases you how vibrant the Victoria Harbor can be when it comes to the night.
Remember don't spend all your time at night for shopping or drinks. It will be a huge shame if you miss out the spectacular harbor view at night.