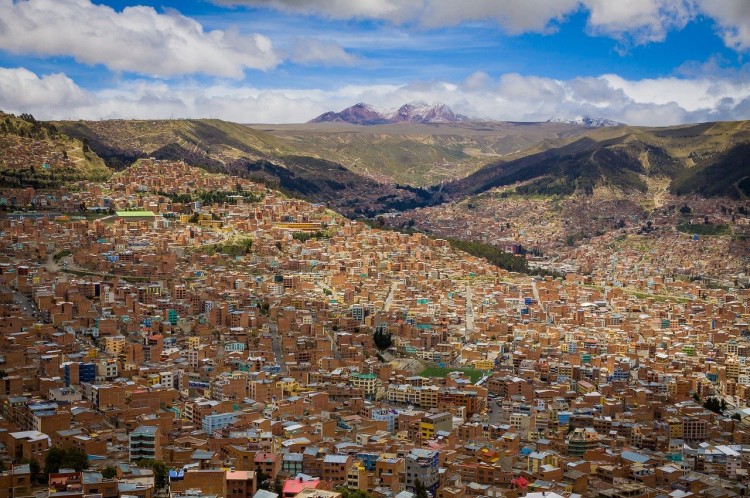 This city is going to take you breath away as soon as you arrive and you see all the moutains, clouds, and little houses, and the big buildings. You arrive to the city where everything is posible. Some history about, La Paz the city is in Bolivia (South America) and La Paz is seat of goverment that means that is a city with a lot of movement, also is a city known by the different weathers in a day, for the constrast, and specially because La Paz attractions keeps its essence alive.
In La Paz you are surronded by different attractions, with a unique offer in culture, gastronomy and places to stay A city full of diversity, opportunities and the best views, is compemporary and surprise you by the mix of advance tendencies and Andean culture and traditions.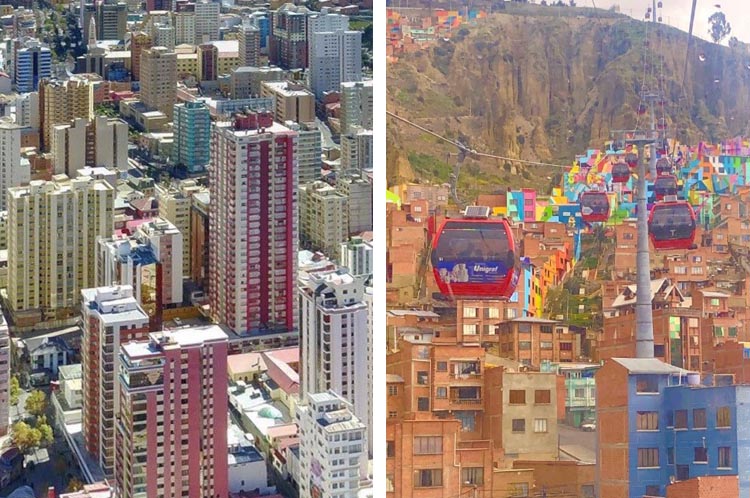 An unique natural beauty between Los Andes and a modern so this city an other dimention in culture, aventure, lifestyle, gastronomy, nightlife and more…
Let's star with some of the most incredible places. La paz attractions starts with a specific street that is the most legendary and when you are there you transport to La Paz city early years.
KILOMETER 0
The beginning of the city, kilometer 0 is an other name for Plaza Murillo, and the name is because since this area people starts to counting the streets, also cause of Pedro Domingo Murillo, he was born in La Paz, he was a patriot who played a role in Bolivia's Independence.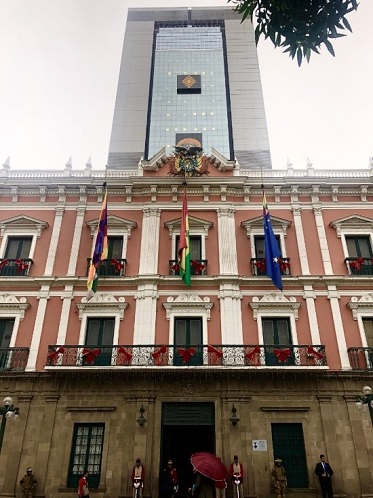 Plaza Murillo is one of the most the iconic aquare and one of the most visited places for La Paz attractions. Where almost all the important builings are, you have Goverment Palace known is Spanish as Palacio Quemado, that is where all the also the congress of Bolivia, with a peculiar detail in the front clock, this one is upside down and why? It is one of the first decolonizing and identity actions.
An other detail in La Paz attractions is in the hospital "Caja Nacional" near the Plaza Murillo justo in fron of it there are shots that the wall has, this is a reminder of one of the most terrible confrontations in October 2003.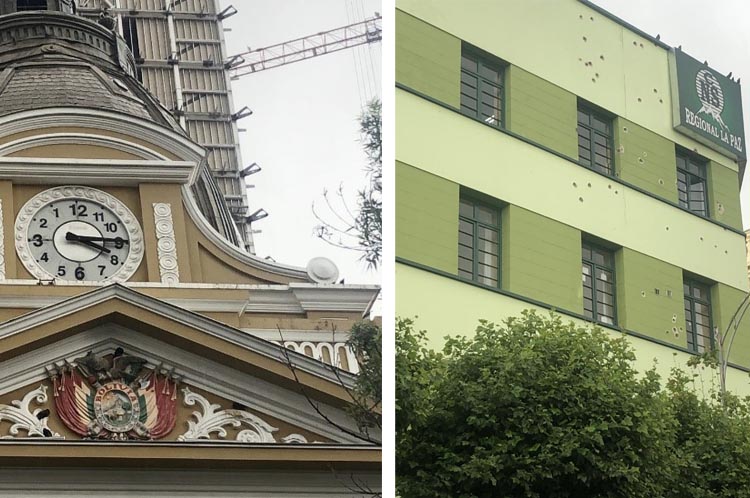 JAEN'S STREET
Known as the mystery street, a lot of stories and locals legends are around it the second stop for La Paz attractions, a colonial street, that keeps the history of La Paz early years. Located in downtown just a few minutes away from Plaza Murillo, in fact you could walk from there to this colorful place. This street is a La Paz attraction and why? Because there to transport in time, the structures of the houses there are antique but keeps the scene of the begining of La Paz. This is a must visit.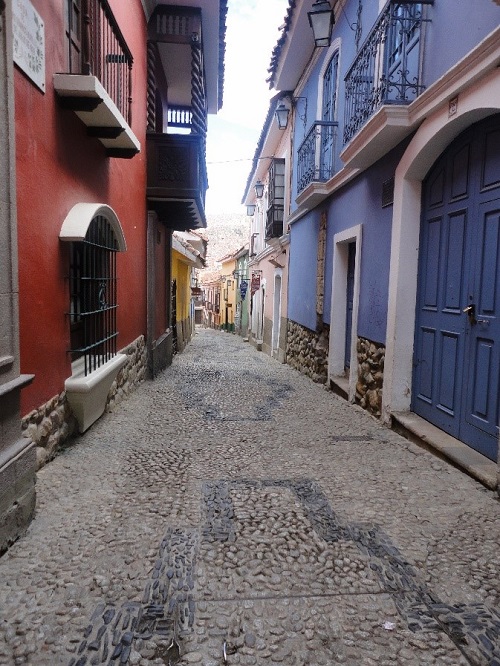 Jaen's street is small hall and there, you can find different places to visit like museums, caffee shops, restaurats, pubs, hostels and peñas (folk parties). A Hidden treasuare where the most important people lived in the past, for example one of the most iconic character, Pedro Domingo Murillo, was the men who said "la tea que dejo encendida, nadie la podrá apagar" ( the fire that is on, no one can't turn it off). Strong words that are meanfull for paceños (La Paz locals).
In this La Paz attractions you learn more about the history about bolivia, one of the best places to go away from the loud noise of the city and see the house of the patriot Pedro Domingo Murillo, the painting of Mamani Mamani, preciuos metals museum, bolivian Litoral museum and the musical instrument museum. But those are nota ll the atractions you also have tradicional places to have a drink or toe at there.
CABLE CARS
If you think about modernity, one of La Paz attractions is the cable car (teleférico) the biggest cable car connection between La Paz city and El Alto city, the main purpose is to connect these cities and the best way to do it with the cable cars. The ones that link El Alto and La Paz are the lines: red, yellow, blue, purple and silver. And also this cable car has other routes local ones in La Paz, and the lines are the green, light blue, brown, white. In fact all the lines connect diferent neighborhoods in La Paz, the difference is that just the first ones have a final or first stop in El Alto city.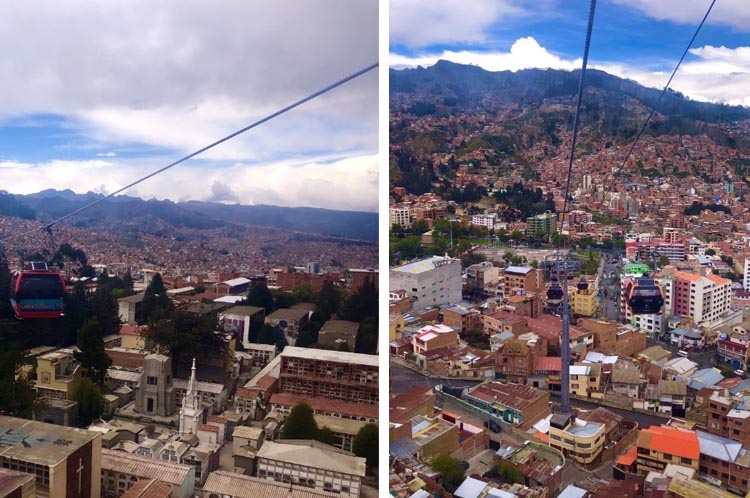 These ten different connections are one of La Paz attractions, they have different stops, the red one, tree stops, from Central Station to the General Cemetery and the final stop in 16 de Julio fair in El Alto, the travel time is about 10,47 minutes. The yellow one, four stops, from El Libertador neighborhood, to Sopocachi, the Buenos Aires, finally Satelite in El Alto, the time travel is 16, 52 minutes. Then the green one, also four stops, this one connects the south site of the city, from El Libertador to Alto Obrajes, next 17 street and the final stop is Iravi, the time travel is 16, 21 minutes. Let's continue with the blue one, 5 stops, this one connects El Alto city, from 16 de Julio fair to Libertad square, then La Paz square, and UPEA (public university in El Alto), finally Río Seco, the time travel is 20, 35 minutes. The orange one, with four stops, from Central Station too like the red one, to Armentia street, the Periférica and finally Villarroel square, all the stops are just in La Paz area, the time travel is 12, 20 minutes and this line link with the white one, from Villarroel square to Bush square, and Triangular square and finally Del Poeta avenue, the travel time is 12 minutes. And light blue one, 4 stops, from El Prado to Teatro Al Aire Libre, then Del Poeta avenue and finally Del Libertador, time travel is 10, 20 minutes, of course the purple one, three stops from Obelisco street in La Paz to Faro Murillo in El Alto city and finally 6 the Marzo neighborhood in El Alto, time travel 16 minutes, the Brown one just with 2 stops, from Bush square to Villas neighborhood, time travel 3, 47 minutes. And finally the silver one this one connects El Alto city, with 3 stops, from 16 de Julio fair to Faro Murillo street and finally Satelite neighborhood.
With all the links you can sightseeing different areas of La Paz attractions, and El Alto city where is the internacional airport.
And the views from the cabins of the cable cars are stunning, where you see all the structure of the city, the different shapes of clouds, mountains like Illinami, the main icono d the city and here you have one of La Paz attractions, the biggest cable transportation connecting two cities and different neightboorhoods.
The ticket's price is cheap only 3 bolivianos (money), almost like $0,43 cents each, and If you connect two lines you a a discount, you pay 5 bolivians, almost like $ 0,72 cents the schedules to use this public transportation is from 6 am to 11 pm from Monday to Sunday, works on holidays too.
GENERAL CEMETARY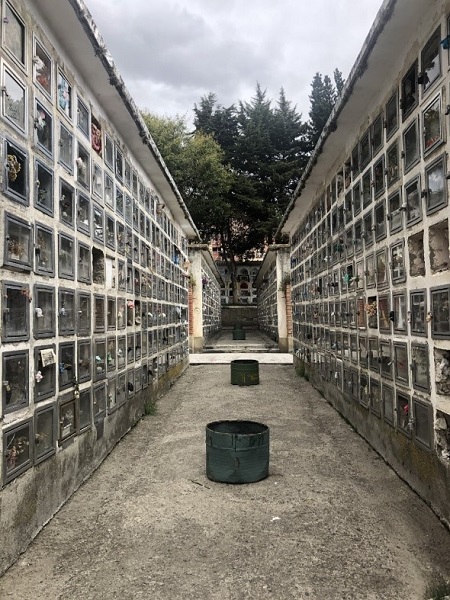 One of the oldest public cemeteries in the city, opened for the fisrt time in 1826, located in the north area in Max Paredes neighborhood, the city center, one of La Paz attractions. Locals called it, the open sky museum.
The cemetary's area isa bou 15 blocks, and is the place where all the souls of different bolivian Presidents, historical and popular persons and beloved people are resinting in peace. A great place to visit and take a walking tours in the day light. Here are different art tendecies, Neoclassical or neo-Gothic style, which cut the air with spiky tips and also the most tradicional ones, describing a little bit the struture of the different mausoleums or blocks of recesses (nichos in Spanish) in the municipal cemetery.
On Halloween, the cemetery offers a night walk it's really amazing and different to visit it at night or Death's Day where a lot of people bring ofrendas () to their belovend souls.
The General Cemetery one of La Paz attractions is open from Monday to Friday since 8:30 am to 6:00 pm and on weekends and holiday from 8:00 am to 18:00 pm, and there isn't a fee.
CHUA UMA THE ART OF WOMEN
The most amazing neighborhood in La Paz, full of colors, and art surronded by murals one more time one of La Paz attractions that you have to visit and here you can take amazing pictures. This neighborhood is located in the north area of La Paz, near the General Cemetery, this amazing La Paz attraction is the neighborhood Chua Uma.
And how do you get there? If you are downtown you have to go on the red cable car, from the Central Station, to the first stop that is the Cemetery from there you take a taxi to this place, you show the picture or say Chuma Uma neighborhood or in Spanish Barrio de Colores.
This idea of filling every corner by paint, draws motivational phrases on walls and give an special touch came from the women that live there, specially Tomasa, a woman, who leads the neighborhood council, she coordinated this idea with a local artist, and they want to show happinees, joy, to all the people the work was made by all the neighboors and the local artist.
NIGHTLIFE, PARTIES, FOLKLORIC FESTIVALS ARE LA PAZ ATTRACTIONS
One of La Paz attractions are the local parties, here in this traditional, folklorical street festivals a lot of people come together to celebrate, and they celebrate a syncretism between Aymara rites with the Catholic religion, an example of coexistence based in respect between cultures, that is meaning is traditional celebrations, knows as Prestes (parties with a mix of tradionals costums and global) por Entradas Folkloricas (Folklorical festivals).
And now the biggest folklorical festival in La Paz, Jesus Del Gran Poder is an Intangible Cultural Heritage of Humanity one of La Paz attractions! In this festival almost 40.000 people dance tradicionals dances, like Morenada, or Kullawada and they sing. All the participants wear colorfull folkloric costums because of their belief and promesse to the saint, and all the people go to the street where this festival that place and they watch them and delight by the spectucular show that they offer. This year (2019) Gran Poder took place in June 15 until June 16.
In contrast to this cultural festival and folklore. If you are looking for a wild nightlife, kind of nightclubs, is the best ones for La Paz attractions are here, on Thursday's night there are tow places that you can't miss one of them is a nightclub called Malegria, this day a spectacular show at midnight Afro dancers, dance Saya Afroboliviana (a traditional dance of Bolivia) in the middle of the enjoyment you have a little bit of local tradition, they sing, you dance and it is really amazing. And then If you want to meet locals and dance a lot there is a The Dubliner at Megacenter, where a lot of locals go and here you can also find travelers and locals to have a different kind of party. Both places a great you don't pay a fee. By the way there are a lot of places, cheaper, more fancy or more chill to go out in the city, but these ones have an specific routines for Thursday's night.
Words that will help you in Spanish:
Paceño/a: Local people from La Paz.
Caserito/a: Street sellers
Sorojchi pill: A pill that help you with altitute sickness
Plata, pesos, bolivianos: Differet ways to call the bolivian money