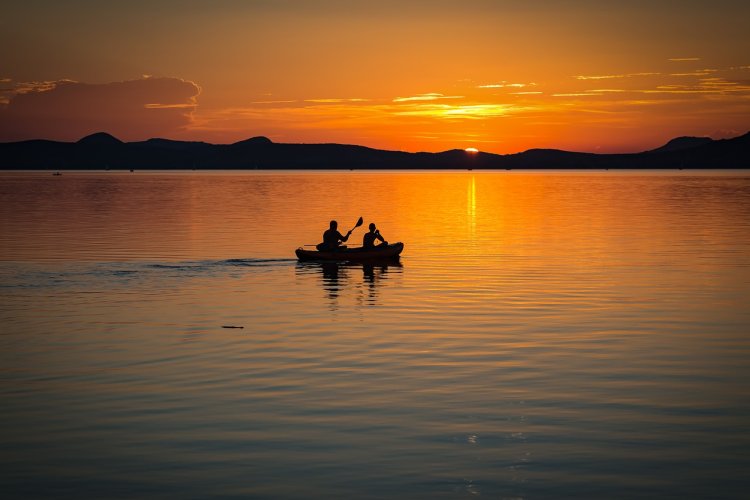 Lake Balaton – Hungary is the largest lake in central Europe, and one of the largest lakes in whole Europe. Its area is around 590 square kilometers, an average depth is 3 kilometers. Lake Balaton is often called the Hungarian see. I visit it twice, and both times I was delighted. If you ever go to the western Hungary do not miss Balaton.
The name of the lake comes from the Slavic word for mud, and it is also called Blato Lake. Lake water is slightly radioactive and contains a large amount of iodine and magnesium compounds, which makes it good for health.
Lake Balaton – Hungary has a great green – blue color. When you see it you will think you are at see. The only difference is you will notice is that there is no smell of the salt, because the water on Balaton is fresh, not salty. The water in the lake Balaton – Hungary is very clean and very comfortable for swimming during the summer.
The specificity and grace of Lake Balaton is best illustrated by the fact that famous composer Beethoven got an inspiration there and wrote the Moonlight Sonata, one of his most famous compositions. Also history says that the rest and inspiration here was also found by the poet Rabindranth Tagore.
Beside of enjoying its beauty, you are certainly wondering what else you can do on Lake Balaton and what you should visit. Here are some suggestions.
Walks, sunset and bike trip
There is many thinks you can do at the lake Balaton – Hungary. But first go for a walk, enjoy the great view, smell the fresh air, and experience the spirit of Balaton. Very soon you will get a company. Many swans are sailing in lake, and there will come close to you. You do not need to be afraid, but be very careful with feeding them, maybe the best option is to ask locals for advice. Except the swans in the lake Balaton – Hungary you can find other beautiful birds, and many rare plants which have found their home right here.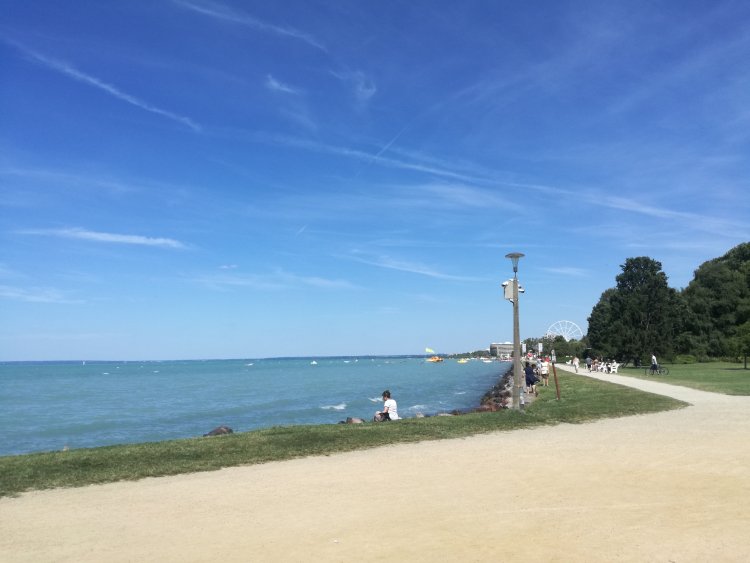 Also, do not miss the sunset on Balaton, if your loved one is with you it will surely be really romantic.
Other thing you can do on lake Balaton – Hungary is driving a bike. If you are in good shape, and want to experience Balaton from first hand, you can take a bike, and visit all the places around the lake. Along the entire shoreline of the lake stretches a concrete path about 200 kilometers long. It is suitable for cycling and sightseeing. In nearby places you can take a break and experience life next to lake Balaton – Hungary.
Fishing
Fishing is also a great thing to do at lake Balaton – Hungary. Balaton is populated by different types of fish. There you can find fishes weighing even a few pounds. But keep in mind that you need a fishing license.
Enjoy in swimming and sunbath
On the summer lake Balaton – Hungary is well known for his beaches. Many tourists spend their vacation here. Beaches are adapted for both adults and children, swimmers and non-swimmers. Although the depth of the lake is a little over 3 meters on average, the gradual water depth will allow you to swim without worry, especially if you decide to visit Balaton with your kids. The bottom of the lake is covered with a thick layer of silt that provides a soft base for feet. In the summer water is warm and you can enjoy with no worries. Near beaches you can find water slides, and fields for volleyball, basketball, football and handball, so if you do not want to swimm or sunbathe, you can also have fun.
Do not forget about night swimming, it is great on lake Balaton – Hungary.
Boat ride you must experience
Something that you can not miss if you visit lake Balaton – Hungary is boat ride. The experience is unforgettable. There are many smaller and bigger boats available for sightseeing for tourists. You can find a ride one hour long for reasonable price. For two persons the price is 10 to 15 euros. The boat departs from the port and drives along the shore of the lake. When you find yourself out in the open sea the boat will take a few minutes break so you can enjoy the beautiful scenery of the lake Balaton. After that, it returns you to the starting point.
Larger cruise ships have pirate themed entertainment. So you can find there Captain Hook and other crowd, who host various parties during the ride for the youngest, and for the grown ups too.
Water sports
Sailing is the most popular sport on the Balaton. Also water skiing, surfing and wakeboarding are also very popular and attracts many tourists. So if you have adventurous spirit try some of the water sports on lake Balaton – Hungary, you will certainly have a great time.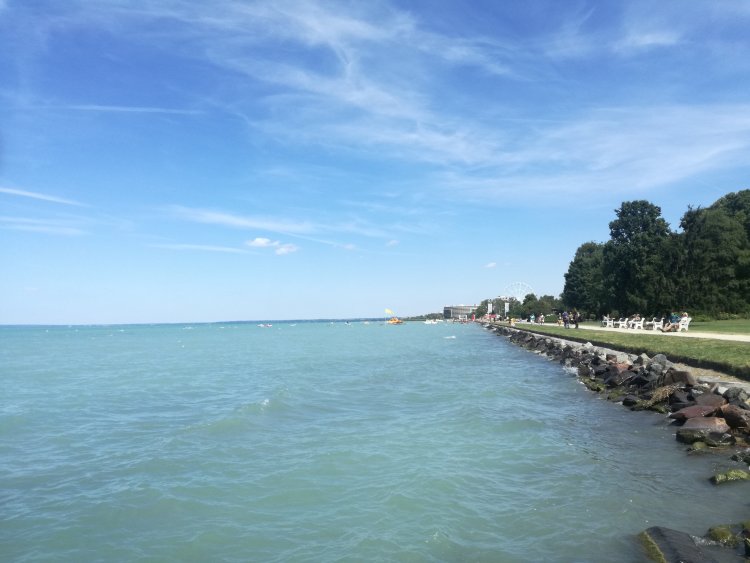 Need more fun?
If none of the above is particularly interesting to you, or if you are looking for more fun, try horseback riding. Horseback riding by the lake is one particular attraction here, expecially for kids. So if you're in the mood for this kind of activity give it a try.
Also, here, in places near lake Balaton – Hungary you can find several theme and adventure parks, with climbing and other interesting facilities. If you are a fan of such activities, look for one of these parks and have a good time, especially if you are traveling with your friends.
Do not forget to visit castle near lake Balaton – Hungary
When you come on lake Balaton – Hungary, visit the nearby magnificent Festetic Castle in Kestel. This castle is one of Hungary's most beautiful sights. Thanks to its great location by the lake Balaton, Festetic Castle is a place of rich cultural heritage. It has 101 room. The castle houses Europe's largest library of nearly 100 000 books. Visit it, and of course climb the tower of the castle. There you can enjoy the view of the surroundings. The entrance to the castle will cost you less then 10 euros.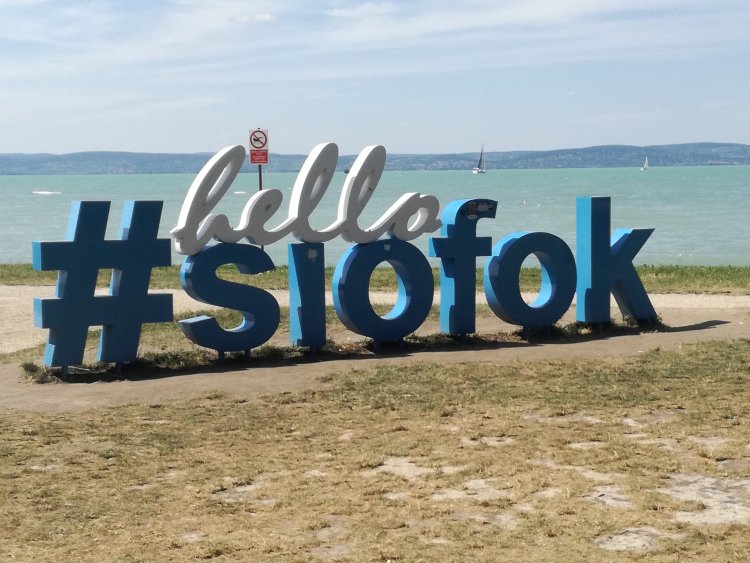 Try traditional Hungarian food
Lake Balaton – Hungary and cities nearby are well know for many food specialties that are characteristic for the area. In addition to national cuisine, you will also be able to taste a large number of delicious Italian cuisine as many restaurants prepare extraordinary Italian specialties. But first try local food. If you decide to try Hugarian food, keep in mind that it is very hot and spicy, so before ordering a dish, first ask how spicy it is. Something that for locals are regular, for you it can be extremely hot. What I definitely recommend is that you try Hungarian stew, fish, pancakes and drum cake, you will surely like it.
Take a sip of local wine
Hungary, especially area of Lake Balaton is well known for its fine wine. Wine festivals are organized here throughout the year, and if you find yourself near Balaton, be sure to try local wine. This area is rich in vines and their wine is famous a cross the Europe.
Which place on Balaton to choice?
Around lake Balaton – Hungary are placed a couple of towns and villages that are very beautiful, you just need to pick one.
I will recomend Siofok, most famous city on the shoreline of lake Balaton, well known for many tourist facilities, bars, restoraunts, and night life. Siofok attracts a large number of young people with a variety of music events, concerts and performances during the summer months. Also, young people love to stay in Siofok because of great night life, parties and modern bars and disco clubs. There is something for older guests, too. Concerts of serious music and folklore evenings are organized here very often, so everyone can find something for himself.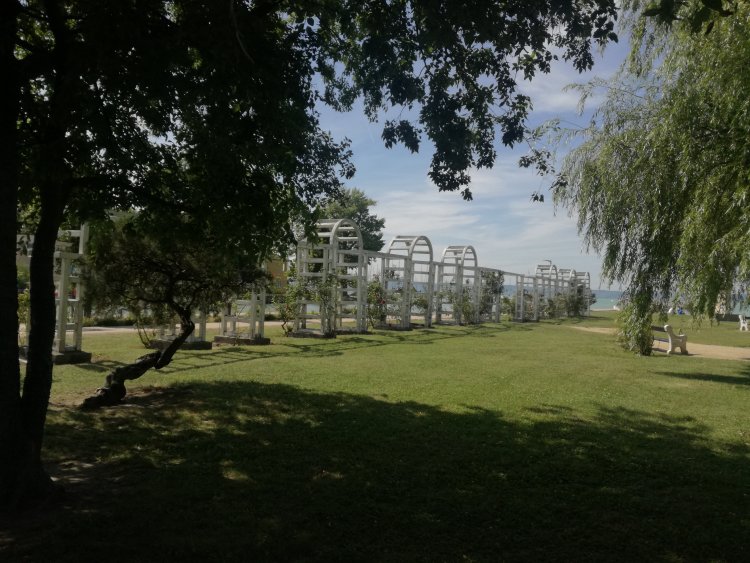 If you ever come to Siofok on lake Balaton – Hungary you must visit the water tower, 45 meters high symbol of this city. Get a drink at the highest point of the water tower and enjoy the breathtaking panorama of the Balaton. But keep in mind that the table you are seated will rotate gently.
During the day in city Siofok at lake Balaton – Hungary you can also enjoy at the beach and beautiful parks. Walk around the pier along the lake and take great photos. In Siofok there is also many restaurants with local, traditional food, and other great stuff you must try.
When to visit lake Balaton – Hungary?
Lake Balaton – Hungary is great at summer, but it has his charm in other parts of the year too. In fall there are very few tourists, the prices are much lower, and the lake is beautiful lake always. You can enjoy in peace and walk near the lake while the leaves are falling.
In the winter, the lake is mostly frozen, and winter sports and activities such as ice skating become very popular. Also, ice fishing is sometimes organized, which is interesting to many people.
In spring, nature wakes up, the number of tourists increases, and the lake shows its charm again.