San Francisco is a unique city in the US, and I found out as soon as we arrived there. The city simply doesn't respect the American style, and you will be surprised about how cool, hip, and amazing it is. There are many places to visit in San Francisco, and you need at least a week there if you want to discover them all and enjoy its spirit.
As soon as we arrived in San Francisco we discovered it is different than anything else we saw in America: the city has a hip vibe; most of the people are vegetarians and drive hybrid cars. And let's not forget they are rich, they are active and sporty, and you can see it everywhere around the city. You cannot easily blend into this mix, and the locals will know you are a tourist all the time, but don't let it stay between you and a great fun trip.
There are many places to visit in San Francisco, but the most iconic one is the Golden Gate Bridge. We saw it in so many American movies, that we wanted to admire it live as soon as we arrived in San Fran. It is bigger than I imagined, and quite impressive. You can easily take a boat tour which will take you behind it, with an audio guide that tells you everything you need to know about it. However, we also wanted to cross it, so we took our car and we enjoyed riding on the Golden Gate Bridge.
Close from the Golden Gate is the Alcatraz Island, with the museum of the Alcatraz prison. As you may know, this is one of the most popular attractions in the city, and one of the places to visit in San Francisco you cannot miss. Be aware that you have to book the tour weeks in advance, so plan your trip carefully. The Alcatraz prison is incredible, and you will be definitely fascinated by its history.
Since we were in the area, we also visited the Fisherman's Wharf in the San Francisco bay, where we had the chance to eat fish and sea fruits. You must do it when visiting San Fran, but be aware by the seagulls who will try to steal your food.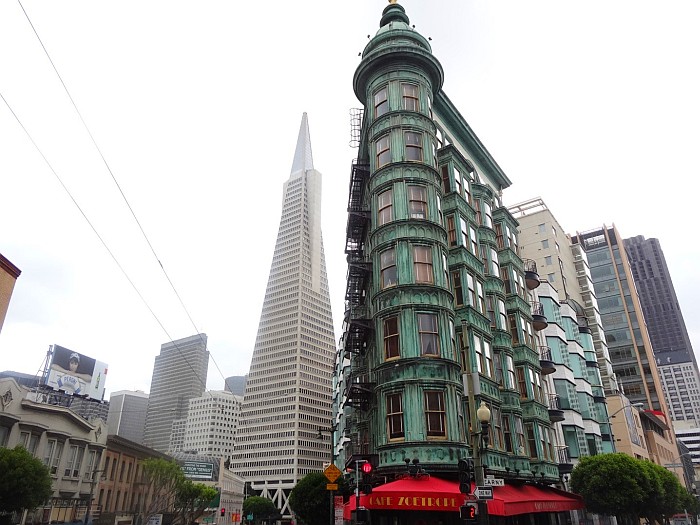 One of the other incredible places to visit in San Francisco is the Lombard Street, unique in the world. You can drive it, which will be a funny experience, but you should also walk it, and enjoy this typical San Fran street. As the city is built on many hills, most of the streets in San Francisco are like this, but Lombard is incredible beautiful and famous all around the world.
If you are in San Francisco you have to pay a visit to China Town. You will see the gates to the area easily, and you will recognize it by its unique style. It is a nice experience to visit it: you can admire the Asian culture, try fortune cookies, and listen to local artists who play on the streets. It is for sure one of the places to visit in San Francisco you will enjoy a lot!
As San Francisco is a hip city, I also recommend you to simply get lost on the street, and enjoy its vibe. At every corner we discovered a beautiful building, unique street art, cozy shops or cafes, nice restaurants, and so on. So there are really numerous fun and interesting places to visit in San Francisco area, it's not just a phrase.
Last, but not least, do not forget to try the famous San Francisco trolley. A trip with it is a must, but you can use it every day if you want to enjoy the city as a local. Have fun!