If you are planning to visit the Philippines you must go for swimming with Whale Sharks! If there's a doubt in you, go over self, break the limits and don't take it as optional, because it's simply worth it!
Basically you two possibilities, where you can swim with the Whale Sharks in the Philippines. First is at Donsol Bay, Luzon and second in Oslob, Cebu – I did that one and it was absolutely amazing!
Oslob is well known by its exceptional coral reefs on the Sumilon Island, Tumalog Falls, Cuartel, Immaculate Conception Church, Baluarte and foremost as a place where you can go for swimming with Whale Sharks or so-called "tuki" or "butanding". Whale Sharks are in daily interaction with the local fishermen in the gulf of Tanawan and it's a 99% of chances you will see them during their feeding. That became a big tourist attraction for the past four years. You have three options of the guiding tours: as an observer by a boat (1,30.11EUR), snorkeling (20.34EUR) or diving tour (30.51EUR). In the price is not included the fee, which is regulated by the local government unit (for the snorkeling tour I paid only 2.08 EUR).
Most probably, you will start your trip in the Cebu City, that's why I will give you some short directions to Oslob, where you can go for swimming with Whale Sharks! First you need to catch the bus to Oslob at Cebu South Bus Terminal (3.12 EUR). It takes four hours of driving, so make sure that you have booked everything at the appropriate time. Don't worry about the unimportant things as if you will be able to find the right bus, because in general are people of the Philippines very kind, nice and friendly!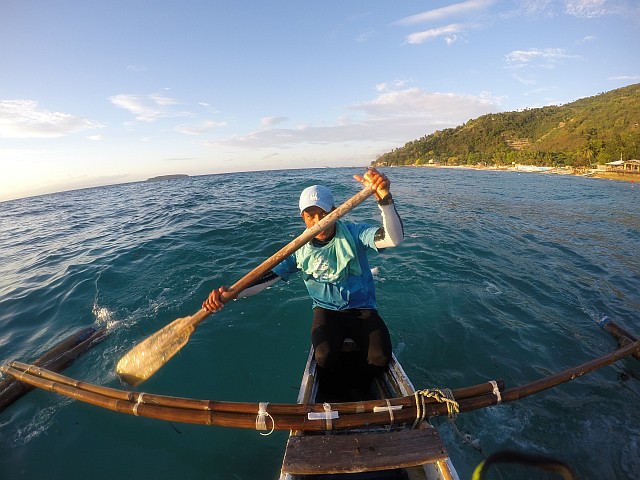 From the center town of Oslob in Cebu to the meeting point – Whale Shark Watching briefing area is about 10km of a distance. It is necessary to get a transportation, if you don't have an accommodation next to the bay, where you can go for swimming with Whale Sharks everyday, haha. You can participate in the activities almost all the time of a year (except on "Good Friday"), from 6:00am – 12:30am. There's no need to make a pre-reservation, only if you decide to avail the private tour package. There's also no required outfit, so you can go in the water dressed like a queen as long as you feel comfortable, haha.
Before you go on tour, you get a locker at the front desk, which is also secured by a guard. Do not take your personal belongings on the boat (eg. passport, money, credit cards, etc.) – except if you want to take them with you for a swimming with Whale Sharks. The fact is, everything's gets completely wet on the way there and back. You can also rent an underwater camera for 10.40 EUR (unlimited photos), just in a case you don't have one. I did the most popular snorkeling tour – swimming with Whale Sharks and stayed thrilled about! Snorkeling equipment is included in price (underwater mask and snorkel), without the fins. First they take you in a small wooden boat to the information centre, where you are acquainted with the rules about the swimming with Whale Sharks. It's quite a few of them, let me mention only the basic:
All Whale Shark watchers must undergo at the Briefing Center on the rules for interaction with Whale Sharks.
No feeding of unauthorized personnel.
Do not touch, ride or chase a Whale Shark.
Do not restrict normal movement ot behavior of the Whale Shark.
Do not use flash photography.
Do not wear sunscreen if you are going to enter the water.
Motor boats are prohibited in the area. Only paddle boats are allowed.
Viewing is limited to 30 minutes.
Maintain a minimum distance of 5m from the head, 6m from the tail (this differs from the 2 from the head, and 5m from the tail started in the ordinance).
I went on tour very early in the morning – at 6:00am, but it was already fully crowded with the tourists. Consequently, I couldn't take a nice – easy – relaxing swimming with Whale Sharks in the Philippines, so I need to try my luck also at other places around the world. Anyway, in the water you are under the leadership by professionals, so NO PANIC at all!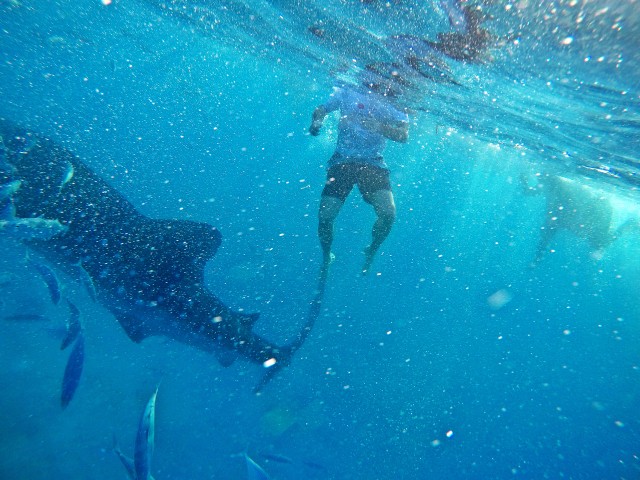 Despite the fact, that Whale Shark is the largest fish in the world, it must be also one of the friendliest animals on the Planet! Without the violent reactions to the proximity of humans, you have a chance, to go for swimming with Whale Sharks in the Philippines! If not now, then when? Astonishing scene on the giants who grow up to 12m in length is definitely worth to face your fears and doubts, because regret lasts forever!