Want to go on a road trip but don't know where? I have an idea for you that's going to blow your mind. Let me give you some hints: Las Vegas, Grand Canyon, Route 66, Hoover Dam, helicopters, skydiving… Trust me, this is going to be your ultimate road trip planner.
United States of America is one of the easiest countries to travel around. You have a great variety of flights, trains and buses at your disposal which connect the biggest cities of the world with tiniest villages even Google Maps can't find. But what if you're more adventurous? What if you want to set your own pace and just go with the flow? No, I'm not talking about hitchhiking. Although I'm (quite) sure you'd be fine too, it is still a bit too dangerous to hitchhike around the US for an average traveler. This time I'm talking about renting a car. Or a motorbike. Or an RV motor home. Well, any kind of vehicle you're allowed to drive.
The Grand Canyon Statistics
So, what I have in mind for you is a breathtaking road trip around the Grand Canyon. I'm sure you've heard about this giant hole in the middle of nowhere, right? Well, let me give you some stats so you can actually imagine how big of a hole this actually is:
If it's on the list of The Seven Natural Wonders Of The World then you know it's a BIG DEAL!
It is 446 km (277 miles) long and up to 29 km (18 miles) wide (the crack only).
It is also up to 1.857 m (over a mile) deep.
Some of the rocks on the bottom are over 2 billion years old.
It's being shaped by the mighty Colorado River for more than 15 million years.
Impressed yet? You should be because you're never going to have such an epic view as this one, trust me. And you're never going to see a picture that will do it justice either. You just have to be there to see it.
The Epic Road Trip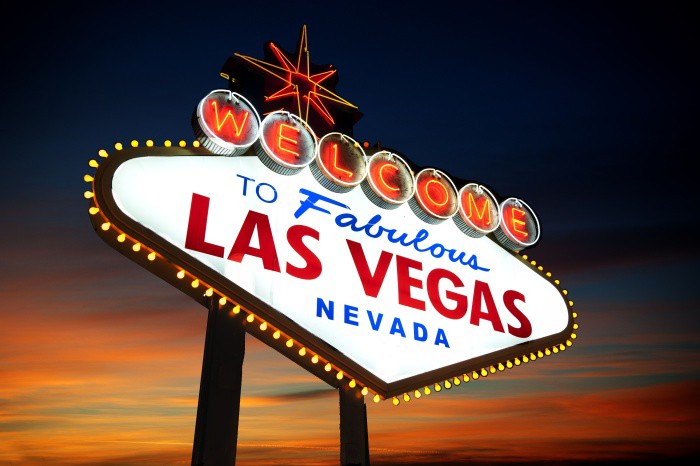 So, the starting and finishing point of this road trip is fabulous Las Vegas. It is the biggest city around and it's placed right next to the Grand Canyon, too. I'm not going to talk much about Las Vegas since we all know what Las Vegas is all about – gambling and entertainment (all varieties of it).
Just in case you're short on time but you still want to see the Grand Canyon, you can book a flight with a plane or a helicopter and see it in just about an hour or two. I'm sure the view is spectacular but it's also a bit pricey. You're going to have an opportunity to see it from the air on the road trip and it's going to be less expensive, too. Since this is a road trip, let's rent a car first. Something American and old school to fit in one the Route 66, haha.
Valley of Fire State Park
Let's start this road trip around the Grand Canyon in clockwise direction. Just out of Las Vegas there's a first attraction, Lake Mead. This lake is the home of the majestic Hoover Dam but we'll get to that later. Instead of driving up the Interstate 15, Nevada State Route 167 is more scenic when driving along the Lake Mead and visiting the stunning Valley of Fire State Park at the end of that stretch. There are not many places in the world where rock formations look like they were made by kids from red and orange Play Doh. Very photogenic landscape!
North Rim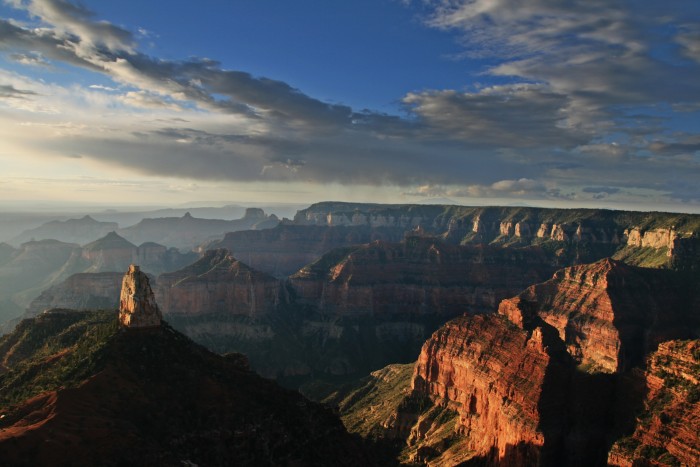 After leaving the Valley of Fire we join the Interstate 15 through the state of Arizona, then Utah for a split second and back to Arizona before heading down South towards the North Rim. When leaving the Arizona State Route 89A there's a beautiful 70 km (43 miles) road towards the North Rim. If I'm not mistaken this road is closed in the winter (and the North Rim, too). Once at the North Rim it's probably the best to just spend the night there. You might as well hike the Cape Royal Trail and enjoy the sunset if you get there in time. But be careful when walking on those rocks, it's a long way down… You should also wake up early and see one of a kind sunrise, too.
The Wave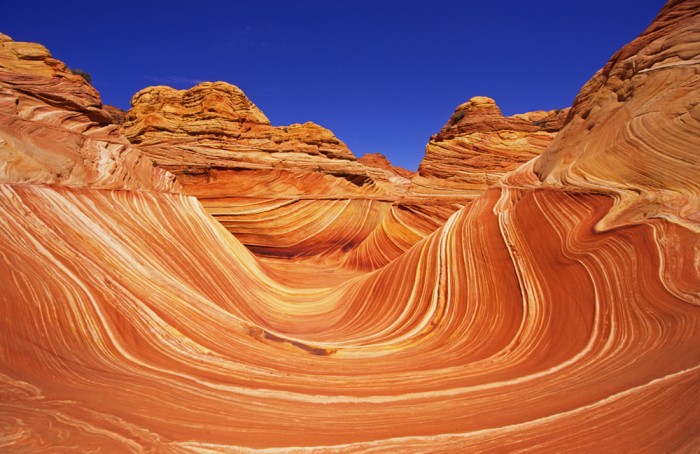 Your first stop the next day should be Vermilion Cliffs National Monument. When there, ask locals for "The Wave" and check it out. Those rocks really give you a feeling you could skate around. Or maybe you actually could, who knows.
Horseshoe Bend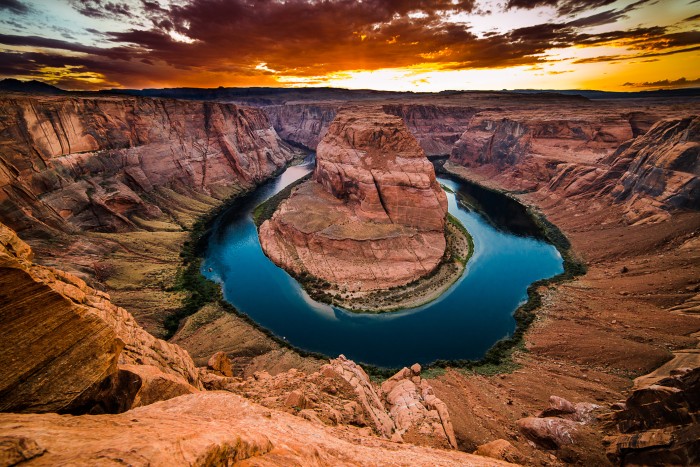 Right after the Vermillion Cliffs there's a Marble Canyon, you'll know you're there when you cross the bridge. Don't need to stop there, it's not that big of deal (compared to what's coming). About 15 minutes after you cross that bridge turn left and drive for another 20 minutes till you get to one of the most picturesque locations of the Grand Canyon –Horseshoe Bend. You must have seen hundreds of photos from this place because it's really stunning. It's also perfectly positioned for sunsets.
Antelope Canyon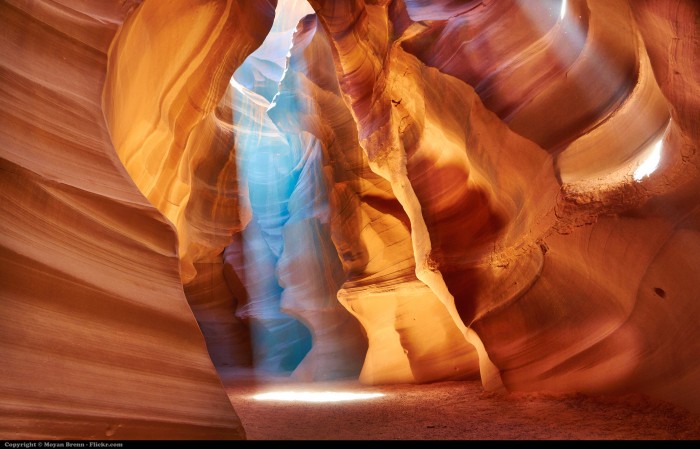 If you didn't take too long taking selfies at the Horseshoe Bend and still have enough daylight, few kilometers up the road there's something even more breathtaking. Drive up to the small town called Page which is located next to the Lake Powell Navajo Tribal Park. When there, ask where the Antelope Canyon is. You've never been in a place like this before. This one is so stunning it should be on your Bucket list on its own!
After that I'd suggest you call it a day and get some rest. Let this adventure sink in and allow the brain process all the beauty you've seen today. Also make sure you got that boat tour booked.
Rainbow Bridge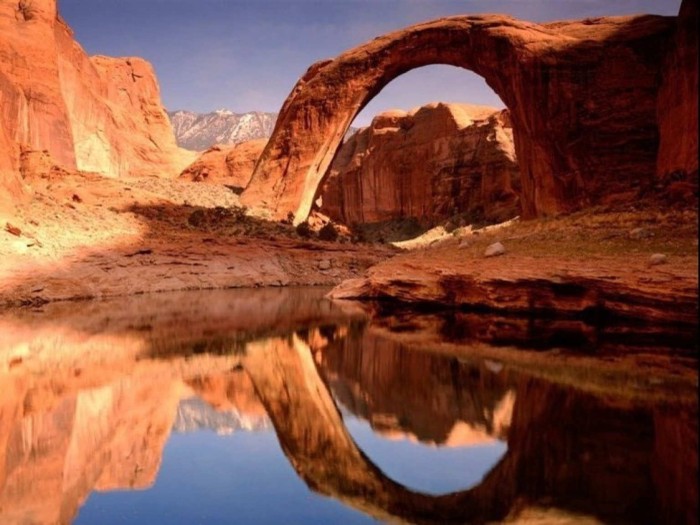 Wait, what? What boat tour? A 90-kilometer (50-mile) long boat tour to the Rainbow Bridge. A 6-hour boat ride starts in Wahweap Marina and finishes at the Rainbow Bridge National Monument where one of the largest natural bridges in the world is.
Monument Valley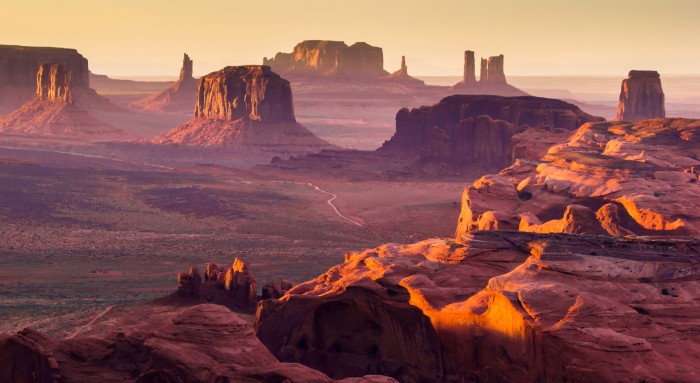 From Page you have two options. You can continue down South directly to the South Rim (we'll get to later anyway) or take a detour and check out the Monument Valley. It is located about 200 km (120 miles) to the East. I'd suggest finding a good spot for lunch and enjoying the landscape. If you're able to drive another 280 km (170 miles), take a night drive towards the South Rim and spend the night there.
South Rim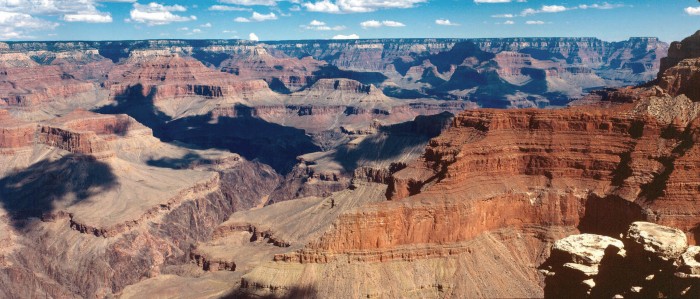 This time make sure to wake up before the sunrise, find a spot with a view and enjoy the first sun beams caressing your skin. What a difference between last night's sunset and this morning's sunrise, right?
South Rim is probably the most popular spot in the whole Grand Canyon and it offers a lot of activities, too. Here are few of them: mule riding, hiking on trails, rafting, biking, jeep tour, camping, rock climbing, horseback riding, scenic flights with a plane or a helicopter, skydiving… You name it, they have it. I'd recommend spending here at least a day or two to explore this unique scenery from every possible viewpoint. You can also take a 22-kilometer (14-mile) hike to the hidden waterfall Havasupai.
Route 66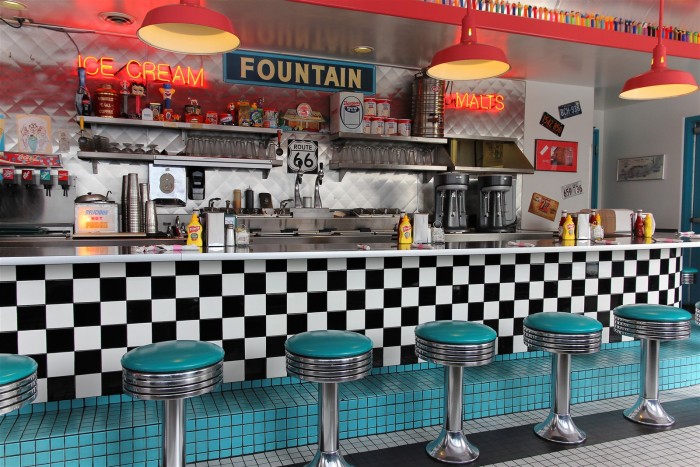 When leaving South towards Interstate 40 you first get to a small town called Williams. Williams is known for a lovely train that goes to the South Rim. Just an idea if you're going in the opposite direction.
There's probably not a grown up person that hasn't heard about the most famous route in the world – Route 66. Luckily for us, one part of the Route 66 also aligns with our road trip. Since our next destination is Grand Canyon Skywalk we have pass those towns: Williams, Seligman, Peach Springs, Truxton, Crozier, Hackberry and Antares. All these towns are part of the historic Route 66 and all of them have something to show from that era. Stop at least in one of them and go for a lunch, you'll feel like being in an old movie.
Grand Canyon Skywalk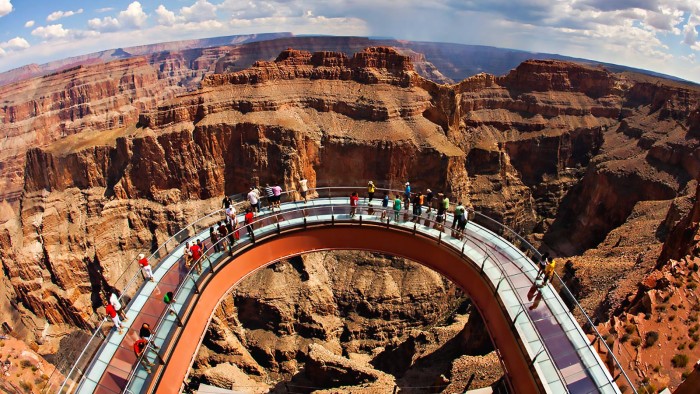 From Antares turn up North towards the Grand Canyon Skywalk. Skywalk? Yes. Imagine standing on a platform where the rim of the Grand Canyon is more than 20 meters (70 feet) behind you. Imagine there's nothing but 600 meters (2000 feet) of nothing between your feet and the bottom of the Grand Canyon. Scared? Now imagine this platform being made of glass! Now that's a thrill you have to experience!
Hoover Dam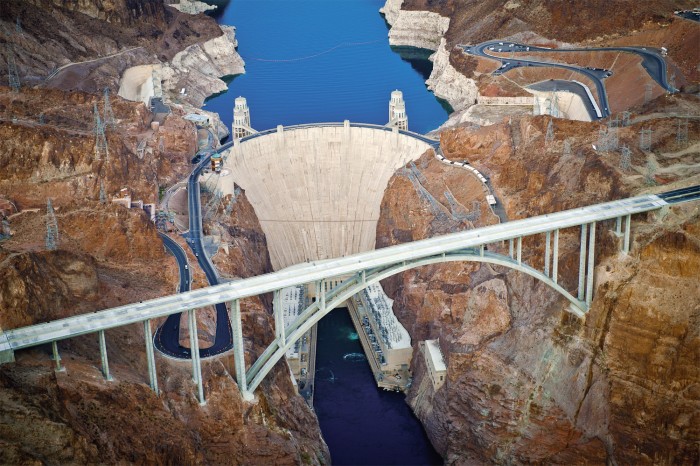 Unfortunately, our road trip is slowly coming to an end. Well, not right this moment but soon. In about 250 km (140 miles) from the Grand Canyon Skywalk. Our last stop before we get back to Las Vegas is Hoover Dam. World's most iconic dam that appeared in numerous movies like Superman, Into the Wild, Transformers, San Andreas… Yes, it's that spectacular!
Here are few facts:
The dam was built between 1931 and 1936 and 96 men lost their lives during the construction.
It contains enough concrete to build a fully functional highway across the country.
It is more than 220 m (726 ft) tall.
At is base it is more than 200 m (660 ft) thick! That's more than two football fields!
By containing the water, it makes Lake Mead the largest reservoir in the USA.
Each of the 17 generators can supply electricity to 100.000 households.
Each of the generators weighs 2.000 tons (4 million pounds).
Impressed yet? Wait till you get there and see it for yourself!
Back to Las Vegas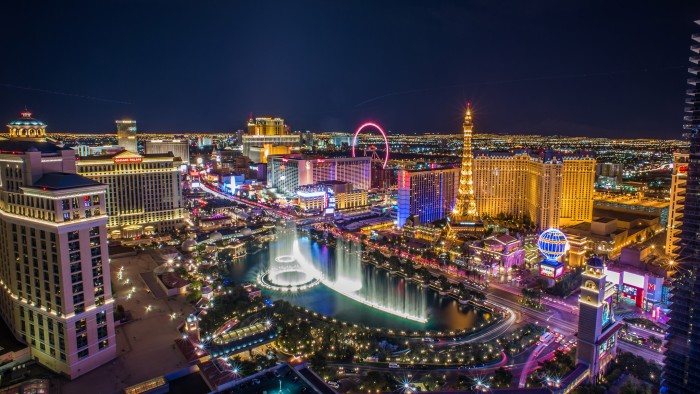 Aaaaaand that's it. From Hoover Dam there's only about 50 km (30 mile) to Las Vegas and the best road trip you'll ever experience is going to be over…
Some mileage statistics of this road trip:
Las Vegas – North Rim = 480 km (300 miles)
North Rim – Lake Powell = 200 km (120 miles)
Lake Powell – Monument Valley = 200 km (120 miles)
Monument Valley – South Rim = 280 km (170 miles)
South Rim – Skywalk = 370 km (230 miles)
Skywalk – Hoover Dam = 160 km (100 miles)
Hoover Dam – Las Vegas = 50 km (30 miles)
I've been here once but I know I'll do this road trip again. Maybe I'll wait few more years till Elon Musk builds more Supercharger stations around the Grand Canyon and then I'm going to rent a Tesla car, turn on the Autopilot and enjoy the ride.
Say what you want but this is definitely the best road trip you can take on this planet. Or let me know if you find a better one 😉