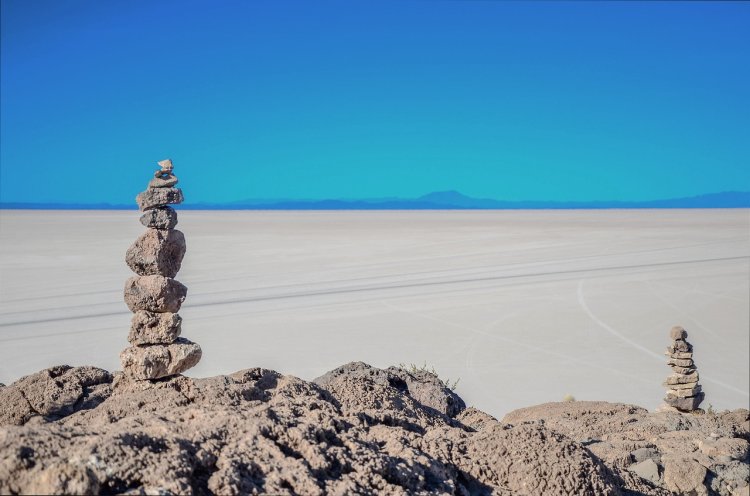 One of the things you have to do before the world ends is to visit, explore and have an adventure in Uyuni. And what are the things you can find? An island, a salt dessert, big cactus, sunsets, and more…There is a lot things to do in Uyuni – check which ones!
This is the begin of the best place to find something different and definetly amazing. Let's start saying that Salar the Uyuni is located in Potosí, in the southwest, in Bolivia (South America). Is the largest salt flat in the world with a lot of kilometers of pure white salt! But that's not all also an entire island of the biggest cactus just in the middle of Uyuni, flamingos, llamas, alpacas, a volcano in a small town, and a rainbow mountain, and yes in Uyuni.
Coqueza
Arriving in Uyuni, there is a little town named Coqueza, peacefull, full of magic and culture, because in this place you can find a some families, locals and two places to stay. Of course, the things to do in Uyuni begins this way, here you can find four amazing places:
The first one is Tunupa volcano, the first impression you will get when you see it, is that it looks like a rainbow mountain well known in other place in South America, and in Coqueza you can do trekking until the top of the volcano that is only some kilometres far away from the town.

On the way going up to the volcano you'll see some animals like llamas and alpacas walking around… then just in the top you have all the view of the salt flat, just kilometers of entire and infinite salt, one of the best natural viewpoints. So much things to do in Uyuni that are really interesting.
One other thing from the things to do in Uyuni list is to visit The Chullpares, is and interesting word in Aymara, it becomes from Chullpa that means an old tower built for important people and inside them you find mummies, ancestral people. The place where are the chullpares in Coqueza is inside a mountain, and there are all mummies dressed with some textiles, and with their belongins and all the bodies in fetal position, and all this has an explanation, some locals said that is the way they passed to the other side (dead world). The people that visit this place have some tradition, leave a coin for good luck.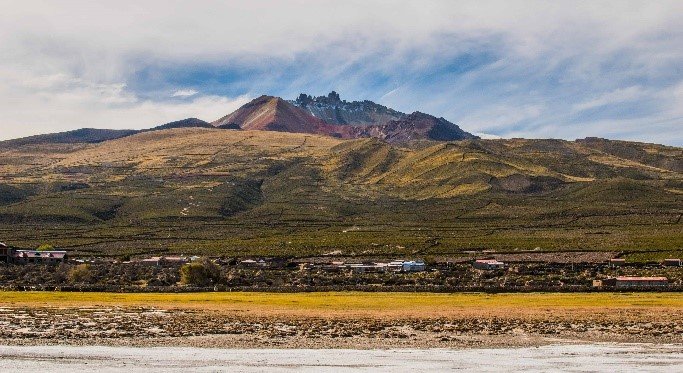 THINGS TO DO IN UYUNI: SUNSETS AND NIGHT SKY
Going through the salt flat is time for a least 5 different sunsets and If you are luck enough, I mean If you choose a specific date to visit you can find different experiences that is going to describe as the most exciting thing to do in Uyuni, where magic meets reality only here, where the sky touches earth and where you can be in the sky all at the same time.
Almost the best time to go into the salt flat is between 4:00 o´clock until 6:30 pm. Just when the sun is at its point is when all the sky is all light blue, blue, purple and light pink, the orange, and finalley red. Minute after minute just in one day, important detail.
And what happens at night? Of course the discovering doesn't finish there. At night the stars, galaxies, the sky, and your eyes (of course you have to use warm clothes and there are tours for it) to be delighted and see shooting starts, different constellations, galaxies just there feeling so close to you!
THINGS TO DO IN UYUNI: UYUNI MIRROR AND PERSPECTIVE EFFECT
One another thing from things to do in Uyuni list is to find the two of them mirror effect and perspective. But what are the those? The first one, is when is rain season and you find water on the salt flats and all the sky is been reflected on the water, and all seems like you are literally touching and been in, on and under the sky of course with the different sunsets.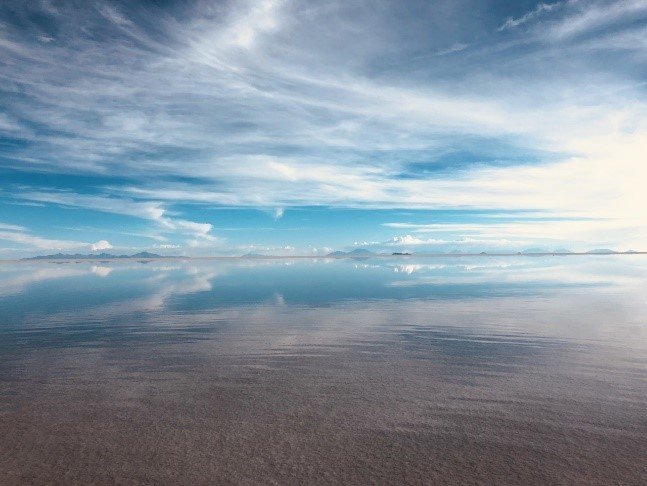 Been there it´s kind of cold cause the water is cold so you have options to walk in the salt flat, rubber boots (you can rent them in Uyuni or with you tour agency) or your own chanclas (flip flops).
And in the other hand you have, the perspective effect, this happens when is a dry season, that means there is few rain or no rain at all. And is when you have just white salt around you. There's an interesting trick because of the horizont you can take pictures and make them see that one object is bigger or smaller, and no is not an photoshop effect is just that the first person gets closer to the camera and in Uyuni with all the landscape looks amazing. And all the this take you to choose the dates to travel and enjoy things to do in Uyuni and the best season is:
Best season
From February to Abril that rain season starts in Bolivia and the dry season is from May to November, of course If you wonder is there a season when the two of the seasons meet? The answer is yes, and it is from January to the beginings of Abril. This is why is a good destination, specially in this time cause you can find the biggest sky mirror. And also you can visit some places that are dry and see that Uyuni salt flat has no end, every mile of pure salt around. And the sunsets are the best thing your ages are going to see, different colors, clouds just in front of you up and down.
THINGS TO DO IN UYUNI: ISLA INCAHUASI
Incahuasi is a word in Quechua, that means Incas' home. And some details about it, located in the middle of the salt flat, according some data the island is about 200 kilometers full of huge cactus.

While, you visit Isla Incahuasi, all you can see around are tons of cactus, different sizes from one meter until ten meter sor more, some people that show you around sais that there are two kind of cactus, female and male, jus with one difference to notice, female has two or more branches and male it only has one. Walking into the island takes like an hour or more it depends on yopur walking to the top. But that's not all, there are also caves where you could transport to a different dimension and explore inside some mountains there is a lillte path take takes you down again a different way but so much interesting.
And of course the most beautiful sightseeing in the middle of the salt desert. There you can find different places to eat, like Mongos Restaurant in the island… and if you make a reservation with some travel agencies you could make a picnic and drink and eat on the shore in this espectacular place.
THINGS TO DO IN UYUNI: CEMENTERIO DE TRENES
Walking, exploring or just seeing old trains, wagons adn rails in this place. Let's go to the Cementerio de Trenes, is one of the things to do in Uyuni the best place to take amazing pictures, with a lot of antique trains' rails and trains from XIX century that have been a cultural attraction, cause it was the first train line that started in Bolivia in1899 and then stopped working in the 90's due to the decline of the silver industry at that moment.

All the trains where kid of abandoned there and useless, cause tehy didn't work, so that is the biggest advange to give the machiones an other possibilty and that's to show them to the visitorts.
Even when the sun is just at its point and the air is kind of warm all the machines there are for you, there is not a fee to visit this place is some cases there is incluted in your tour agency, this place is near to Uyuni city.
THINGS TO DO IN UYUNI: A Salt hotel, Flags' square and Dakar
About some 3663 meters above see level and driving into the salt flat, there is a extrarordinary scenary where all the cultures meet. A space dedicated for flags, from all around the world, this is just different cultures in one place and is you visit there and you wonder If you cpuld leave your flag? The answer is totally, is a place leave your print and the best way to the to it if with the icon that best represetant us.

And in front of it you have a hotel, but not a regular and ordinary hotel, is one is made of pure salt, the brick, the walls, the furniture, all around is salt and located also in the salt falt. The salt hotel works as a museum, and inside there are hand made things. The story about the first salt hotel is that it satarted as a project to work as a hotel an housing visitors but the point is that the location didn't help cause all the waste handling was difficult. And that why now a days is a museum and is a dream to go inside and watch the structure.
But the good news are that in Uyuni you can find depending your Budget, different places to stay and in those ypou have different hotels made of salt, and why not? Slat hotels are always a good idea.
Bolivia hosted the Dakar some years ago the first one was in 2014 and that race passed through the salt flat and that whay they built a monument, the Dakar's salt monument and at the moment is one of the things to do and visit in Uyuni.
Tips
If you are worried about the altitude, ask for Sorojchipill, is a pain killer that helps the visitors with that illness. Or you can drink a Coca mate, help too.
Money, Bolivia is a cheap country to visit, and in Uyuni the cost depends on how much do you want to invest, you can find the most luxury hotel made of pure salt, until backpackers hostels, the same happens seeking food or buying souvenirs.
The weather Potosí is a cold departamento, that means that Uyuni is kind of cold at night and in the morning, but at noon and in the afternoon the weather is dry but sunny.
Food, there are different restaurants in Uyuni, tradicionals and junk food restaurats. also plenty stores to buy and pharmacies. And pub-bars to spend time with friends, drink a tradicional beer or cocktail. Also prices depends for your appetite, one again is cheap.
Tour agencies, there are a lot of agencies that offer different packs, that include 3 days tour, two day or a full day. All the agencies in Bolivia offer this tour, some travelers, preffer to travel by their own to Uyuni and contact a travel agency there, in that way you sabe some money.