Although I had a plan for my trip, everything went different. But that's life. I visited Tunisia last year (2014) for 3 months in summer. The first thing that I noticed when I arrived, is smile on peoples face. And good vibes. Almost everyone is smiling from children to older people. It makes you feel very good and positive.
I arrived in the capital on 23 May 2014. where I stayed for 2 days. I took a plane from Venice to Rome and from Rome to Tunis, the capital. My friend should have been waiting for me but he didn't, so i took a room in a hotel. I took a taxi from the airport to the hotel and I had a fight with taxi driver. He wanted to do a tour-drive but I insisted on taking me directly to the hotel. And he drove me to the wrong one at first, but I somehow  arrived to the right one. At the airport I met a nice woman who offered me help and gave me her phone number. This made me feel really good.
It was adventure spirit from the start. Me alone in Arab country. But I felt safe. Despite the fact that many people think and while I still was in my country they tried to convince me that Tunisia is very dangerous. I have completely different picture and experience. I feel safe. Of course you have to be careful. Especially woman alone. But when you feel and think in good way, positive and take care, everything seems easier.
Photos taken in the capital Tunis:
While i was visiting the city center, i saw many beautiful doors. I couldn't resist to take a photo.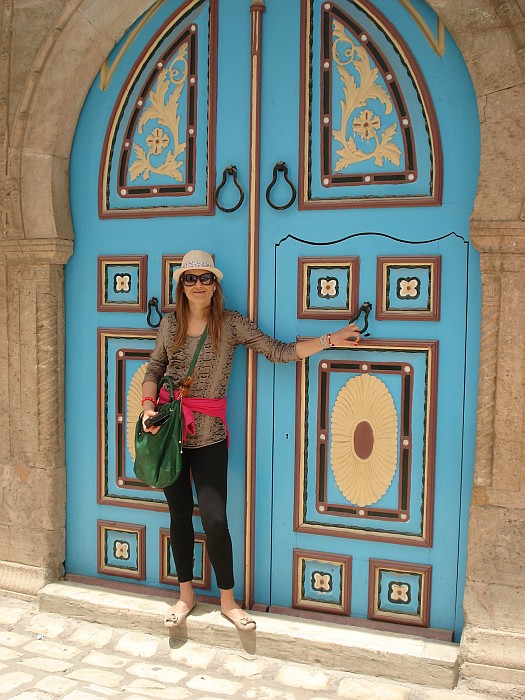 I have to mention that I made a tour through to the city with the guide. Better said with local person, who offered me city-tour. Of course later he asked for some money. In Tunisia is difficult situation and standard. And people try to get money from tourist on every possible way, but they are not rude.
I made a tour in the center of capital and old part of the city called Medina. I visited open market. Beautiful small shops on the street with traditional things like oils, perfumes… I entered one small restaurant to eat. Everything simple, easy. No hurry. There was an old woman working which served me a meal and by the table next to mine was a girl almost same age like me. It seemed like she was with her mother. We started to talk. She offered me a help if i need something and gave me her contact. So we became friends.
Nearby my hotel was a beautiful street with flowers. I was enjoying there. Just looking all of these flowers. And I noticed European people on the street speaking German, Italian, English, so I really felt good. Tunisia is well known for Yasmeen flowers. And they make a traditional Machmoum of it. You can put it hair or take it as a souvenir. The smell is wonderful.