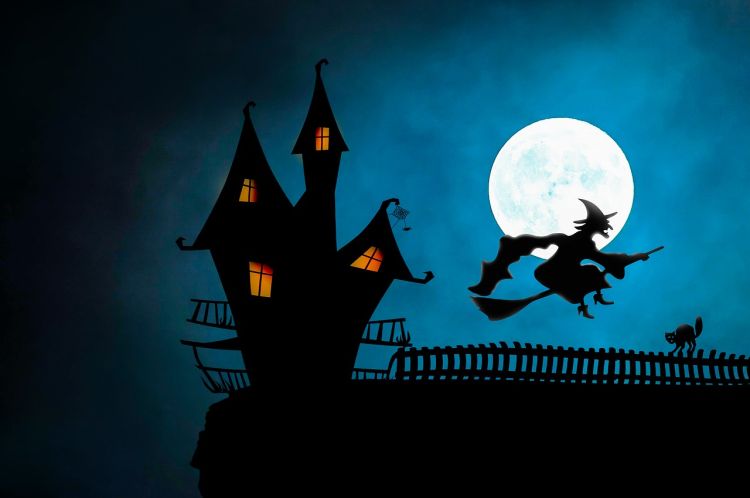 An unusual and unmissable market, with a very rich culture, this place keeps the essence of Andean tradicions alive, one of the most visited places, because once you visit it, you won't want to leave.
The city, La Paz ciudad del cielo (La Paz, the city of the skies)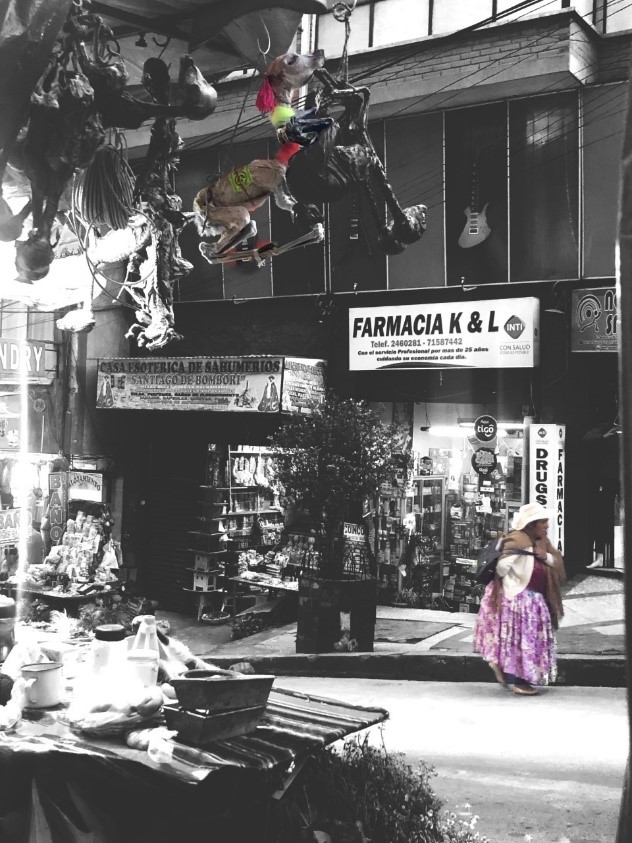 Let's start saying that Witches Market La Paz, is located in La Paz, Bolivia (situate in South America). La Paz city is the seat of government of Bolivia, is a city with a lot of contrast: Modern and tradicional, because you have ten lines of cable car that connects you with different neighborhoods, and also La Paz city with El Alto city (where the international airport is located) and in the other hand you have tradicional sites like Witches Market La Paz, where you can find all for Pachamama (Mother Earth), natural remedies and more. Also some other contrast is that you have the city side, with big buildings and the country sides like Muela de Diablo,  Valle de las Animas and Valle de la Luna, those are gorgeous places to be out and be in touch in nature. Finally, a detail to take note here in La Paz the altitude is almost 3.640 meters above the sea level.
Into the Witches Market La Paz
Now that you now the context of the city where is  Witches Market La Paz,  Calle the las Brujas in Spanish is located in the center of downtown, behind two blocks of San Francisco church. To be more specific the tour in Wiches Market La Paz stars on Sagárnaga street.
La calle Sagarnaga (Sagarnaga street) best known as the most tradicional and where visitors from all around the world visit it, here you can fin hotels, hostels, restaurats,  to hear tradicional stories, find a tour, or just to have a coffee, visit a pub or bar or just try a traditional or meal or drink.
Sagarnaga Street is a thing you have to do, because since the beginning of it you find street sellers know as caseritas o caseritos in small stores on the streets with a lot of souvenirs and multicolor and traditional jewelry made of Aguayo, silver, fantasy or in some cases Bolivianita stone for ior also traditional things like keychains, pictures, paintings and silver decorations. And also you can find fashionable clothes a mix between local texture and modern style
Between Linares Street and Calle Santa Cruz, until Illampu street you are into the  Witches Market La Paz. The essence and soul of the city is here in Witches Market La Paz, whether you can find natural and traditional medicine, traditional Andean rituals, Pachamama's (Mother Earth) offering and folk fashion… al these in this place Witches Market La Paz.
This place know by its traditional smell in all the Streets around the magical market, you know you arrive into Witches Market La Paz, when your nose feels the scent of Palo Santo, and what is Palo Santo? It's a sacred Wood, the incense of armony,  used by Yatiris (witch doctors, they use herbal medicines and herbs specially in the Aymara communities in Bolivia ) to armonice the person or place from negative vibes, and call the positive ones, and to balance the belief for different request to the Pachamama, that is a belief for the Andean Cosmovition!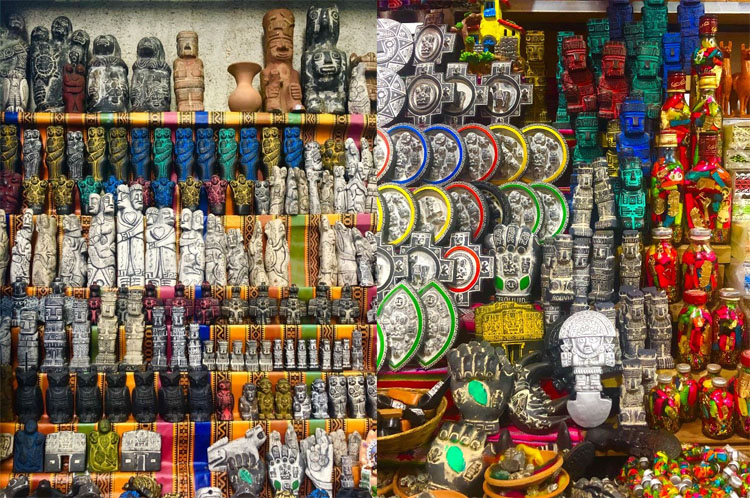 Palo Santo is traditional smell from Witches Market La Paz, it takes you the most antiques moments or to the most traditional times with the Yatiris, or mesas (Andean tables), these have all the things that people wish for work opportunities, a business, all mixed with candies, herbs, wools and all this in a ceramic dish, that has to be burn and then bury. Also the amuletos (charms for luck, love, work, business, to avoid bad luck and evil eye for everything that you wish to have or to keep away of your life). Medicines, natural onces agains pains that people have and herbs to take the health Andean people believe in this tradiction and in Witches Market La Paz you find all.
Chewing coca to calm the hunger is an example  and cholitas and other locals use this technique when they need to work until late hours and also help with altitute sickness, stomachaches and headaches.  When you visit the Witches Market La Paz in all the tour we'll see the caseritas chewing coca or in the stores selling it just for healthy reason and it doesn't have other kind of effects just the ones already mentioned.
Sullus, Andean tables and more in Witches Market La Paz
What is a sullu? Is a word that come from Aymara, the meaning is a llama fetus. And all them are dry, as soon as the people take them out, the cold weather helps to dry them and that's how you have the sullus. The time of the process depents on the size of the sullus, it can take weeks or in some cases months. But here in Witches Market La Paz all the sullus died for natural reasons and it is important and a specific request of Pachamama, for the reason that llamas are sacred animals.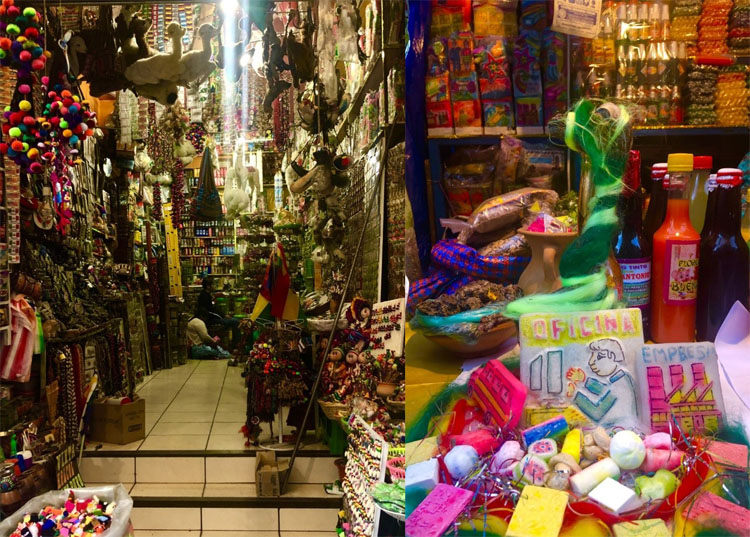 And Pachamama (Mother Earth), has its  month in August when people are greatful for all the stuff that Pachamama provided to them, and why? Because locals want Pachamama be strong enough to be able to continue providing the next year. And here it goes the first ritual, the most famous in La Paz, the story told by people says when believer of Pachamama starts a construction you have to buy a sullu, candies, alcohol, wine in Witches Market La Paz to give it to Pachamama, first it has to be burn and you have to bury the ashes into the hole of the building or house and then to ritual is over. And all this to ask for permission to Pachamama to use that piece of land, because that is the meaning of Ayni, reciprocity.
Reading coca leaf can answers your questions and tell you your future! This is tradicional service that you can fin on the Street in Witches Market La Paz, the Yatiris are there with coca leaf and their mechero (burner). You only ask them to read to you and they start to telling you what they see in the leaf.
Since the Witches Market La Paz exists some caseritas also sell some charms ans things to make amarres. An amarre is some traditional magic that calls your wishes in many areas love, good fortune, heath… and there are also some alternatives like ashes, incenses, perfums, soaps to have the same effects.
Aguayos in Witches Market La Paz
Aguayos world also in Aymara the meaning is a multicolor, traditional and hand made piece of cloth, used in communities to carry children, goods. Aguayos represent the Andean side of Bolivia. They are present in all the stores in Witches Market La Paz with strong colors, meanings and stories just in the the strong texture. There are different kind of Aguayo here in Witches Market La Paz. Here you can find all these hadmade aguayos, give it your own use too.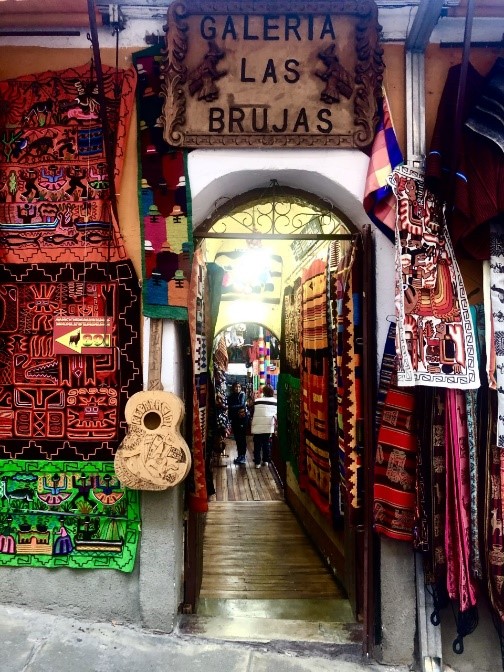 Folk Fashion in Witches Market La Paz
Also  you can find a lot of stores that offer you alternatives to wear, and styles that are different a mix between demin jackets with the tradition aguayo, demin pants or short with traditionals hand embroidery and details  of locals figures ans places from Bolivia. Also T-shirts with figures of llamas, condors, bears, cholitas, mountains, hoods, purses. Here you have many alternatives to wear a combination of cultures.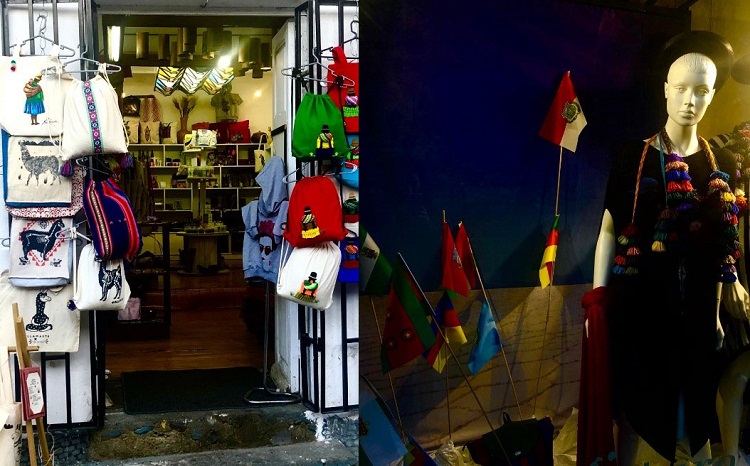 Tips when you visit Witches Market La Paz
Hotels: You have many options in all the areas of Witches Market La Paz, a lot of accomoditions, restaurants, and good rooms.
Hostels: A lot of options in Witches Market La Paz and near areas, for backpackers cheaper prieces.
Restaurants: many options in all Witches Market La Paz, If you have a vegeterian or a vegan or a gluten free lifestyle, don't worry because here you can find different places that offer varieties of food. Also If you want to try local food, you will find places to have a delicious dish.
Coffee shops: in Witches Market La Paz, there are different experinces to drink a coffee, eat a cke or drink a tea.
Museums: interesting places to visit and know more in Witches Market La Paz, you can find The Coca Museum or the San Francisco church museum.
Peñas: Those are place to dance and listen to traditional music from Bolivia, here you drink chicha a traditional drink made from corn and you glass is a Tutuma, a natural pot.
Bars and Pubs: after tour, walking around the time to continue exploring and tasting a tradicional beer and drink you have many options to go and continue you night adventure.
Souvenirs: in Witches Market La Paz, in all the places you can find beautiful things to immortalize the momento and the experience that you have, poscards, salt from Uyuni Sal Flats, Jewelry, local had=ndmade bracelets adn earrings, pictures, pinting, clothes, notebooks and more.
Words in Spanish that would help you in Witches Market La Paz
Altiplano: Bolivian's high plain.
Cholita paceña: a term of endearment for traditional, indigenous Aymara and Quechua women.
Gringuita or Gringuito: a person from the Uinted States, often used to refer to any other foreign, non- Latina female or Latino male, is a kind word.
Paceña or paceño: a person from the city of La Paz.
Seco: At party time when you have to fisish you whole shot.
Wiphala: a flag  consisting of a series of brightly colored squares representing the many nations of Bolivia.
Yapa: When you buy something and you tell the street seller the word yapa and they give you somethig for free. Specially when you buy food or fruits and vegetables.