Novi Sad is the second biggest city in Serbia, located about 80 kilometers north of the capital, Belgrade. Nicknamed "The Athens of Serbia", with around 400 thousand inhabitants, it is the center of the Autonomous province of Vojvodina. Founded in 1748, Novi Sad Serbia has very rich history and cultural life to this day. Other than that, Novi Sad became a great place for fun and tourism. So, let's see what to do in Novi Sad.
Sightseeing
      As a historical capital of the Vojvodina province, Novi Sad offers a lot of exciting activities. Sightseeing is definitely one of the things what to do in Novi Sad Serbia. The biggest attraction in the city is Petrovaradin fortress, also called "Gibraltar on the Danube" the "The Acropolis of Serbian Athens". It was being constructed for almost hundred years for military purposes, but never served its duty. Today, it is one of the most famous tourist spots, from which you can see the whole city. Making breathtaking photos from the top of the Petrovaradin fortress is one of the most interesting things what to do in Novi Sad.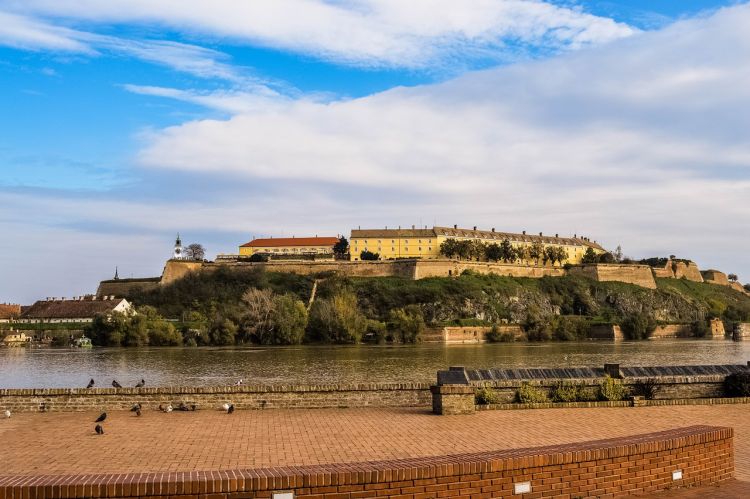 After you come down to the center, you can see a lot of interesting buildings, in different architectural styles. This is definitely one of the most interesting thing what to do in Novi Sad Serbia. A secession, neo-gothic, neo-renaissance and many more styles make a rich architectural core of the city center. From the Liberty square, where you will find the City hall, Church of Mary's Name, through Zmaj Jovina Street, you come to the Dunavska Street, the oldest one in town. There, you can find many ice cream and cake shops that have been there for decades. According to an old legend, ice cream was brought to Novi Sad from Venice and Genova, by the workers who built the Petrovaradin fortress. Trying the traditional cakes, called Sampita (Šampita), Krempita and Snenokle (Šnenokle), is definitely what to do in Novi Sad.  
Cultural tourism
       Novi Sad is multi-ethnic city with a culturally diverse background. It says it all when you see that there are 11 official languages in the city. The city has proudly won titles of European youth capital 2019 and European culture capital 2021. So, what to do in Novi Sad Serbia when you want to see something related to culture?
        If you are a history buff, you should visit museums. Novi Sad has four big museum collections that represent one of the most interesting things what to do in Novi Sad. Located in the city center, next to the Dunavski Park, Museum of Vojvodina is the biggest museum in the city, where you can see complete history of the region, from prehistory to modern times. It is also the only museum in the world that has two gold parade helmets from the Roman Empire. Next to it is the Museum of Accession, which has exhibitions dedicated to the accession of Vojvodina to the Kingdom of Serbia. Also, the museum offers a great exhibition of memorabilia for the Great War. In Radnicka Street, Museum of Natural History serves as convenient thing what to do in Novi Sad Serbia when you are a biologist. A woolly mammoth skeleton, the only one found in Vojvodina, is on display there. Finally, Museum of Novi Sad is located at the Petrovaradin fortress. Not big, but very interesting, shows the history of the city. As the main attraction, there is a big Slavic boat which was used in one of the sieges of Constantinople. The most famous institution in Novi Sad, that is not a museum, but could easily be counted as one, is Matica Srpska. The oldest literary institution of Serbia, founded in 1826 in Budapest, was moved to Novi Sad in 1864. All the books printed in Serbian are located in Matica Srpska, and it is also a home to the oldest issuing science magazine in Europe called Letopis Matice Srpske. If you love reading books, this is definitely what to do in Novi Sad Serbia, since Matica Srpska offers daily passes to everyone who wants to read, and also has quite a big collection of books in foreign languages.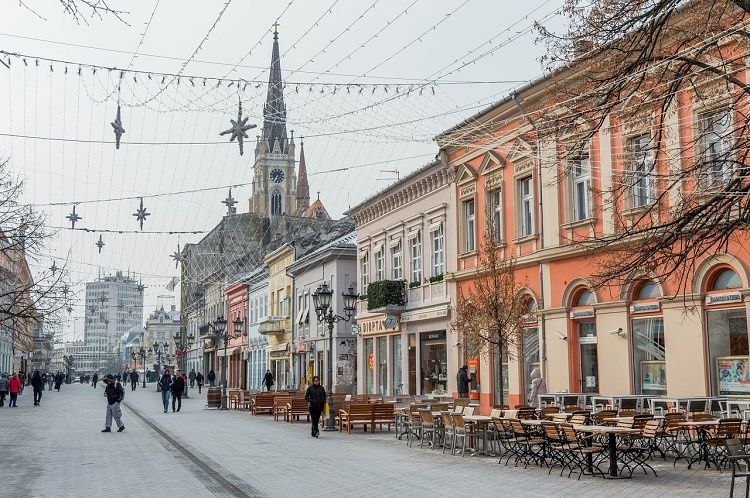 Theatres are one of the main places to visit and what to do in Novi Sad.  What is La Scala for Milano, that is The Serbian National theatre for Novi Sad Serbia. Opened in 1861, it is the oldest theatre in Serbia. The performances you can watch there are played hundreds of times by the best actors Serbia has to offer. Plays like "Koštana", "Zorba the Greek", "Gospodja Ministarka" have all won numerous awards all over the world. The second theatre you should visit is Youth theatre. From drama, through comedy, to kids' performances, Youth theatre offers something for everybody. If you have young children, this is definitely what to do in Novi Sad Serbia. Puppet shows in this theatre are the best in Serbia, and for years now, best in Europe.
       Novi Sad also offers quite a few galleries. The Gallery square, located near the center of the city, houses two of the most famous galleries in the city: Matica Srpska gallery and Gallery of Pavle Beljanski. Matica Srpska, besides its literary significance, has had a big influence on art. In this institution, you can see original art from Serbian painters from the eighteenth century to modern times. Gallery of Pavle Beljanski is the biggest private collection of art in Novi Sad Serbia. It has thousands of painting form authors all around the world. If you like to see where art is made, at the Petrovaradin Fortress you will see a lot of art studios, where modern painters make their work.
Festivals
         If you are looking for a great party and you happen to be in the city during July, The Exit festival is the perfect thing what to do in Novi Sad Serbia. Started as a revolt movement against the socialist regime, The Exit festival became one of the best European music festivals. It hosts names like David Guetta, Gloria Gaynor, Nick Cave, The Prodigy, Motorhead and many more. The Exit festival lasts for four nights, usually starting on the second Thursday of July, and during that time, tourist from all over the world come to Novi Sad. During the festival, you have all sorts of activities, from parties to sports, so you will find what to do in Novi Sad Serbia.  
         A visit to the Festival of street musicians is what to do in Novi Sad during September. Almost the whole month, street musicians from all over the world can be seen performing in the city and Petrovaradin fortress.
         What to do in Novi Sad during May? Visit the Zmajeve children's games (Zmajeve dečije igre) most popular kids' festival. For more than half a century, the festival has gathered children all over the country, who have great performances, dance and sing song. It bears the name of a famous children writer, Jovan Jovanović Zmaj. For almost twenty days, children perform in the city center, with their schools or kindergardens.
Time to go out
         What to do in Novi Sad Serbia by night? Go to Laze Telečki Street. There you can find bars with all types of music, from Serbian folk to heavy metal. During summer time, every club has tables in front of it, so you can chose to sit and talk or dance the night away. Can't make it wrong in this street.
          Also, if you want a quiet evening with dinner and dinks, you can easily find it in Novi Sad. The center of the city offers all types of restaurants, from the traditional (e.g. Lipa) to the more modern (e.g. Gimi, Alla Lantterna). What to do in Novi Sad when you want to have a dinner with a view? Go to the Petrovaradin fortress. There, you have luxurious restaurants where you can have a nice evening while enjoying in the breathtaking view of the city.
Beach on a River?
        Novi Sad can get very hot during summer months, so it is a good idea to cool down a bit. So, what to do in Novi Sad when it's hot? Go to the beach. On the Danube River, there is a popular beach called Strand (Štrand). Founded in 1911, it has been the most popular place in summer for all "Novosadjani". It is not a classic beach you lay on and during a hot day, it is much more than that. What to do in Novi Sad Serbia when you go to the beach is to try and play some of the sports that have been invented here, like "Head tennis" and popular Picigen (a game where a small ball mustn't touch the surface of the water). If you are a layback person who would rather chill, you have many bars and restaurants at Strand where you can have an enjoyable day. Also, children have playgrounds where they will have fun.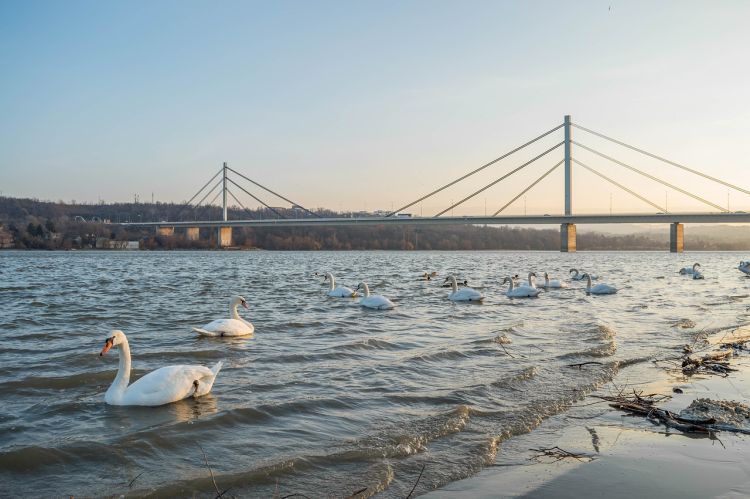 Novi Sad is not just a provincial city you cross by on your way to Belgrade, it has a soul. All of the "Novosadjani" will be more than happy to chat with tourists and help them around.  No one leaves Novi Sad without great memories. So don't worry what to do in Novi Sad Serbia, come and find out.