Banja Luka is the second largest city in Bosnia and Hercegovina. City is well known by its natural beauty and great Banja Luka nightlife. If you aks me what to see in Banja Luka, I will tell you there are so many great places you can visit, but I will single out a couple of them.
Fortress Kastel
In what to see in Banja Luka list fortress Kastel is one of the most important. Kastel is the oldest historical monument in Banja Luka built 18 centuries ago. In the past it was a military stronghold, and now is well known as one of the symbols of Banja Luka. From the fortress Kastel you have a great view on the city from one side, and river Vrbas on the other side. You can walk through the walls of the fort, take great pictures, have a picnic, or go to one of the restaurants in fortress, where you can try some of the tradional food from Banja Luka and Bosnia and Herzegovina. Fortress Kastel is also the place where are held many concerts and festivals in Banja Luka. So we can say that the events on Kastel take a part in Banja Luka nightlife.
Gospodska ulica
Gospodska ulica (Gospodska street) is the main street in Banja Luka. It is the "must" in the list what to see in Banjaluka. Some locals says that a couple decades ago Gospodska was a swamp. Now it is the main promenade in Banja Luka, and the place with many coffeshops, restoraunst and clothing stores. If you come to Banja Luka you have to visit Gospodska and feel the spirit of the city. In the night, Gospodska becomes a part of Banja Luka nightlife. Bars and night clubs there and in the surrounding streets offers a great partys. Also for many locals and tourists Banja Luka nightife starts with the walk throught Gospodska, and continues on.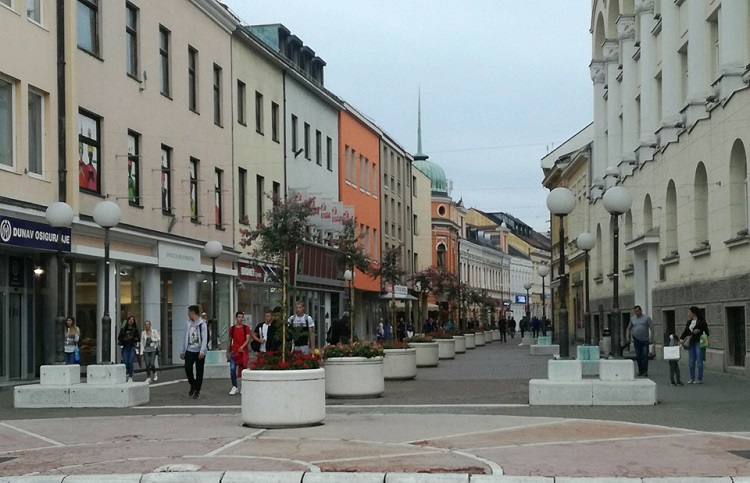 Department store Boska
Department store Boska is placed in the main square in Banja Luka, to which leads Gospodska street. Boska is primarily a gathering place for locals and people who come from other cities. In the main square, called square of Krajina, in front of the department store, is so-called "Distorted clock" which shows the exact time (9:11 am) of the terrible earthquake that struck city Banja Luka in 1969. Inside Boska department store you can find clothing and cosmetic shops, restoraunts, coffe shop and other stores.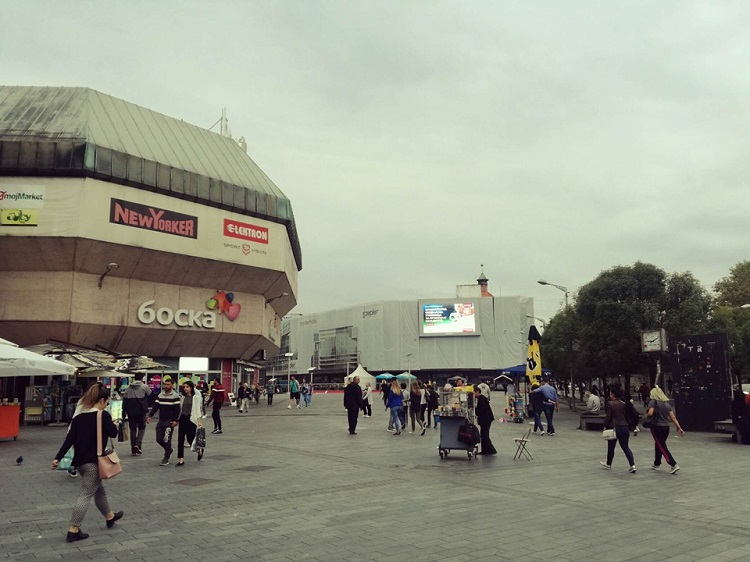 Banski dvor Cultural centre
Banski dvor Cultural centre is great institution in Banja Luka. Imposing building very close to the main street Gospodska will atract every tourist attention. In Banski dvor Cultural centre in Banja Luka are held various excibitions, many concerts – primarily clasic music, and other cultural events. If you visit this city, Banski dvor must be on your list what to see in Banja Luka.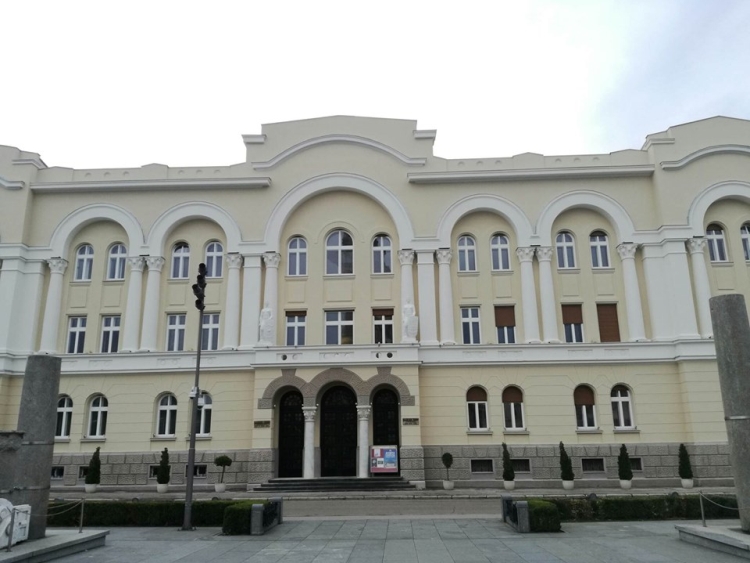 River Vrbas
River Vrbas take a high place on the list what to see in Banja Luka. Vrbas divides city Banja Luka on two parts, and for the local people it is much more then the river. In the summer Vrbas is popular for his beaches. Most popular beach on Vrbas is beach Vrućica, where hot water from the source mixes with cold water of Vrbas. In the beach Vrućica are located a couple of natural spas great for relaxation, in which enjoys local people and tourist.
Another great thing you can do is rafting on Vrbas. This great adventure attracts many tourists in Banja Luka. If you want to feel the adrenaline then gather your friend and go rafting on Vrbas river.
If you do not prefer anything of that, than just go around the coast of the river, take a walk, listen to the water murmur and relax your mind.
Do not forget that near river Vrbas are located many popular coffe shops and clubs which is great to visit if you want to experience Banja Luka nightlife. Must famous club hier and in Banja Luka nightlife is "Banjaluka raft".
Krupa water falls
Krupa na Vrbasu is a village in the valley of Vrbas river. Waterfalls and watermills make this part of Banja Luka just irresistible. Krupa water falls is also known as a picnic area for all nature lovers. There you can find walking trails, medieval buildings and restaurants with delicious food you must try if you visit this part of Banja Luka. Krupa water falls also have to be on every tourists what to see in Banja Luka list.
Banj Brdo
Banj brdo (Banj hill) is a true oasis of natural beauty and peace. This hill offers a great view on the city Banjaluka. Banj hill is full of trails for walking, running and biking. Enjoy the outdoors, organize a picnic or hike. In the summer every day you can find organised bus ride from the city to Banj brdo. The ride is cheap and it goes both ways. Visit Banj brdo, because this part of Banja Luka leaves no one indifferent.
Parks in Banja Luka
Banja Luka is well known for its nature and parks. After you visit Banski dvor Cultural centre and walk through main street Gospodska you can take a rest in park of Petar Kocic, which is located across the street from Boska department store. The name of park came from great serbian writer Petar Kocic, who was born in a village near Banjaluka. Park is very beautiful. There are unusual benches in the park that give it a special appearance. Also in the park of Petar Kocic in Banja Luka is situated the music pavilion where are held various interesting events expecialy on summer days. 
The second most famous park in Banja Luka is the Mladen Stojanovic park, named by famous doctor and a World War II hero Mladen Stojanovic. This park is larger then the previuos mentioned. It is located about two kilometeres away from the city centre. In the Mladen Stojanovic park are a lot of trees which provides natural shade in hot summer days. There you can meet people all ages, from kids playing and runing, young couples in love, to pensioners playing chess and relaxing. Everyone have his place hier.
Also in Mladen Stojanović park walking pats and bicycle areas attracts many athleats and recreationists. Park is great for working out, because there are equipment for street workout which is very popular these days. Include this park in your what to see in Banja Luka list.
Religous objects
Banja Luka have many religous objects recognizable by their structure, appearance, history and significance for the population. Most important of them are the Church of Christ the Savior and Ferhadija Mosque.
Banja Luka is one of the largest Orthodox cities and the Church of Christ the Savior is the largest and must beautiful churches hier. It is located in the city centre, nearby Gospodska street and Banski dvor Cultural centre. The church is specific by its construction style and interior decoration that you must experience.
Ferhadija Mosque is one great achievement of Ottoman Islamic architecture in Bosnia and Herzegovina. Many legends relate to the construction of this object. Ferhadija has been renovated in 2016. and now it is in full splendor.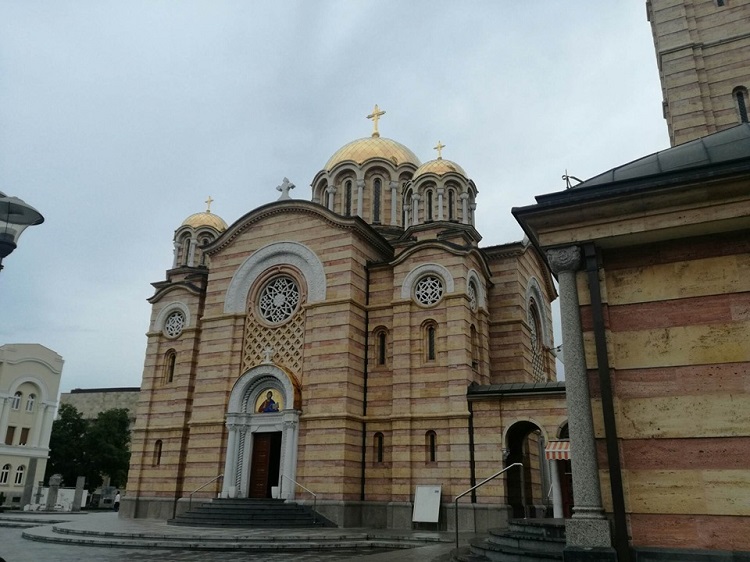 Museums and galleries
Museums and galleries also take place on list what to see in Banja Luka. Museums that everyone should visit are Museum of Republika Srpska and Museum of modern art. Both of them are located in the heart of the city Banja Luka.
The Museum of Republika Srpska is known for its regular exhibitions depicting different historical periods in the development of culture, customs, music and other areas of life in these country. Also interesting exhibitions of different artists are regularly held here, so everyone can find something that interests him.
Musem of modern art is an institution that promotes modern culture, art works and artists of today. In the Museum there is an art gallery. This museum  and gallery in Banja Luka is known for a very lively and dynamic contemporary scene, which is recognized internationally. Various exhibitions are held here very often, so be sure to visit Museum of the modern art if you find yourself in Banja Luka.
Island Stara Ada
Stara Ada is a popular restoraunt in Banjaluka with great traditional and international food and drinks. So-called island is very beautiful, well decorated and great for relaxation. In the night Stara Ada is well known for great concerts and other events which take place in Banja Luka nightlife.
More about Banja Luka nightlife
Banja Luka is the city well known for its exciting nightlife and many cafes, bars and nightclubs. Some of them I already mentioned. You should know that in Banja Luka nightlife there is something for every generation and everyone. Banja Luka nightlife starts a bit of late, after 10 pm, except where there are concert, fashion shows or other events organised. If you want to go out earlier you can get some drink in many coffie shops in the city. After that, in Banja Luka nightlife you can go to bars and listen to live music or DJs, depending on the type of music you prefer. Banja Luka nightlife continues in night clubs, downtown or beyond, and lasts until the early hours of the morning. Banja Luka nightlife is live every day, with no pause. Drinks are various, music and people also. You just need to decide what to visit and experience. So, Banja Luka nightlife should definitely get a significant place on list what to see in Banja Luka.