Glenwood Springs Colorado is a small town in the west of the United States, very famous for its hot springs, caves, and canyon. There are many things to do in Glenwood Springs Colorado, many stories and legends to hear, and definitely great burgers and a lot of fun. I lived in Glenwood Springs for around four months, but I felt in love with it and I would go there again any time.
There are three main attractions in Glenwood Springs Colorado, that attracts millions of tourists every year: the Glenwood Caverns Adventure Park, the Hot Springs of the town, and the Glenwood Springs canyon, with a lot of hiking trails, nice rivers and lakes, hidden caves, and many more. You will be surprised about how many things you can do in such a small town, and I can assure you will not get bored.
The Glenwood Hot Springs Pool
The Glenwood Hot Springs Swimming Pool is the largest in the United States, and it attracts millions of people from all around the country. The pool is simply huge, and I have to admit, I was surprised about how hot was the water. It is nice to go there during summer, but you may find the water too hot. I really enjoyed going there in a rainy day, but if you want to have fun and try the water slides, make sure you go in a sunny day.
There is also a small jacuzzi outside, with extra hot water, where you can relax even more: for only $1, you can get a water massage outside. I definitely enjoyed it!
For those who want to have fun, you can try the water slides. We had to pay extra for them, but I do not regret it: we tried both of them, around five times each, and I wanted more. If you are in for SPA and massages, the swimming pool has also a SPA center with hotel, called SPA of the Rockies, where you can find everything you want.
The Glendwood Cavern Adventure Park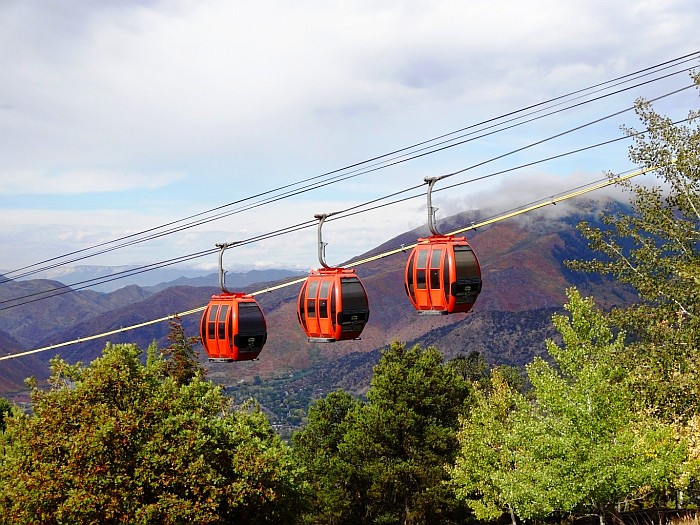 Glenwood Springs Colorado is also famous for its caverns, which can be found up on the mountains, in Glenwood Caverns Adventure Park. To go up to the mountains you must take the cable car – it is the only way, but it is fun. There are special tours organized with guides for those who want to visit the caverns. You can either choose the normal tour, or the professional tour, where you will be fully equipped and you will be crawling inside the caves.
However, the park is more than that, and you can enjoy western life there: cowboys, old pictures, a mine while, trains, a cliff roller-coaster, a giant swing over the canyon, laser tag, alpine coaster, zip line, 3D cinema, and many more. Many rides require kids to have a certain height, so be aware of that.
You can choose to buy a daily pass, a single cave tour ticket, or multiple tickets for different rides. The most interesting attraction of the park is the bungee jump tower, but that has another special ticket. The full ticket for an adult costs $48, while for a kid it is $43.
The Glenwood Springs Canyon
The town of Glenwood Springs Colorado is also famous for the canyon in which it is located. The canyon is simply superb, and it hides incredible hiking trails, lakes, and caves. You must go hiking around the town if you have time, and I can assure you will get incredible views wherever you decide to go.
A must see is the Hanging Lake, but you need good weather to go hiking on this trail. It is quite long, but I can assure you it is worth it.
Visiting Glenwood Spring Colorado
Even if the town is quite small, there are still enough things to do here. You can start by visiting the thumb of Doc Holliday, on the Doc Holiday Trail, which takes you up to the Linwood Cemetery. Doc is a legend between the Americans, a dentist who came to Glenwood Springs Colorado to treat his lungs problems, but he failed and stayed in the down where he became vigilante.
You should definitely eat a burger, or a buffalo burger, or maybe rocky mountain oysters, at the Doc Holiday saloon, right in the center of the town, but also go and drink a beer at The Springs Restaurant or at the Glenwood Canyon Brewpub.
As I said at the beginning, I lived for around four months in Glenwood Springs Colorado, and I simply loved the city. Even if it is a small town, I never got bored, and I am sure you will like it as well, so if you are nearby or just searching for interesting things to do in Colorado or in the US, go to Glenwood Springs Colorado. The accommodation is cheap, the food is delicious, the fun is guaranteed, while people are extremely friendly.
Have fun!