Bright red, indigo blue, grass green.
As I open my eyes, I see ladies already sweeping in front of their shops and men start to gather for their first cup of chai that day. I chew some of my lunch from yesterday as they eat their oily samosas. I slowly get up, stretch my legs and immediately feel that my hair is not in place. I lick it with my long tongue, yes that's better. What? I can do that, I'm a cow! Cows are being treated quite nice in this holy town, called Pushkar. It's small and the city walls guard it from cars and rickshaws, and besides the occasional weirdo, people love me. I'm special, you know. I'm a holy animal. As I walk amongst the small souvenir shops I pass bright red, neon pink, sunny yellow, and many more colors of fine dust shaped as cones are shining on the small stalls of dirty streets. I almost forgot! Today is the one of the most important holidays in India, Holi! I'm beyond excited! Everyone is not only buying colors and making arrangements with friends but also visiting temples and praying.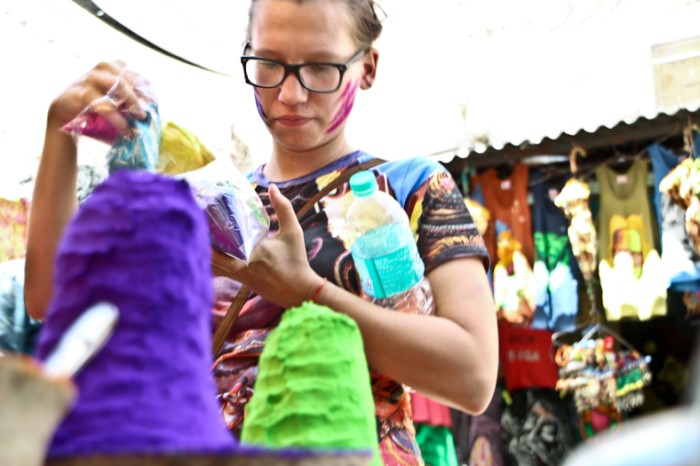 Holi happens in spring and is also known as the festival of colors or festival of love. I need to find some friends to celebrate this magical day! Alcohol is forbidden in this city but I know Chenu from that Tibetan restaurant can arrange a beer or two. I walk down the street and see a bunch of Israeli tourists, all dreadlocks and piercings, who give me approving looks and one even scratches behind my ear. Yeeeeees! I kinda like these people who are all over Pushkar and don't like to wear shoes. They don't mind my pooping on the streets, having drunk all that bhang, lassi mixed with marijuana, which is popular drink around Holi. Or just about anytime. Sometimes I go by the candle lit lake and hear them play all kinds of instruments, although I don't understand the language.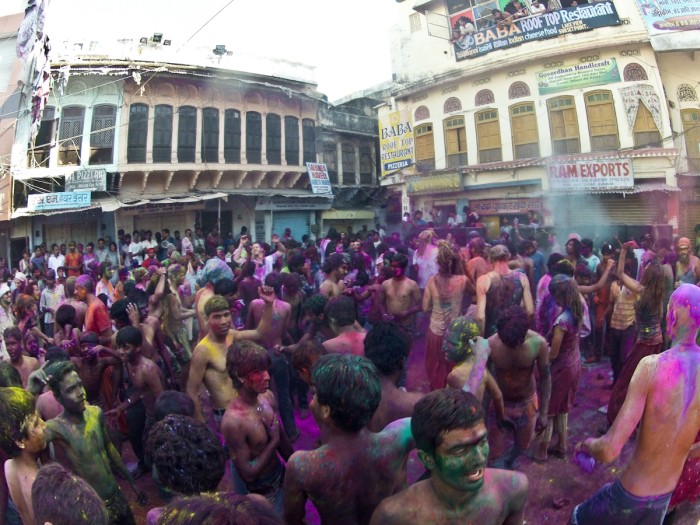 Happy Holi, happy Holi!
I want some fruit for breakfast so I join the tall skinny guy with black hair and blond girl at the juice bar. Katka and Mic. They language sounds a bit Russian. Slovakia? Oh, Slovenia, where is that? My geography is not good. They both look a bit skinny, she must have had food poisoning and he's not getting any meat in this vegetarian city. They have their colors ready as everyone else but they're not really sure what to do. Haha, Holi virgins! They'll be colored in a matter of minutes. In fact, I see some boys approaching right now. Of course they sprinkle me first, I am a holy animal, I'm hoping for pink which compliments my light brown skin. Oh, and they did it! The first lines of bright yellow on their faces and a 'happy Holi' with lots of smiles. They look so happy so I follow them cheerfully to the main market where I hear the techno music that started at 8 am. People are coloring each other and dancing like crazy. Woohoo, I'm moving my tail like crazy. Boys are tearing their shirts off and splashing people with water guns, hands in the air like in ecstasy. They show me their bright teeth and pat me on the head. I walk around to see what's happening with the newbies. They're covered in color! Neon pink, indigo blue, bright yellow, like a rainbow on drugs, they're laughing and chatting. Good!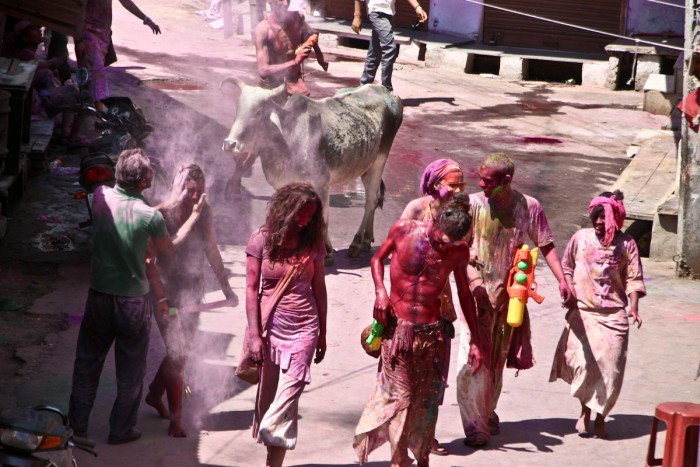 I pass a sadhu, a wandering monk, with white and yellow streaks on his forehead and he puts a flower necklace around my neck. I'm even more pretty! I lay down on the bunch of torn shirts in dirty pink color in the middle of the emptying square and nap for a little while, a queen in her pink kingdom.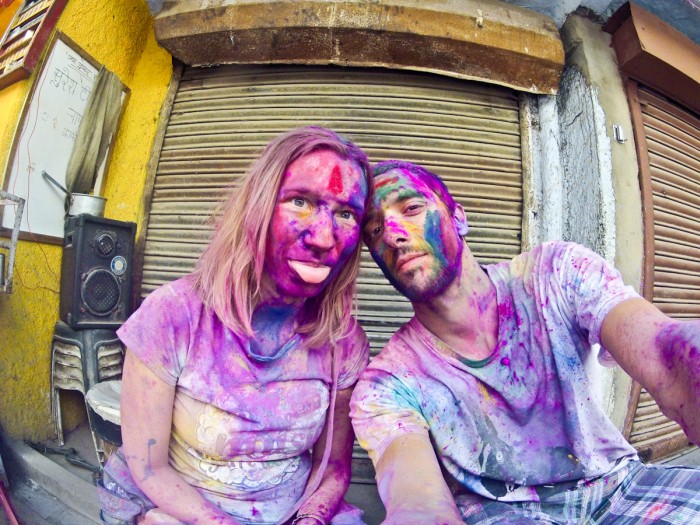 When I wake up, everyone's clean already. The old sins have been colored, washed out and forgotten, it's time to rekindle friendships and forget old quarrels. Time to feast in Holi delicacies and chat with family and friends. I think I'll go to meet my friends and show them this year's color of Holi.