We step out of the plane and a soft, warm wind breezes into my face and I smell a tropical aroma in it. It is evening, so on our way to our accommodation, I don't see a lot of the environment. It has been a long travel and we are all longing for our beds, preparing for the promising two weeks ahead.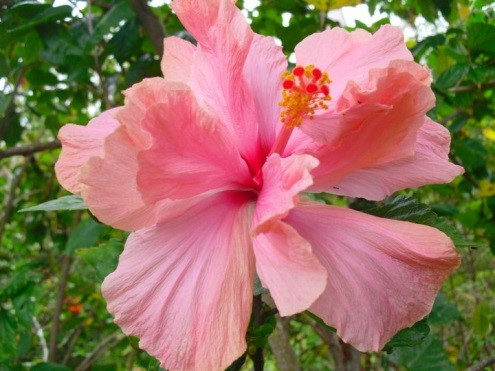 Waking up on the Big Island of Hawaii is waking up in what my idea is of paradise on earth; beautiful nature, view on sea, tropical flowers, colorful birds and butterflies and gecko's on the walls and terrace and not to forget the sun shining bright. Waking up early is definitely not tough in such an environment. About 7am is a good time for a small breakfast, before heading to the bays.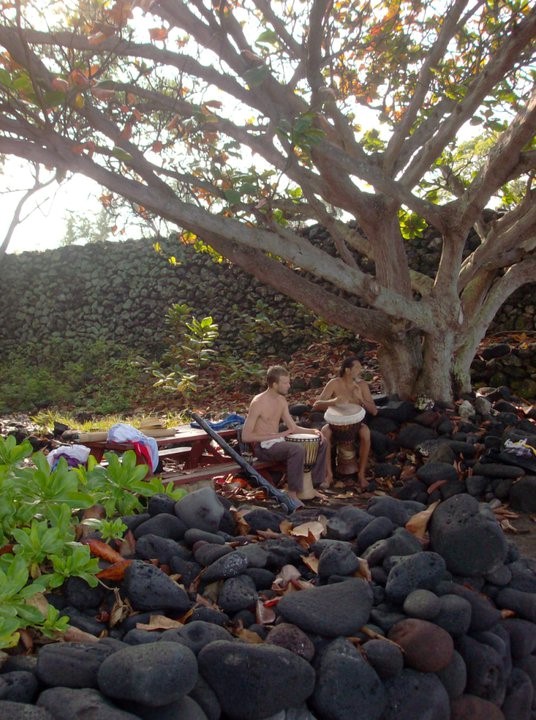 This holiday it was a tradition to go early to the closest three bays at the coast to see if the spinner dolphins are present. The spinner dolphins come to the bays to rest and play. If you go snorkeling and don't rush to them, you have a good chance in getting in contact with the dolphins and if you're lucky they might even show interest in playing with you with one of the leaves floating in the see. The first bay is Kealakekua bay, this bay is quite big and deep and is not very interesting for snorkeling when there're no dolphins. Considered the fact that the Big Island is not the most touristic place, you'll find mostly local people and only few tourists. This only contributes to the experience. It's very nice to enjoy local Hawaiian people playing music on the beach, as they say, for the dolphins.
The second bay is Honaunau, this bay is beautiful and perfect for snorkeling, there's coral and lots of beautiful fishes and here you've a big chance to swim with sea turtles. The chance to see dolphins here is not very big.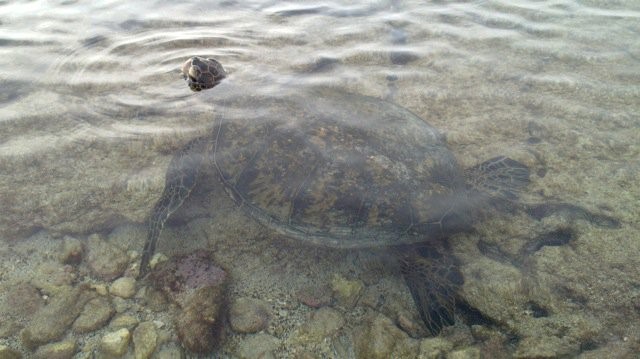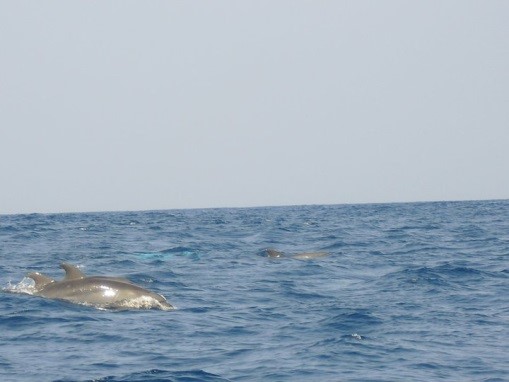 The third bay is Hookena, quite a large bay, it's not very deep the first part from the coast and it's also interesting for just snorkeling. There's a beautiful white beach where you just can relax and enjoy.
In February it's the so-called ' whale season', you can see the humpback whales swimming and jumping from the coast and if they are close, don't hold back for going into the water to listen to their songs.
After a good swim, whether or not with dolphins, a second breakfast or early lunch is very welcome. Take the opportunity to enjoy all the tropical fruits, which are healthy, easy to digest and very tasty! Also the banana bread is delicious!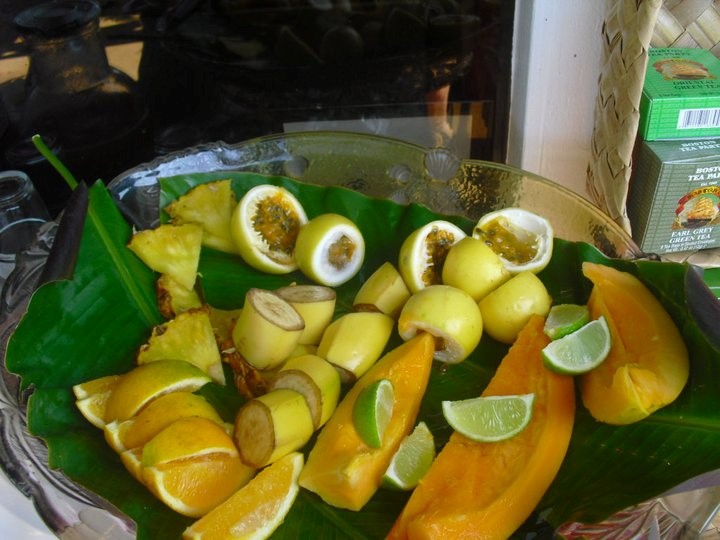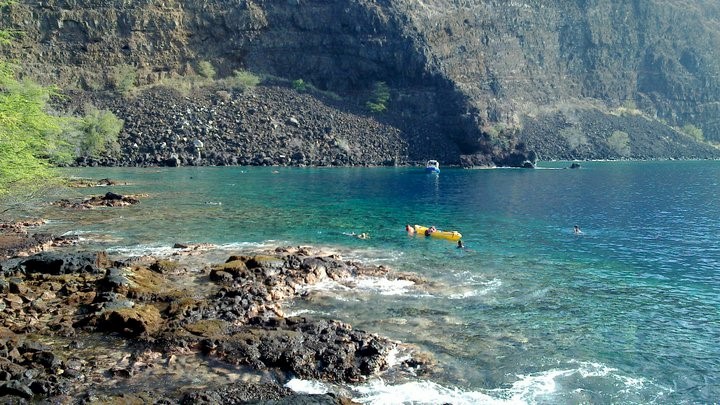 Another beautiful place to visit on the Big Island is a historic place, silent and beautiful: Captain Cook Bay. From the main road there is a walking path down the mountain to sea. It's not a very easy walk, but definitely worth it! On the rocks there's a small monument and you will have a beautiful view across sea. It's also a good place for a swim or snorkeling moment.
One of the ' musts' of this island is the volcano park, with active craters. It's a beautiful environment to go for a walk and there's also a volcano museum, which is very informative and gives a view on the volcanic history of Hawaii. If you go to the active craters just before twilight, you have a chance to see the active lava floats shimmering.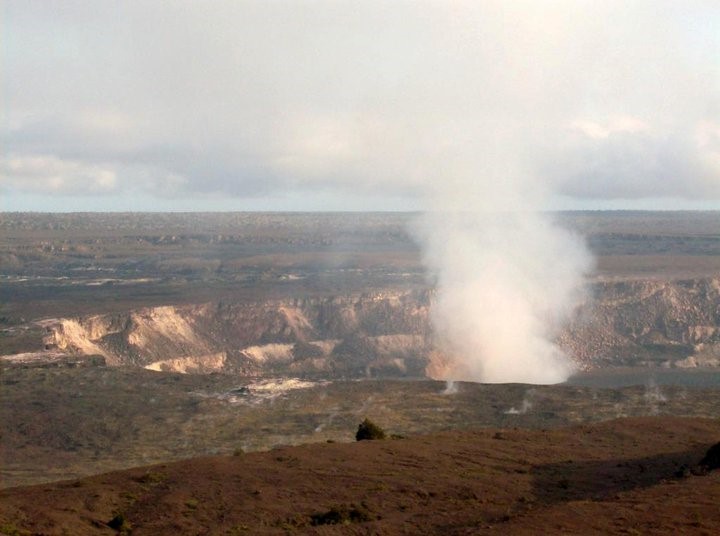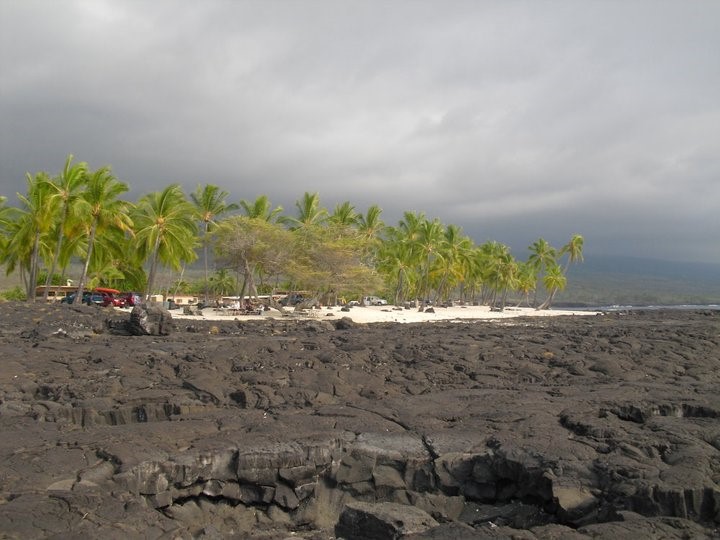 The local people are all very friendly and willing to advice you about nice places to visit. Another advantage is the good weather, which contains a lot of sunny days.
The Big Island is not one of Hawaii's most touristic places and it's easy to find quiet places in the beautiful nature, which makes you feel special because you're allowed to experience something magical, as if it's a secret and it makes you hope it can stay like this longer, before it'll become more touristic.