Turkey is a big country with a very diverse cuisine. Every province has its own traditional food and drinks. Kebap is probably one of the most known Turkish dishes abroad, however only few know that there are many diversities of kebap! First of all, the famous döner kebap, which is probably sold all over the world, has a little to do with a real Turkish kebap. Real kebap is made of sheep or cow meat. It is usually served with different types of salads, (spicy) sauces, breads, etc. Almost every city in southern and eastern Turkey has its own type of kebap. The most famous one is Adana kebap.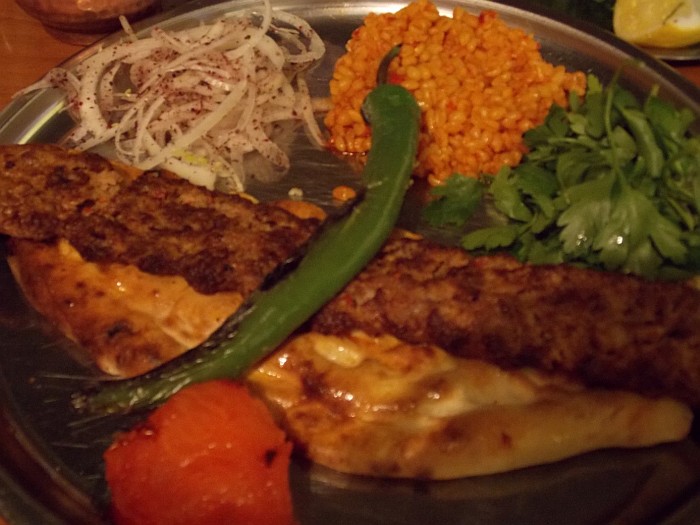 Kebap is made of minced meat with spices and it`s grilled. It`s quite hot so I recommend you to drink an ayran with it. Ayran is a diluted and salted yogurt drink.
Another famous type of kebap comes from a city Bursa. It was "invented" in the 19th century. The Bursa kebap or Iskender kebap was named after his inventor, Iskender Iskenderoğlu.
This kebap is made of three layers: a layer of bread at the bottom is covered with a thin layer of meat and over it it's poured a tomato sauce and boiling butter. Iskender kebap is served with yogurt. It's really delicious. You should try one. You don't need to go to Bursa to try one, since there are a few chains of restaurants in Turkey, which serve only Iskender kebap.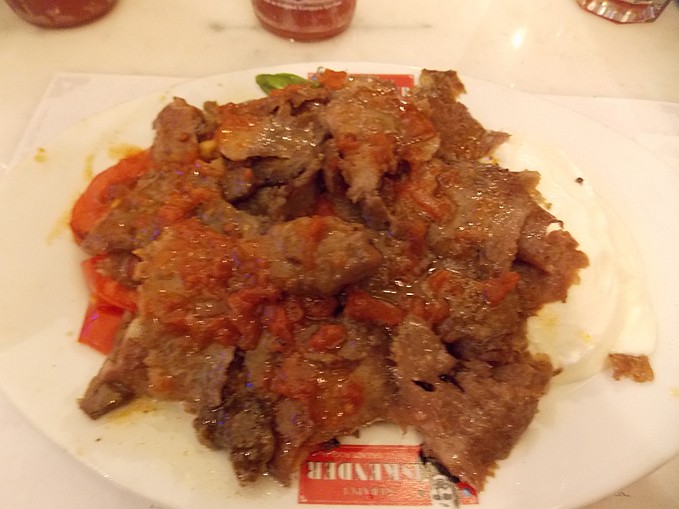 Eastern Turkish cuisine mixes with Arabic tradition, that's why it's special and quite different from the rest of Turkey. Hummus for example is a well known dip or spread known in a Middle Eastern cuisine and it's also typical for eastern Turkish cuisine, especially for the province of Hatay. Besides a hummus, there are two fried dishes which are typical for Hatay and you must definitely try them if in Hatay or a Hatay restaurant somewhere in Turkey. First one is salty and other one sweet. Içli köfte or a »sentimental meat« is a type of a meat balls, stuffed with nuts and spices and fried.
Künefe is a typical desert from Hatay. It's main ingredient is cheese. It might sound strange, but you'll love it once you try it. It can be served with pistachio, ice cream or extra kaymak cheese.
What about typical drinks?
I've already mentioned ayran, a type of yogurt which is a perfect companion of spicy meat dishes. There is another spicy drink you should try when eating Adana kebap and it's called şalgam. This drink is also typical for Adana and it's made from Russian turnip. The drink has dark purple color and it can be spicy.
Tea or çay is the most drank drink in Turkey. Turkish people drink it during all day and also it's served during important events, such as weddings, business meetings, etc. It's a sign of Turkish hospitality, that's why don't be surprised if the offer it to you after a meal in a restaurant.
Turkish cuisine is very rich and it's impossible to list all the delicious dishes you should try. I hope this list will help you to discover some new tastes of Turkey.
Afiyet olsun!