Bali is an island of Indonesia. If I am more accurate, it is a province of Indonesia with capital city Denpasar. Last year me and my boyfriend decided that spending holidays in Croatia wasn't just enough for us. So we decided to go a bit further. »Where to go?« we were asking ourselves. We had many ideas on our mind, but somewhere in the middle of fooling around and dreaming about different  destinations  he said to me: »What about Bali?« First I had to dig very deep into my mind to remember exactly where it was. But then I just simply agreed to it beacuse it felt so right. And  it was right decision for our first destination far away from sweet little home in Slovenia.
On 16th of September we flew to Bali. Firstly I have to emphase that our flight to Bali was very long. We had two stops first one was in Dubai and the second was in Kuala Lumpur. Our way of chosing that kind of plane ticket also depended on our savings to get and be there. From Venice we flew to Dubai, which is very rich and technological perfective city in the middle of a desert. Because we come from Slovenia, which is a very small and shy country, we didn't even imagine that airport can be that large and great. I was astonished by the fact that if we want to get to our gate, we have to use a bus! Already here I felt like I'm a real traveler. From Dubai we flew to Kuala Lumpur. We were getting more and more excited because landing on Bali was geting closer and closer. I remember Kuala Lumpur very well, right there on the airport we tried our very first noodle soup with chicken out of Slovenia. Still it was airport but taste was totally different and aside that we were having fun eating it with funny spoon.
We landed on Bali on 18th of September. For a moment we felt a bit of a shock because of loud and crazy traffic. If I take a look back now, I see us just standing there with our mouths and eyes wide open. It was not Slovenia anymore and we loved it. We made a cheap reservation at some hotel in Kuta. Though the hotel wasn't luxurios they welcomed us very nice. At arrival we got squized orange juice with some flowers. Later that day I felt happiness in my heart watching our first sunset in Kuta. Days in Kuta were very interesting. I have to say that Kuta is probably one of the most touristy places in Bali. You got a lot of going on, from different activities like surffing to lots and lots of different restaurants which are obviously adjust for different tourist. Maybe Kuta was a bit to touristy form y taste but I still can't complain because it was worth seeing and feeling a chaos there. Especially I liked the beach full of different people and great doors which led to the beach. It stayed in my memory beacuse there I tried my very own first fresh (and very cheap) cocounut, saw what Hard Rock Cafe looks like and met some wonderful local people. Especially with one of them we connected right away. His life story is from my point of view kinda sad. He is working in Bali but he comes from Sumatra where he also has a family there. His family gets his earned money which he sents often. He explained us that Bali offers beter chances to live through out the days. I can compare this with our country where circumstances are getting worse and young people mostly are looking for a better life in other countries like USA, England, Norway, Sweden and so on. And that's just the same for him, he chose a  for better life in Bali, where he can make more money to get throurgh the days and sents some money home. Even though he was a very happy man. Smiling and fooling around all the time. I couldn't help but wonder about my happiness if I were him. I am not sure if I could make it. Our world constantly pushes us to the limit and in the middle od our path throuh life we get lost and forget to live our lives happily.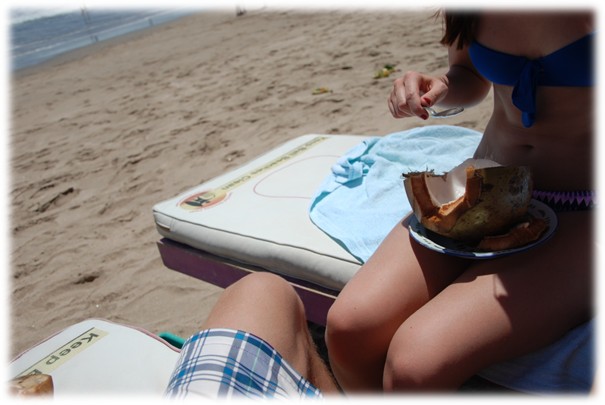 As we were staying in Kuta, we also visited  beautiful  beaches near. One of them was Jimbaran beach and I can say that I have never seen such a beautiful  beach in my life. Jimbaran beach is located south of Ngurah Rai International Airport. It is also tourist resort. But that time of a year was no tourists around except us. We had a beautiful lunch, freshly squized pineapple juice, some beer (which is called Bintang by the way, that is tipical beer you get on Bali) and magical walk down the beach.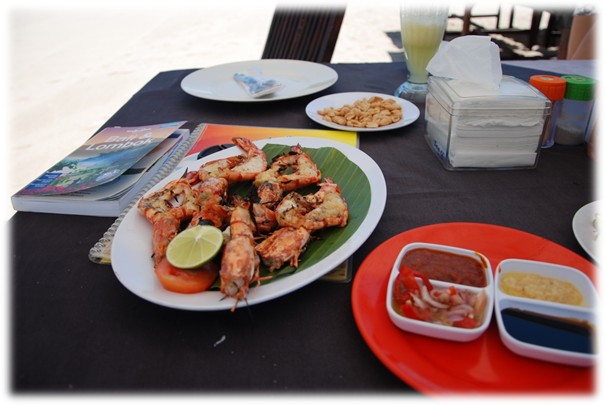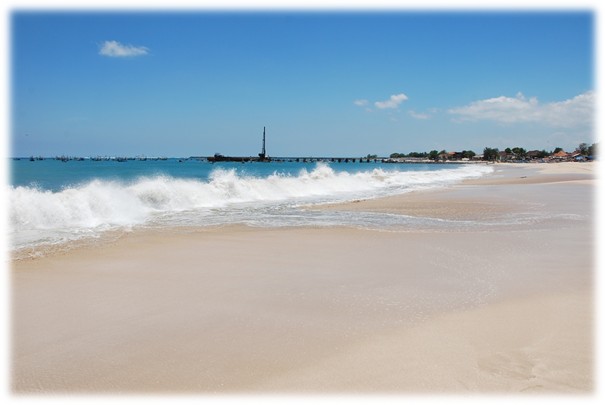 It was pretty much perfect until we came to Balangan beach. Which was even more beautiful! Balangan beach is more southern than Jimbaran and it belongs to Bukit which is the most southern point of Bali island. Balangan beach is a paradise for surffers beacause it's endowed by enormous waves. White sandy beach, beautiful cliffs and sea breeze are so addictive that you want to stay there forever. It's not just a paradise for surffers but for anyone who gets there. Because of the big waves I couldn't swim but I was satisfied by observing sea life.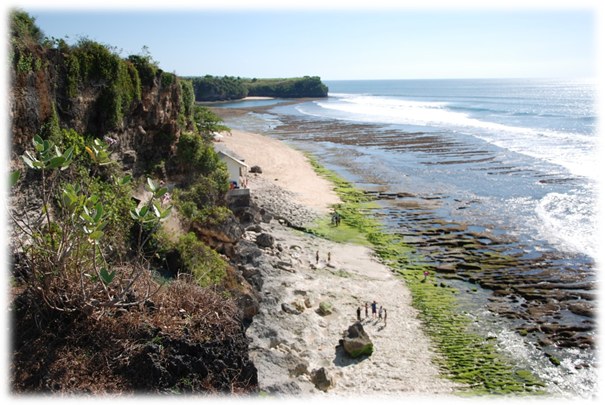 It was day four of our staying on Bali. We decided to move from Kuta to Ubud. Ubud is a center of culture and known for lots of rice paddies and interesting art. If someone asks me about my favourite part of Bali adventure, I would say that Ubud was my favourite. Its culture, little quiet streets and constantly playing Bali music in the back wherever you came… It was magical. We got used to it very quickly. We stayed at beautiful pondok near Monkey forest which we also visited. Monkey forest or Mandala Wisata Wenara Wana has its name with a reason. There you can take a walk through a real jungle and see lots of long-tailed Macaques which are not as innocent as they appear. You can also feed them and if you're lucky they will jump in your lap. We had our little adventure with them later that day. Meanwhile we were sleeping at night they just trashed everything we left outside that evening. I can asure you that they don't get scared easily but even though they're sweet little creautures you couldn't blame.
We also hired a motorbike and took a drive to rice fields which we couldn't get enough of. It's very simple, just some green leaves coming out of a ground but it's breath taking. Rice on the other hand is very important to Balinese. They have a rice godess called Dewi Sri and rice cultivation is celebrated through many rituals.  Basically rice is part of national economy. If you take a look at any menu you will often see rice as a side dish, from nasi uduk to nasi goreng which is also considered as national dish.
Ubud is a very special place, you can get lost in different museums like Antonio Blanco Museum, where staff welcome you with colourful parrots, then you have ARMA museum which is a very interesting collection of paintings by Balinese and also other Indonesian painters and most important (at least for me) you also have a chance to visit Elephant Safari Park in Taro. And we did that. It was the most amazing experience which costs us some money but it was worth every penny of it. We had a chance to touch, feed and ride these beautiful giants. I was and still am very grateful. Ubud left us with a very positive impression.
We experienced it in every possible way:  rode the elephants, tried Luwak coffe (which was by the way excellent despite the fact that is made out of a poo), smelled lemon grass, drank real ingver tea, saw famous Mount Batur and enjoyed ourselves by the view of endless rice paddies. Besides all that we met a local who lived in villiage called Petulu and his job was to show people the white heron. That's a bird and it was nothing special but conversation with this man was something very special. He explained us about how life should be balanced. He told us: »There will be good and also there will be bad because that's just the way it is and that's how it's supposed to be.«  We admired his knowledge about life, his dedication to this small villiage and trying hard to understand the rest of the world. He had a strog will, we can tell that because he learned English on his own and translet some balinese books into English. He is amazing.
Our three weeks trip ended with visiting Gili islands. Those are three small islands near Bali from where you travel by speedboat. First island was Gili Trawagan and there you get to see lots of tourists or people who moved there and make money with diving lessons. There are just few locals. And if i'm being honest, I didn't like that very much because I couldn't feel the real culture.  From Gili Trawagan we went to Gili Meno which is even smaller than Trawagan and not so populated. I won't forget Meno because there we ate whole pineapple for 1EUR, did some incredible snorkeling and saw sea turtles and just enjoyed sandy white beaches. I can tell you Meno is perfect getaway.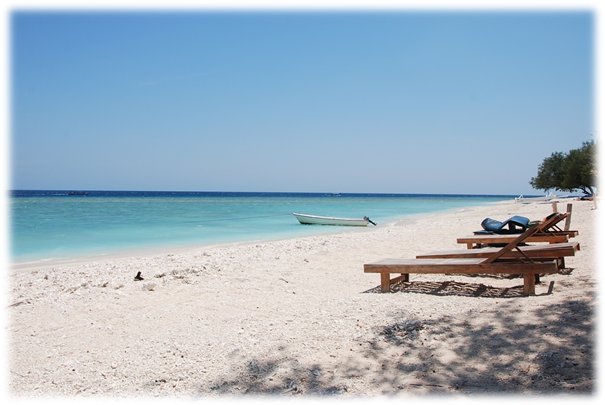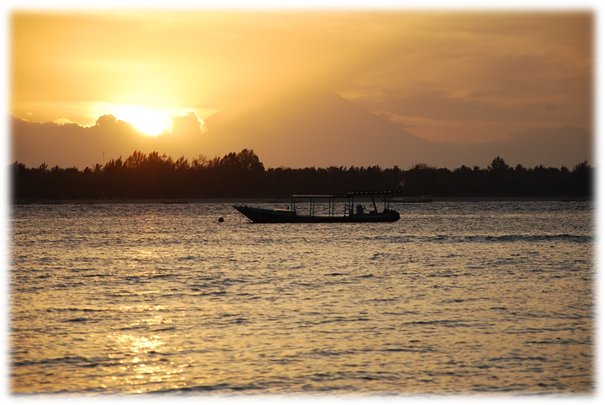 Time passed by so fast and we had to say goodbye to Bali which was very hard. In the end Bali was really something special. Maybe I am saying that because it was our first destination out of Europe but yet I think that is an island worth seeing. I enjoyed its culture from observations how locals are open and always smiling, how they cherish nature and live with it in coexistance, how they have respect to their life. Because of seeing all this I was different person back there and it was hard to say goodbye to easygoing and passionate island,  but with every good also comes bad. You know, that balancing part. And that is just fine, my experience with Bali is stuck in my memory forever. That's my story, my experience and right there I leave with some additional photos of our trip to Bali. Enjoy it.