While wandering through some parts of Indonesia I found an enchanting place called Togean islands. This is an archipelago of fifty seven islands in the Gulf of Tomini, Central Sulawesi. Seven principal islands and their tiny satellites are positioned on shallow plateau no deeper than two hundred meters.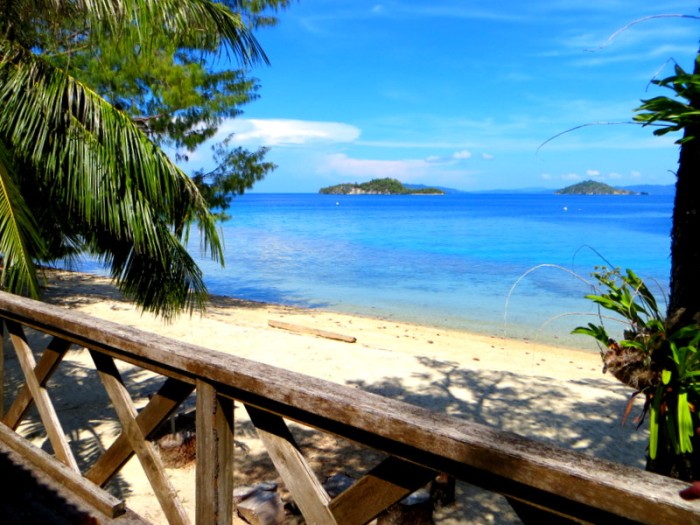 On the first sight is the place located only thirty kilometers below equator the most charming place your feet have ever touched. This is the place where you get amused by late afternoon sky colors and you never get disappointed with sunset. There it is impossible to get bored underwater, because of enormous variety of fish and coral species which flourish in all possible colors and shapes. Once you have told all you had on your mind to fish, you can take a walk in tropical forest for some green energy and also mosquito bites, unfortunately. On the second sight you realize that you actually just arrived in the kingdom of Plastics.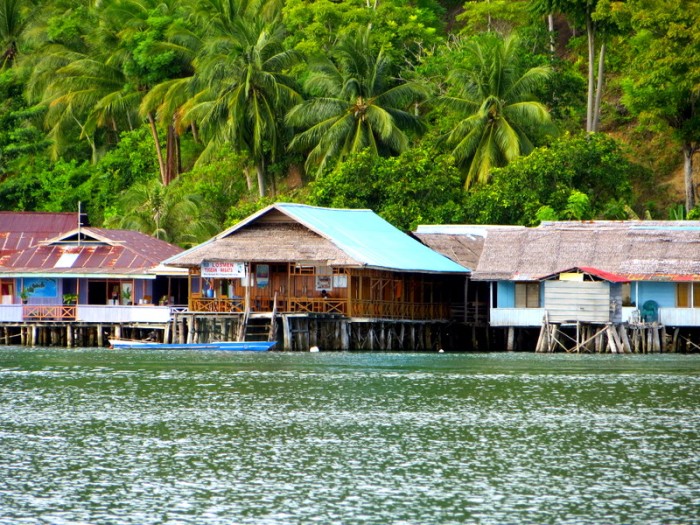 Almost two months I stayed in Katupat village on Togean island. Like the most of the settlements in an archipelago this is a small village with eight hundred inhabitants and almost without electricity or running water. Most people live in stilt bamboo or wooden houses. There are public wells in the village where you can do your laundry or take a shower in Indonesian style. Some of villagers run generators for electricity when sun drops into the sea, but only for few hours, just to finish the dinner and catch up with some soap operas on few television they have. Men are mostly fishing, also making coconut oil or work in the gardens of cloves or most likely all at once. Women are at home cooking rice and baking fish, taking care of whole bunch of kids, do laundry and gossip. Some of them are living (also) from tourism. Men do some prayers at mosque. Women pray rarely, they put their hijabs on only when there is a big holiday. It is simple life. Or it was… Once they wrapped all food in banana leafs. Today plastic dishes, especially, dishes brand Tupperware, are highly appreciated. This is actually very good, because they reuse it all the time. Meanwhile all other plastic wanders directly to the trash bin named Sea.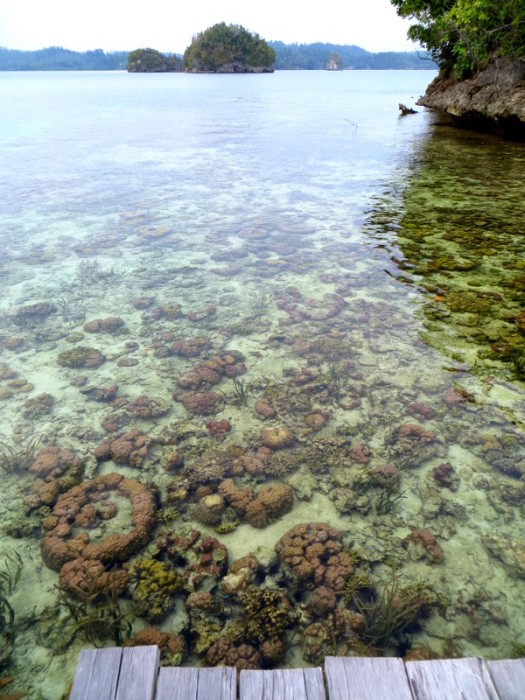 My heart went blue when I saw what is happening at this End of the world. Why the end? Because it takes a lot of time and positive energy to get there. Then you find yourself at this tropical piece of the earth where people equate plastic with banana leafs and have zero education about how to treat waste. Almost every day of a week there comes a public boat from six hours away Ampana, Central Sulawesi and twice a week there comes ferry from twelve hours away Gorontalo, North Sulawesi. The latter stops in Wakai, small settlement an hour boat drive from Katupat. They bring tourists which also produce waste at the place with no system of waste management or so. If you are now asking yourself if once you get there you need to take a shower in the middle of the village at the public well and if you are able to upload the most fresh selfie on white sand beach on Facebook, now is the moment of truth. You can take a western style shower at two resorts five minutes boat drive from Katupat on tiny Pangempa or even tinier Bolilanga island or you do bucket shower in simple village hotel – but inside of bathroom. You can not get internet connection at this place, even for mobile signal you need to install your phone on coconut tree, make wish for good weather and hope that the stars are align to just send a message.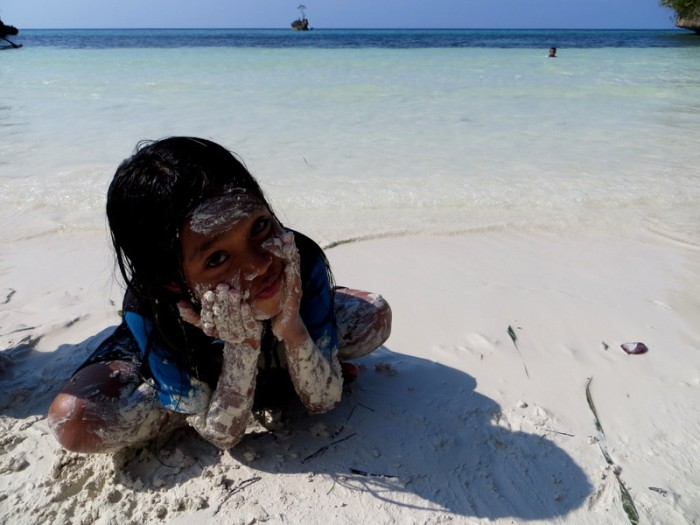 This very special place is forgotten by Indonesian government, which sadly, makes sense in one of the most corrupted countries on the world. While government does not care, local community in Katupat does. With help of two French travelers they established EVERTO (Everybody for Togean), a non-profit organization with aim to protect the environment and provide eco-employment for the local people. This is just a beginning to deal with numerous problems of the paradise: increasing mass of plastic waste, cyanide and dynamite fishing, over-exploitation of forest, crown-of-thorns starfish which destroy corals and unmanaged tourism. There is a lot of hard work ahead of them and probably many years of sweat to achieve some of the stated goals.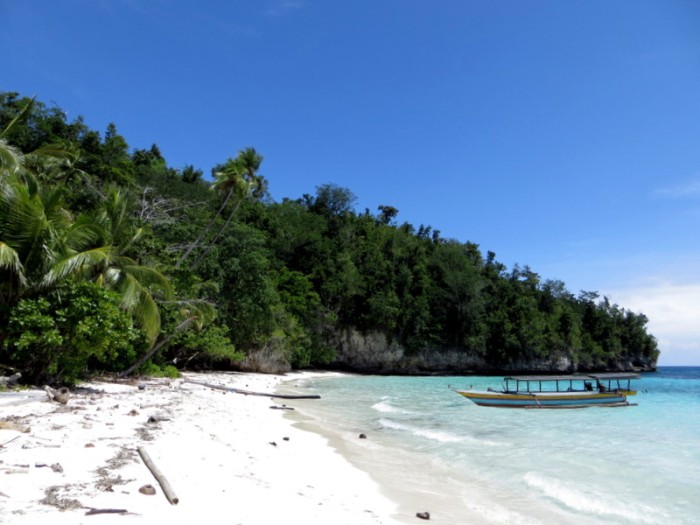 EVERTO makes actions. Even in free time. It was cold november day. We went to do some leisure snorkelling at Hotel California. Cloudy skies, rain and sounds of saw were not things we expected at usually very idyllic and peaceful place. Paradise landscape of bamboo house on piles (thousand star hotel) in the middle of turquoise sea (just that!) is being destroyed by big cement building which is growing just beside it. But it is ok. From this gigantic house they are going to control people who still do dynamite fishing (=destroying coral!). After some time in water rain stopped and sun cheered us up again and we found big fat coral eater – crown-of-thorns starfish. Marion and Nabila stayed with it until Saiful came with diving stick and rice bag to pick it up. After that action just began, because these are social animals and when you find one there are for sure few more chilling around. In the boat they found bamboo pliers (gepe-gepe) which were made especially for picking them up and start collecting them. They picked up about twenty starfish.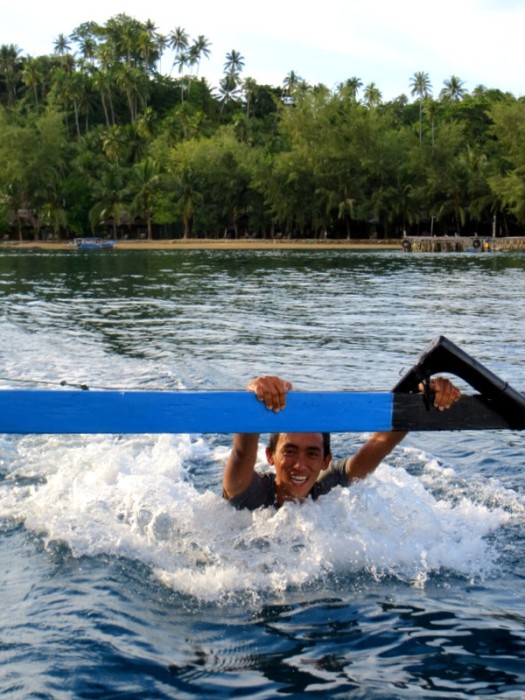 This is very short sum up of what is going on in Katupat and around – things are changing, but extremely slow. People with average monthly income around thirty Euros are still smiling and joking around. Kids are still enjoying driving bicycles, jumping into the water and getting white from beach sand, even though hi tech toys are slowly entering. Let's hope that situation will get better and the kingdom of Plastic (and other troubles) will be demolished soon!