A volcanic island Jeju, located in the south west coast of South Korea, is known as an »Island of Gods«. It is not quite big – about 73 km long and 65 km wide. UNESCO put the island also on a list of world cultural heritage. One of the attractions there are the women divers. They call them Haenyo. On the island there is the tradition that women earn money for the whole family. It is the tradition from the 17th century. There are at least two reasons for that. One is that at that time men's job was fishing and attending the battles as warriors. The second is that the taxes for men divers were much higher as for women. And they still are.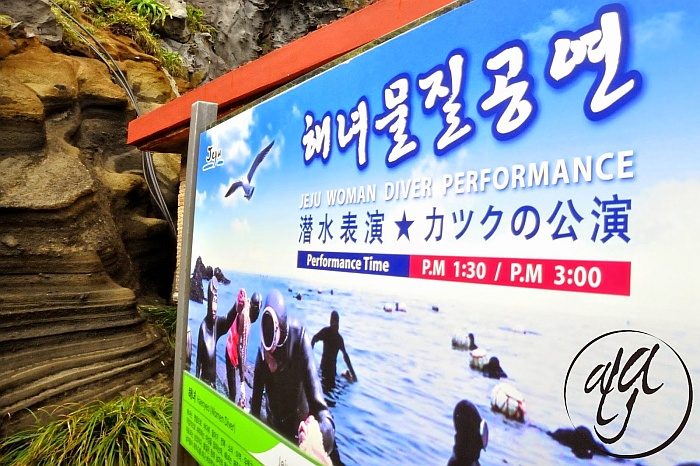 Their work is really hard. They are diving with very primitive gear. They have some kind of buoy and some pieces of weights from lead knotted to very thin neoprene. They use a mask and fins. They don't have any oxygen masks or good neoprene clothes. So they have to keep their breath quite long to catch the octopus or to collect shells and other marine products. They are under the water surface for approximately 2 to 3 minutes. When they go under water they have net and some kind of hoe to dig the shells in their hands. They said that women's body is better prepared for such a work as it contains more fat. And that this fat helps them to keep in cold water longer. It is quite impressive to look how the women dive. As they come to take a breath they produce some strange voice and then go back into the depth. They dive 20 and even more meters in depth.
They dive every day. Locals and tourists could buy the food the women bring from the see. But even more interesting is to look how they prepare the meals and sell them. You could taste all delicious sea products. It's worth to try!
There are quite some legends regarding men and women roles on the island. One of the legends says that when baby girl was born, they prepared huge party where they prepared wild pig barbecue. And when baby boy was born, they said they will kick him on his ass. But as women had to work on the fields and dive six to seven hours per day they were quite angry and their quote was: »It is better to be a cow on the island as women«. Nevertheless on the island is the matriarchal family structure. This matriarchal family structure could be changed in the future as most of the women divers that are active now are 60 and more years old. This tradition could die as nowadays also the girls (not only boys) go to the schools.
The Haenyo women are very honored on Jeju Island. They have quite active role when in the year 1932 Japanese politics treated Koreans in discriminatory way. There are some monuments on the coast where the life of those brave women is presented. On the north part of the island there is also the museum dedicated to Haenyo women.