In a packed van, we went from Puerto Princesa to the northern part of the Island Palawan, to El Nido, where relentless streams of tourists are heading to explore this piece of paradise on Earth. In the past, this was the role of Puerto, where a new international airport is going to be built in the following years.
Our trip across the biggest island of the Philippines took about 5 hours and the air conditioning made it quite unbearable for the most sensitive among us. After driving, mostly on gravel roads and through rain forests, we finally reached the main terminal which looked more like a construction site. There were already various tricycle taxis waiting upon our arrival and we took one that drove us to a bakery in the city, where we were to meet with Maja and Klemen. Some among you might know Maja Prašnikar from the Slovenian version of the reality show The Farm, but I don't really follow these things and needed someone to fill me in on that. I found it pretty entertaining to ask her a bunch of follow-up questions when I found out that this nice beauty even milked a cow and got through mental and physical struggles, while still remaining full of optimism together with her boyfriend and little "kitten" on the forehead. We took a short break at the city beach and adorned the heavenly, emerald-colored water and watched a small group of tourists swimming in the sea, knowing that the city's sewage and wastewater flow directly into it. Afterwards we looked for accommodation in our vicinity and found rooms at the Lualhati Cottages (800 PHS/per night for a double room).
On every corner you'll find four types of tours from which tourists can chose from – options A, B, C and D. They include guided tours of various islands and a typical Philippine dinner. One tour costs approximately 1000 PHS and lasts from about 9 am till 4 pm. At Lomi Hauz we tried a fresh coconut for 30 PHS, but only after one of the staff members cut it in half with a machete. Then we were able to sip out the water and eat the coconut meat. We were lucky that one of the servers was a kind old lady that had just come out of the church across the street, and she led us via a shortcut to her nephew with whom we closed a deal for two guided tours, A and C, for 2100 PHS/per person. The next day we were really excited before embarking on our next adventure but had to wait for quite some time before our group finally gathered together. Somehow we already got used to "island waiting", that an engine breaks down, that someone forgets the diving equipment and we certainly got used to the adrenaline rush from driving around with the locals! After conquering the waves, a wonderful view of a myriad of islands opened in front of us and when we advanced further north, we reached a blue lagoon. Our first jump into the water was accompanied by a supposedly territorial fish that bit Tomaž and he lost part of his snorkel, and I scratched my leg on the coral reef. In any case, none of this stopped us from exploring the diverse marine life on the seabed, it didn't stop us from even checking out the big hidden lagoon, as well as the "7 Commando" and "Shimizu" beaches. There were many tourists at all these spots, the boats were practically stacked together, the groups were waiting at the naturally formed secret entrances to the lagoon and the tourist guides English was pretty bad. This is why we liked C tour on the next day much better, because our group was smaller and the guides, a father and his son, really enjoyed taking us to the islands that weren't overflowing with tourists. One of the most interesting sights was our visit to the "Helicopter Island", where the reality show "Survival Serbia" was filmed in 2011. They also prepared a tasty traditional lunch for us: grilled seafood, rice, fresh vegetables and fruit. I collected tiny stones from the island and gathered some sand in a bottle for my friends.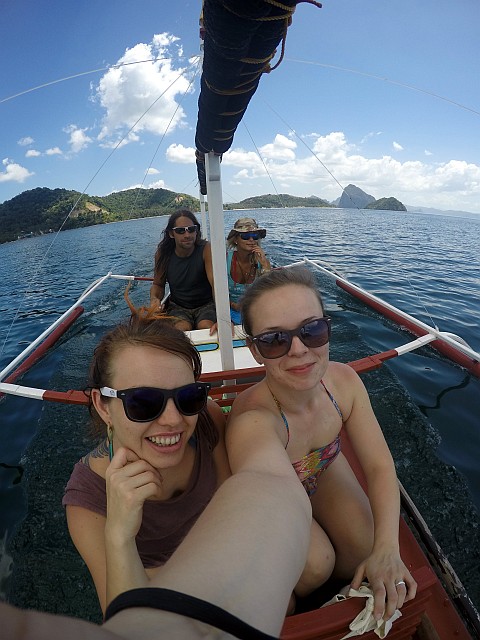 One day before leaving El Nido, we went to on a private boat trip with Klemen, Maja and Teja. It led us to the paradise-like beaches were we, accompanied by the sound of the ukulele and singing, enjoyed some fresh mango and bananas from the marketplace. We left near dusk and on our way back, the sunset was greeting us with all its rich shades of color while the "floating" islands were slowly sinking into the gray …
… this moment, when you realize, how amazing the life is and how blessed you are.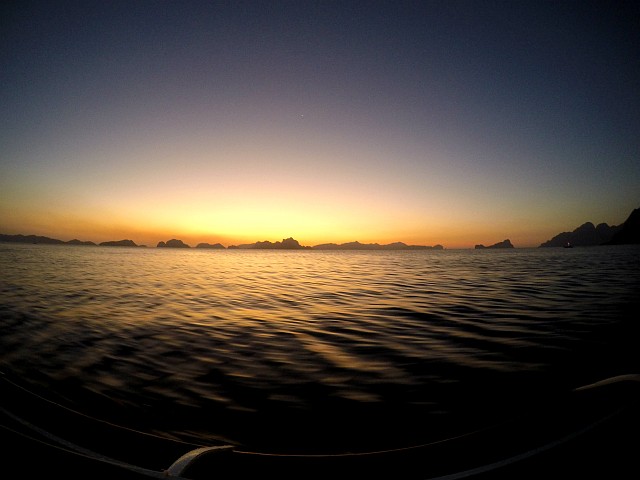 .