Sometimes it's difficult to start . This time it's costing me a lot. After I lost one of my best friend I spent 2 years in Slovenia, at home. It was a record of sorts in the ten years since I started to travel and work in many countries around the world.
I spent too much time there and got used to my little routine. Leaving it is tougher every year: reading traveling  books, watching documentary movies, looking out the same window at the same buildings, sleeping on the same mattress every night, go walking around town with same people, going to the same gym, to the same grocery store, buy the same things to prepare meals every day; see my family whenever I wanted. All of this while dreaming of traveling again and waiting patiently until the time came.
And the moment came so suddenly. From one day to another, which cost me  ( more than usual ) out of my non-traveling life and returned to the traveling one. I'm still at it, giving awkward little steps from one world to another, crossing bridges, peering shyly that state of me that was previously so natural. Without realizing it – I really just noticed it- my body had accustomed to certain repetitions of normal life and forgot about the ones of nomad life. My comfort zone became so specific and limited it was very difficult for me to cross that border security allegedly built in Slovenia and get back to feeling comfortable in the unfamiliar areas of travel.
But in this unfamiliar and uncomfortable area is where the magic happens. When we dare to leave comfort and predictability, is when extraordinary things start to happen.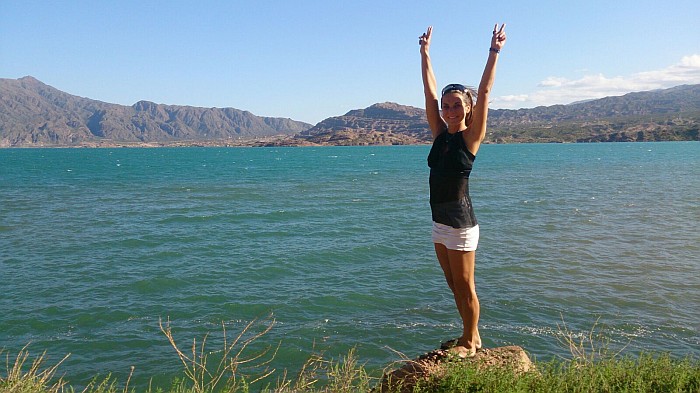 Anyway, I traveled to another comfort zone. Rather, I returned to one of my comfort zones -Argentina- but it wasn't the same. I still I felt lost. The first days of this trip I was bothered by the loaded backpack, dirty clothes, lack sleeping in my bed, not owning a home, having to talk to strangers and taking pictures. Everything I loved about traveling made me want to go home. But gradually I got used to it again and started feeling better.
I didn't  have a clear definite route in my mind. I wanted to see some parts of South America or maybe visit some friends. I started in Buenos Aires, where I used to work a few years ago.
After ten days  I've had enough of Buenos Aires  -or how porteños call it, The City of Fury- because this cosmopolitan capital never sleeps. During summer it's hot: around 40 degrees and humidity goes up to 95 %. So it's almost impossible to stay in this metropolis, one of the largest in South America.
And  there are  almost daily strikes and if not is some celebration of some football team around which and traffic jams form all the time.
I wanted to cross to Chile to visit my friend and stop in a few places before so this was  the only plan that I had. But it depended also from the others, because I wanted go hitchhiking. Prices down there became extremely high in the last three years, and it was also summer, so the time was perfect to do this. I had no date or job -nor much money-; but I had plenty of time so I decided to try and do it.
I've done it before, in several continents, but never in South America…. So my plan was  traveling from Buenos Aires to Santiago without taking a single bus. Argentinian and Chilean road s are good, but it still was approximately 1.500 km.
This would be the question I most often hear repeated during my journeys: "And what is your plan?". We obsess to know where we come and where we are going, what route we have built, what we want to know and see. I love to plan, but in another sense: planning like birds do, getting carried away by the wind, and meeting people that change my road, or make me stay more days in a  place that seem otherwise boring but turn magic and unforgettable thanks to them
The truth is that, as I tell everybody, I just leave home without a clear direction. I've decided to leave the road and their representatives (truckers, people who pick me up in their cars, people who invite me into their homes) to lead me to wherever they want.
So the day was coming up. I asked my friend if he could bring me a bit out of Buenos Aires to a good road where cars can stop. Always the most difficult part is coming out of the city. And if the city is big, it's harder. After 5 minutes and probably not even 6 passing cars; a small man in a small car stopped for me. He was Fernando, and he was going directly to Mendoza for work. He told me how he used to live there, and now he lived in the capital. We talk a lot about differences between Buenos Aires and Mendoza. Somewhere after 500 km, he invited me to lunch. We stopped in a typical Argentinian restaurant, where we had "empanadas". These are pockets of dough made from flour and lard with a savory filling, usually including meat and vegetables. This was for entree, with meat with mashed potatoes for main course.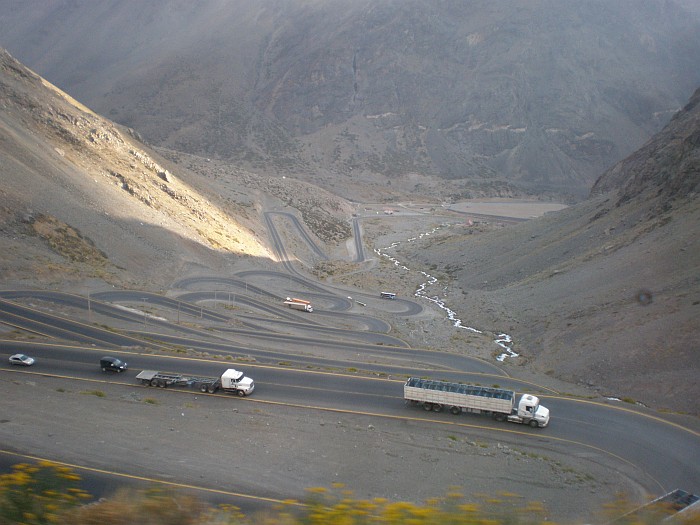 After a delicious lunch, I was still undecided if I should stop somewhere in the middle, or go directly to Mendoza. But in the end I listened to him (my sixth sense) and I went.
We arrived in Mendoza in the middle of the night; and I called a guy named Adrian which I met this year near my home in Slovenia, where we were picking grapes. We went for a beer and waited for my friend that was coming from an "asado" ( barbecue that is made in  Argentina or Uruguay). "Thank you for company". "Thanks to you too.". So I had faith, though each time one to the side of the road pass different things.
I went to the hot spring Cacheuta, riding a bicycle through this very famous wine region. I also went swimming in Potrerillo (a large dam on the Mendoza River  forms an artificial lake that measures 12 km in length and Is over 1,380 meters above mean sea level) that serves as a base for activities such as hiking (in the hills surrounding the area), rafting in the river,  paragliding and kite surfing.
After spending a week in Mendoza; I've decided that it's one of my favorites (both city and province). I want to try hitchhiking again across  the Cordillera in any vehicle that stops and get to the Chilean capital on the same day. Santiago is just 380 km away, but sometimes during summer holiday you need to spend several hours on the border.
I took a bus from the terminal to the Mendoza Mercosur and I stood at the exit of the last gas station before Route 7 (one route that crosses the Cordillera). After an hour, not a single car had stopped. This was also and still is  my personal record. To be honest, several did stop, but they were either  a) going the other way, b) were Chileans who had wanted to take me but didn't go my way, c) were Chileans who wanted to take but did not dare to cross the border with me, or d) they were couples is disagreement (he wanted to take me and she voted negative). Under the midday sun and my sulking (there comes a point where hitchhiking I gets very tiring) I stopped Jorge, a mendocino with a big  truck who offered to take me in Uspallata, halfway between Mendoza and the border. I went upstairs.
On the road, conversation topics emerged in the way they always do when i get a lift (I don't know if it's a coincidence or if there is a general agreement to talk about these things, like the meaning of life and happiness). I got off at Uspallata and he told me, that it was best to walk two kilometers to the post of gendarmerie and hitch a lift with  trucks coming out of that office, so there, with rucksacks and the sun on my shoulders, I returned to stand in the middle of the road.
After 20 minutes, someone finally stopped. Again it was a truck, and here I met Manuel, a sympathetic Chilean guy. We went whole trip listening to loud music, singing and clapping to the rhythm of a mix cumbia and reggaeton that included South American hits.
We crosses the tunnel through the mountains and when we saw the sign announcing that we were leaving Argentina and entering Chile, Manuel honked and he applauded happy. Chi Cha Che Chileeeeee. !!!
Road here is extremely charming. I've been there before but for me it's always like first time. There are mountains with magical colors and during warm days, water from the melting snow and ice uphill nourishes hundreds of little passing creaks.
Aconcagua, (6961m height) is the biggest mountain in America and in the south pole. There is also a ski resort here and in the winter crossing the border sometimes could be difficult. Like Manuel told me, on September 2013, nearly 15,000 Chileans got stranded on the Argentine side, when the pass had to be closed for 10 hours because of freezing temperatures and between 40 and 50 centimeters of snow.
We arrived at the border and Manuel left me there, "what a shame, for I would gladly take you across, but if the truck parked there I would get shot." Part of that was joke, but he was not allowed to leave truck.
He had  made custom clearance in the exclusive place for trucks, so i said goodbye and left alone in the middle of the mountains. I was in the middle of the Andes, 3.100 meters high, so it would get very cold as soon as night fell.
I entered the migration booth. Would it be easy to make the crossing on foot? Someone had told me he had tried to cross the border walking and he had been denied entry.
The magic wheel kept turning: my day could end in Santiago in a warm bed with my friend or I could get denied right of passage, and I'd have to go back to Uspallata. And I didn't have any means of transport.
Someone told me I had to ask permission to "cross walk" so I did it with  a smile to the police man (very important)  and he let me pass. The formalities were quick: luckily I arrived at a moment when there were almost no tourist groups, so I didn't even have to wait in line. I  passed through the scanner backpack and left the building. I was in Chile (joy, but the challenge remained: it was 7:40 pm and I  still had 147 km to go before I reached Santiago, where my friend waiting for me without a known fixed date of arrival.
The police told me where to stand to hitchhike. "Next to the green sign" one said, so I crossed my fingers and went there.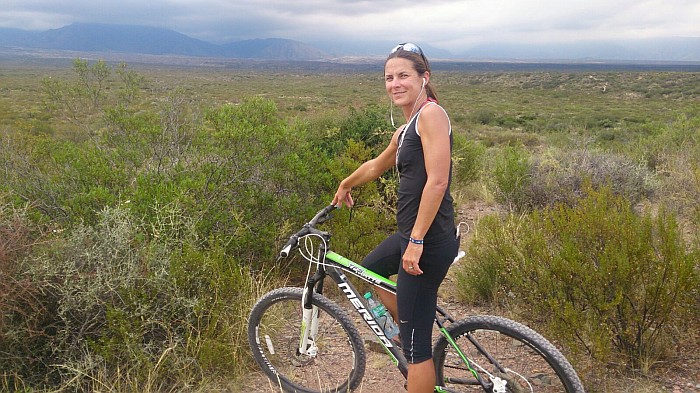 The border closed at 8pm and the night was coming fast.
Less than fifteen minutes later a quite big white car slowed . It was a funny  family with 3 growing children .They asked me where I'm going and told them: "Santiago, but if you're not going there, could you please get me out out of the border? " They were going to Reñaca, a town next to Viña del Mar, on another  route, but they offered to take me to the intersection that went to Santiago so I could hitchhike there.
It turns out that during the trip conversation got very exciting (tales of Asia, Europe, hitchhiking, living life, what makes you happy, etc.). It was dark, so i was invited to stay with them. Instead of  Santiago I ended up in Reñaca.
After we went to the house they rented, the man started to prepare an asado. This is no regular meal, but it's also a way of meeting in South America. It's a barbecue, made with what might be the best meat in the world. Even Chileans must that the best beef is from Argentina or Uruguay. But they have  better alcohol. Of course I was forced to try the Chilean national drink, Pisco. It is a clear spirit, with an alcohol content of about 42%, that is made from grapes and distilled to proof.
So without having planned or imagined it, I went to sleep in a cozy house. Like a bird in front of the sea with the sound of the waves in the background and the clammy air so typical of coastal towns. Santiago and my friend also can wait another day, I said to myself. So it is best to leave fixed plans aside.