PRAGUE
After  two great months of time in South East Asia ( Thailand and Cambodia ), when I got back home in January '16, I had the urge of hitting the road again and no one could have stopped me. This time I decided to discover the east part of Europe and planned my solo trip roughly and bought my two way tickets already, without knowing the details of my trip. I couldn't know that I was going to be super lucky even before I started my journey.
I was determined to experience more of Couchsurfing and was really meticulous about writing  a fine request as I really wanted my journey be the whole with its everything. I knew I was going to meet great people which happened as I expected at the end. I could never forget my trip to Eastern Europe.
I started my trip in first of March '16 with a sudden high fever, arriving in Prague, I was surprisingly calm with finding my way to the place I have never been before. The more you travel the more you get this sense of finding your way and being confident. I surely changed many things in my character since I began traveling. That's a fact you get after losing/finding yourself on the road, on your own.
March in my perception should be the beginning of spring. However things don't work like that everywhere. Seeing the snowy Prague, at the shuttle bus from the airport to the metro and city centre, I already felt the cold in my bones as I was already burning with fever. I had fever and it was the first day of my 20 days of trip. I was still positive and didn't have any intention of ruining my adventure with some negative thoughts.
Michaela opened the door with a warm smile on her face and even if  she was in a rush to leave her apartment, she was quite caring and welcoming. Since the first moment, we had many topics to talk about and found common interests and I learned many things about Veganism as she is a passionate Vegan. Michaela took me to a Vegan Restaurant and a friend's party where I met new people. She was my first host in my trip and Prague was a great experience with her hospitality from the beginning to the end.
From the astronomical clock to the Charles Bridge ( Karluv Most) on Vltava River, old narrow streets that Kafka was striding through to Stare Mesto ( Old Town ) I had five splendid days in cold Prague. As I was a solo traveler as usual, I was my own company and my thoughts were playing musical chair in my mind. Every new destination is full of new sights, architecture, history, museums, parks, art etc, yes, but also it is every new ''You''.
Thanks to Michaela's suggestion, I made a day trip to historical town ''Kutna Hora'' as well before I left Prague. It happened a very sweet memory for me. Catching the train from Hlavni Nadrazi ( Main Train Station), spending the day in that cosy town and visiting a few church and museum made my day.
Leaving Prague behind  for Dresden, in the train I was thinking about the past five days and excited for the coming days.
DRESDEN
Somebody didn't forget about the Refugees, at Albertinum. Artist: Birgit Dieker (1969) – Captor of Souls.2005. life belts, mooring ropes.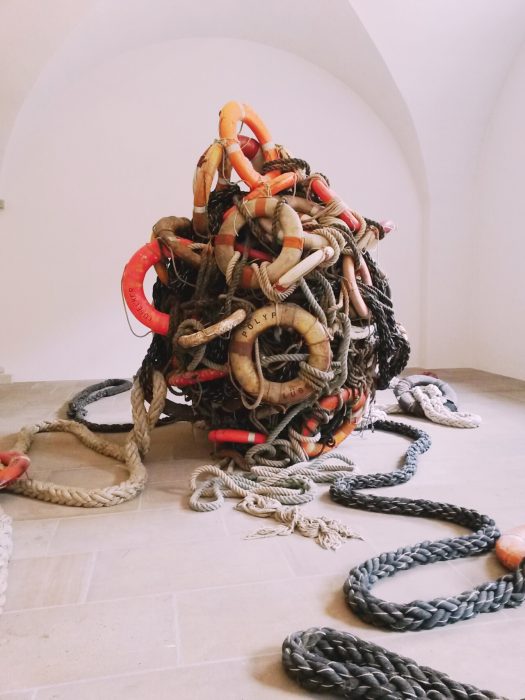 Arriving to Dresden, the weather got colder. Fortunately, I already got better thanks to Michaela's nice caring of me but I was still a bit afraid of getting worse, yet Dresden's open air museum took my breath away and I couldn't miss the chance of photographing around despite of my cold hands.
Dresden's two notable great hosts are/were Sarah and Patrick. I enjoyed Dresden more and more with their hospitality and they were such lovely characters whom I couldn't have imagined to meet. They were working hard at their home so couldn't leave , yet our evening conversations during and after dinner were so much interesting and funny that I learnt many things. They were so kind to take me to a near, local bio market where I could get myself some Kürbiskern( Pumpkin Seed ) paste  which I had the chance of trying in their house earlier.
I fell in love with the art collection of Dresden; City Museum, Albertinum, Galerie Neue Meister, Gemaldegalerie Alte Meister ( Old Masters Picture Gallery ) were only those that I could visit in three days yet I was fully satisfied with all the art I was exposed. However Dresden deserves more than three days surely, unfortunately I had to plan it short and it wasn't bad for the beginning.
Sarah & Patrick were so kind to wake up early in the morning to farewell me and when I was walking in the misty morning to the train station, I was already thinking (which) of the places I could show them in my country when they come in the future.
KRAKOW
In the train from Dresden to Wroclaw ( where I had to switch train to Krakow ), while watching the snowy lands, early sun shining through rare trees, I was listening to Warren Ellis and that picturesque landscape was embedded into me with the great music. It was when I saw many deers first in the far and then closer to the railway. I was simply stunned with the look of the deers and then one male deer with its gorgeous look, I was indescribably happy that I happened to see some wild animals in their habitat where they were not disturbed by any human contact. Poland welcomed me with wild and free deers!
When stations are close to the city centres, as soon as I get a map from a tourist information centre, I just directly walk to the centre. Looking around in curiosity, first impression of the city and interaction with the people walking around, it is always thrills and spills. I love the feeling of rawness, freshness of a newly arrived destination just before it becomes a familiar place anymore. It only happens for once for each place and once you catch that feeling it freezes in the time tunnel forever.
I began my journey with lighter bags and increasingly having heavier bags that gave my shoulders extra pain, reaching my destination becomes even more desirable especially when it is too cold or feeling tired and hungry; but all of these are of course part of a great experience and can never be thought seperately. Otherwise how could I still remember the taste of the beetroot soup I had in the main square in Krakow while waiting for my third host; Agata !
We met in front of Giant Head Sculpture (Eros Bound) in Rynek Glowny ( Main Square ). Becoming friendly at once, we were already skipping from topic to topic and were drawing attention with our laughters.  It is an amazing feeling to across one country an other in such a short time where the language, food and even signs are distinctively different, let alone meeting sincere, open-minded, friendly people at each place. I appreciate this feature of Couchsurfing a lot as it gives you the chance of meeting great people and have unforgettable memories.
Spending the day time on my own at Schindler's Factory, Mocak, Bohaterow Getta, Archeology Museum, Rynek Glowny and etc, we met with Agata each evening in front of Giant Head and had our eye-opening and very informing conversations at tramway to her house. In her very cosy apartment, while we were drinking our tea, I was being informed about Poland in many different topics and could easily say that it is not  so much different than Turkey. I had the chance of watching the Saudi Movie "Wadjda" with Agata, thanks to her suggestion. She was also very kind to take me to Kopiec Kraka Mountain even she was very tired after work and I had the chance to see Krakow under lights from a higher place.
Visiting "Auschwitz-Birkenau"  was not in my plans in Krakow. However thinking up and down, for my own human revolution, I thought it might have been an influential experience and I went there and this time It was more than any books, documentaries, movies or any other things I happened to know. I felt the same as what I felt in Tuol Sleng Museum in Phnom Penh. 
As a person who thinks war, violence or any other hatred acts are against human nature, yet it is recklessly normalized by main stream media, I could still see the world keeps having the same disastrous events over and over again no matter how many years pass-ed by. 
Before I forget mentioning, within all the complicated and overwhelming feelings and thoughts while visiting the site, it was quite annoying to see the tourists(!)/people who were not exercising due care at such a place. How could you laugh or make jokes or not respect at such a place? Sometimes it is the very reason why I want to explore crowd-free places. 
All in all, I left Krakow with a heavier soul.
Long story short, three places out of six destinations of my planned East Europe trip, happened to be smooth, fun, eye-opening and made me feel the spirit of the trip in a deeper way. Next is Bratislava, Vienna and Budapest : )