Living in northwestern part of Istrian peninsula gives you plenty of opportunities to explore not only breathtaking seaside, but also its hinterlands. In my opinion, they are charming and worthwhile visiting even in winter.
It was a gloomy December Saturday when me and my boyfriend decided to discover small towns of Momjan/Momiano and Gradin. Since my boyfriend's passion is of castles and towers, we decided to take a look at the remains of Momjan's castle and of fortress in Gradin.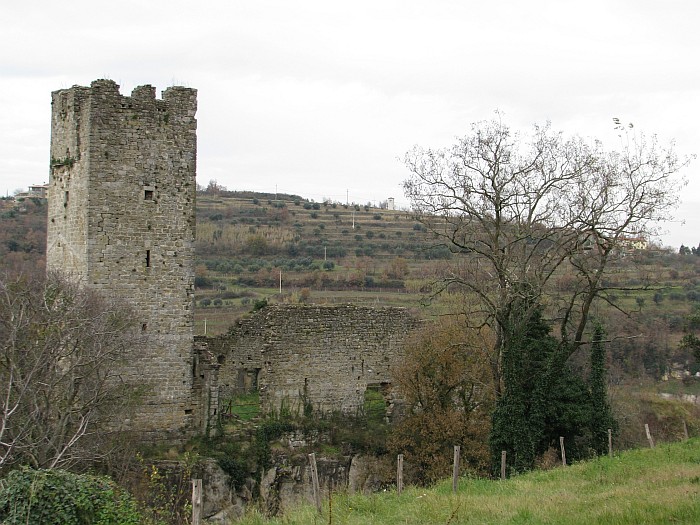 Momjan area was populated even in the prehistoric times due to many water springs and its location on the hill. In ancient roman times settlement was called Castrum Mammilianum. In the 11th century Count Ulrich of Weimar the Second donated some of the land in Istria including Momjan feud to Patriarch of Aquileia. In the 18th century patriarchs donated their feud to masters od Duin and it was the first master Wosalcus de Mimiliano who built the Momjan castle.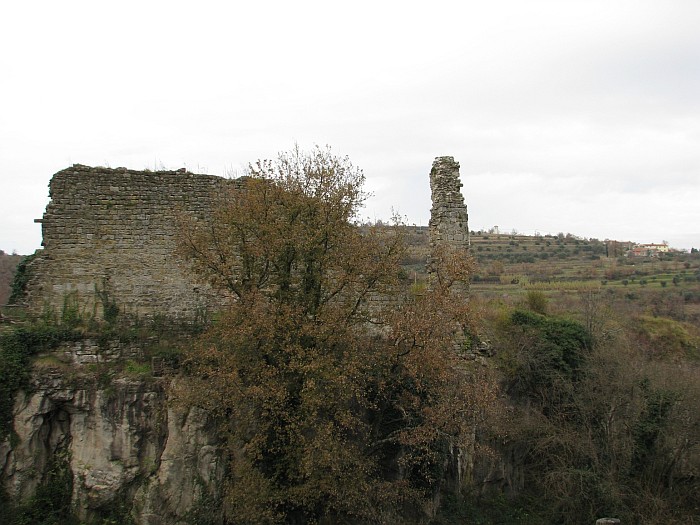 Truth be told, there are not a lot of remains left but they are set on such a picturesque hill, only view of that is worth visiting. Behind the castle valley of brooke Argilla hides its small lakes and waterfalls, while surrounding slopes are covered with vineyards and olive tree plantations. What is left are remains of walls, two magnificent half-columns, portal with arch and tower. If you look closely remains of the rock base of what used to be wooden bridge can still be seen. Unfortunately, remains of castle are under construction, therefore closer access is forbidden.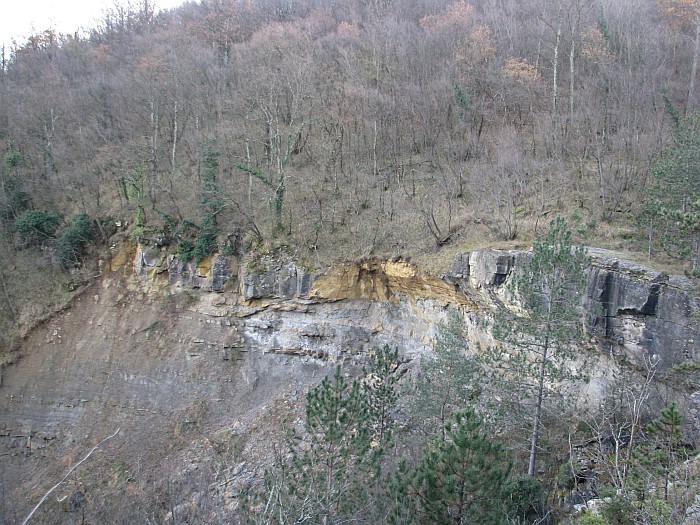 After we took a scroll around Momjan, we decided to cross Slovenian/Croatian border and try to find remains of fotress Gradin. We passed villages Oskoruš, Kućibreg, crossed the border at Brezovica pri Gradinu and drove just a few kilometers down the road from the village with same name. We parked our car where we thought forest path leads to fortress and started walking. Fortress is still not mapped, also there are no signs leading to it. I bet even we asked locals, some of them wouldn't know what we are looking for. Anyhow, after some 20 minute walk through forest, we set foot on natural sand dunes and our view opened on karstic edge. In the distance there was village Tuljak, a little bit further away Sočerga can be seen, also Kubed with its significant five-sided defense tower which is only one of three in Europe.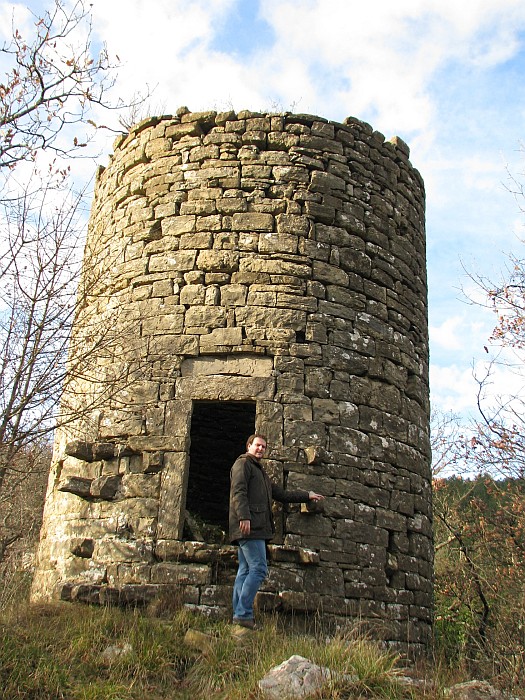 Fortress consists of two defense towers, located approximately 50 meters from each other. It was intended to offer shelter during Turkish invasion. Towers were built in Veneto Republic era somewhere after 1420 when Republica came to its rule. A defensive wall consolidating village Gradin was also built at a very early age and then later reconstructed in 1559. Only half of the first tower is left, but the other one is preserved enough you can climb into it. Around the towers remains of walls are seen, indicating that fortress was surrounded by defensive walls or other building were part of fortress. Just a few steps away hiking path stars which takes us through woods all the way to Sočerga, also passing flysch cliff. Deep down in the valley brook can be heard, forming small waterfalls in rainy season.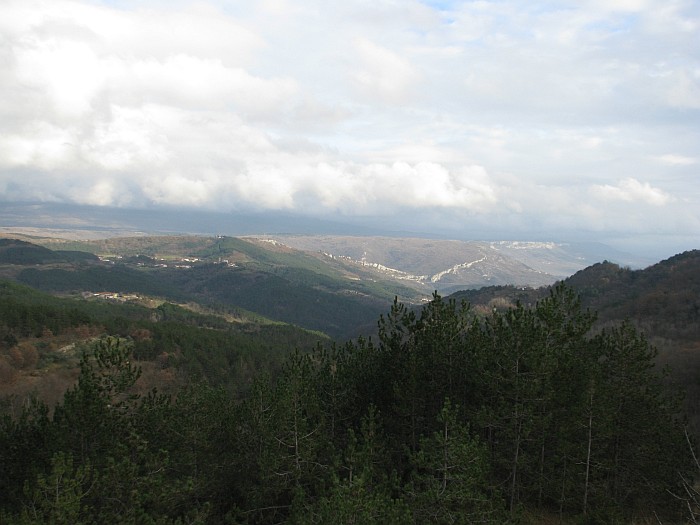 Since it was a winter day and sun was setting early we decided to left adventurous explorations of Istria to some other day, headed back to our car and drove home. But we are definitely coming back, either by foot or by bicycle.