Me and my boyfriend Anže were working a lot during the summer so finally September came and we found some time to go on a trip. We didn't care where, we just wanted to go. First decision was, to go on 1-day trip to Rovinj in Croatia. It is close to place we live and it was definitely good choice, because the city is really beautiful. Anyway, I won't write about the time we spend in Rovinj.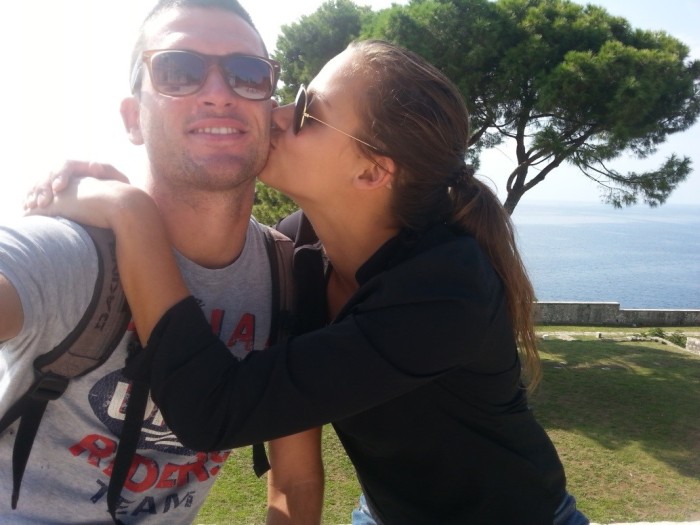 Because one day was not enough for us, we decided to make our trip longer for one day so we went on Cape Kamenjak. We overslept there in a car. We had some problems with mosquitoes and lack of space, but it was still fun sleeping in the middle of nothing. We decided to go there, because I heard from a lot of people that it is really nice there. It was out of season, so there were not a lot of people and the temperature was perfect. In summer it is really hot and ma friends said that it can be really crowded, but they didn't seem bothered by that.
The Cape Kamenjak is a natural reserve and it is about 10 km long and 1,5km wide. You can enter the park with the car but you have to pay for the entrance. We had the whole day so we decided to walk to the end of the cape and it was an excellent idea. On our way we saw few bikers and for them trails are marked, so I´m sure that next year we will take bikes with us and discover the whole area with them. While discovering the Cape Kamenjak we noticed few really nice beaches and cute bars, which were (unfortunately) closed, but our main goal of this trip was the most famous beach on this area.
Near by this beach is a bar called Safari bar which I really love. One of he reasons is that there you can find a natural shadow and second reason is that this bar looks like a playground. I was amazed by a huge swing, from where you can see the whole beach.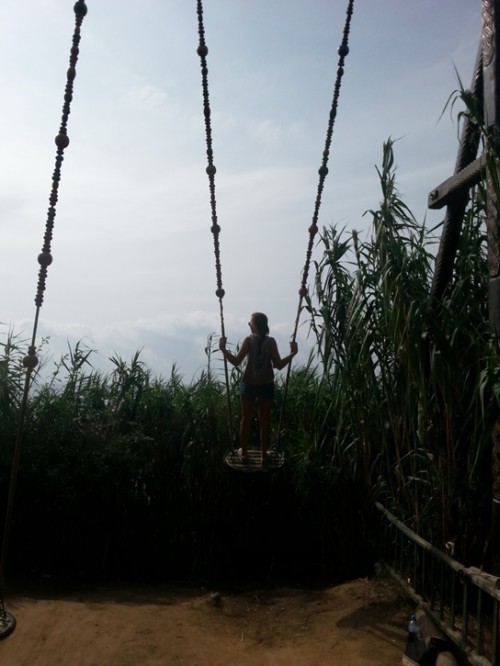 The main interest, especially for young people (male population J) are stone slabs which are up to approximately 20 m high and they can jump from there into the water. At first I was worried about the depth of the sea, but we checked and it is safe. But anyway, for me it was scary just to watch crazy people jumping from there. So I didn't go. I preferred watching them and be safe. While I was terrified, my boyfriend was happy as never before.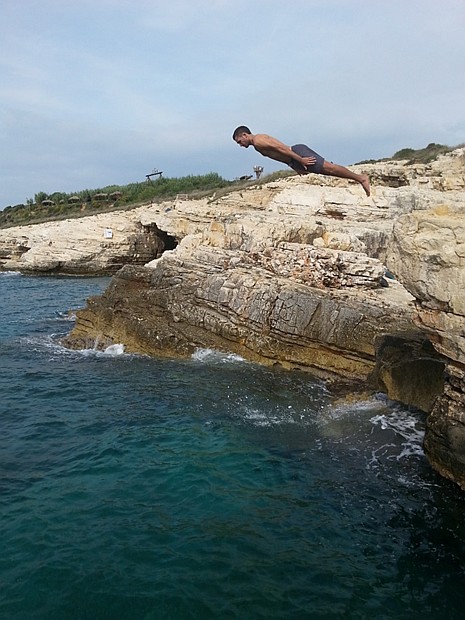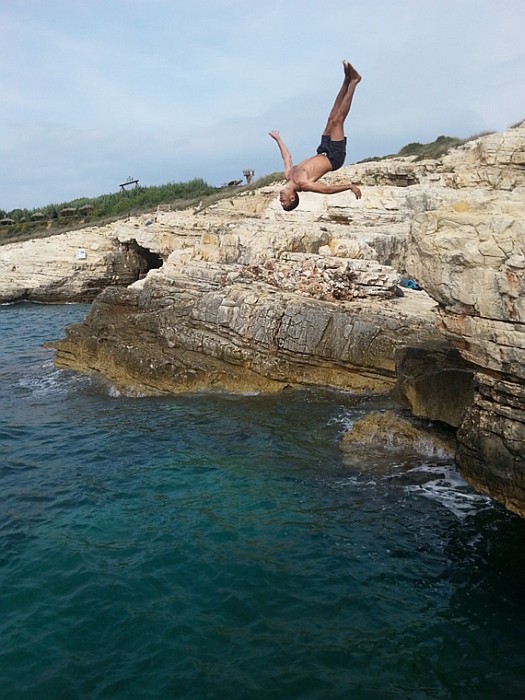 We also made a really great selfie, where Anže is jumping from a great height. We would be really thankful if you vote for it!
Thank you for reading my blog. It was my first one, so I would be thankful it you give me a backfit 🙂