Girona is one of the major cities in Catalunya. Catalunya represents one of of the 17 autonomous communities in Spain. Communities are different sizes with different cultures, and some are islands in the Mediterranean sea and Atlantic ocean. Autonomic communities have its own identity, culture and history, even their own language. Together they unite in a very colorful country called Spain, with Mediterranean climate, good food and wine, open-minded and cheerful people. I also have to mention fiesta and night life that gives Spain special spirit and great vibe which makes you want to visit this place again.
Not far away from the center of Girona, 12 km to south is Costa Brava Airport, one of the arrival points of air transport. On the north are Pyrenees mountains and border with France. On the south is also a long sandy beach that continues all the way to Portugal. Near Girona there is a popular summer resort Lloret de Mar on the coast which attracts a lot of tourists from all over the world.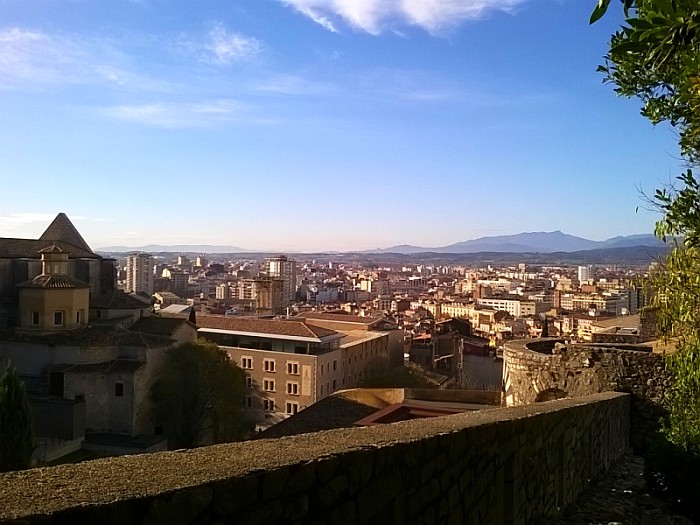 Catalunya is a special place with a strong historical identity, rich culture and their own language. Yes, Catalan is not the same as Spanish and soon after I landed on the Spanish floor and talked to locals, I realized, it is a different language. After I heard about the history of Catalans, I started to understand why they are offended if you think it is the same. Local tourist guide explained to us, that Spain was often ruled under other nations and Catalans were not allowed to speak Catalan. As human – locals do not forget their past, nations can not forget their history. This is the reason why today many Catalans want to have their own country which is not part of Spain. This is a complex political issue and very actual theme in past few years. But we will not talk too much about politics. I just wanted to mention that when you walk through the streets, you can see many flags hanging down the balconies. The flags are striped yellow and red with a blue star, which represents unofficial Catalan flag and means that they want to secede from Spain. If there is no blue star on a white background, they are satisfied with being a part of Spain.
I was accommodated in one of the youth hostels and in the morning I took a long walk to city attractions – first one is an enormous Cathedral, to which you have to take some stairs, but at the top of the stairs, you have a great view of the city. Near is a beginning of fortification and the wall, which has protected the city in the past. Girona was attacked 25 times and occupied 7 times in its history, mostly by the French royal armies. During the Napoleon dictatorship it was conquered in 1809 and was the center of Ter department, Napoleon army from 1809 till 1813. On the wall, where you can take a walk there are still firing lines and towers with a great view of the city and surroundings.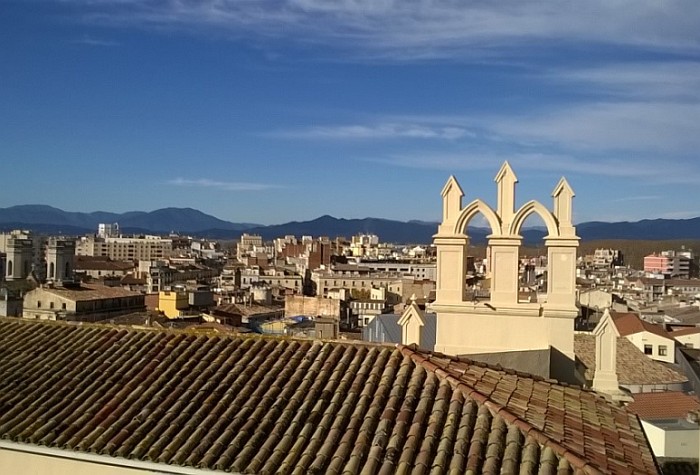 Girona also has a famous university, Universitat de Girona founded in 1991, where you can study tourism, advertising and public relations. They also have international student exchange programs with other universities all over Europe.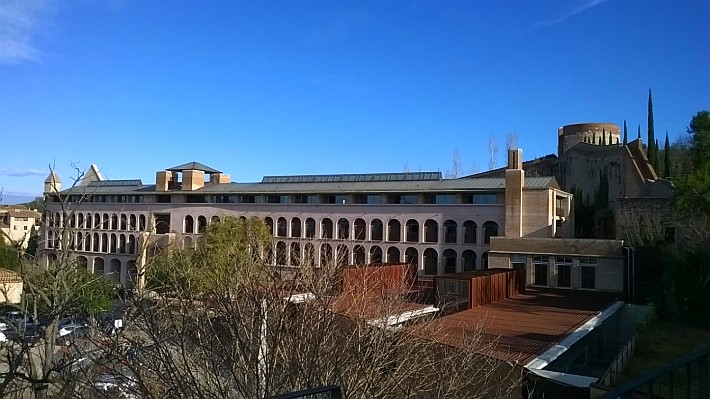 Through the city slowly flows river Riu Onyar which coincides with quiet, silent and reassuring environment. I got the feeling that like this river slowly goes through the city, so does life goes on more slowly than in a big metropolitan urban places. Narrow streets reminded me of a city Piran in Slovenia or some Dalmatian city in Croatia. It is nice to get lost in the streets, taking a look at local stores or go for a coffee in one of the bars or restaurants at city square. You can choose between Spanish restaurants, Chinese, Japanese and typical Turkish ones.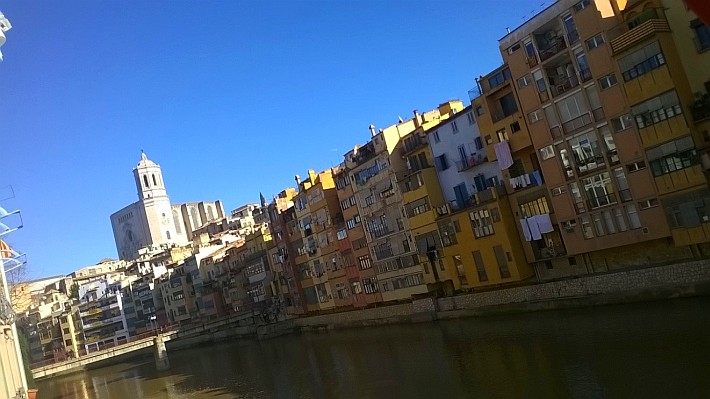 I have visited Girona in December 2014 and I found it is a perfect place to relax and find inner peace in a lovely, romantic place. But I have read it is very alive during the year, when they have live music, theater and film festivals, Girona flower time, Carneval, Feast of Napoleonic sieges with historical events. It is a colorful place and a great decision to relax and walk around this beautiful city.